The Big Story: Creating a legacy
Colin Cottell
21 May 2020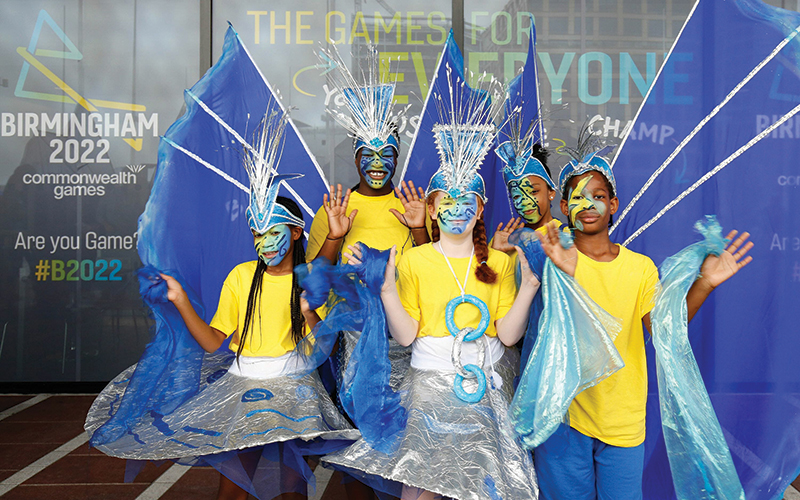 Strategic recruitment manager Kesh Ladwa needs to find 1,200 people for the 2022 Commonwealth Games in Birmingham.
Many people working in recruitment are passionate about sport – but how many get to combine that passion with their passion for recruitment? That is exactly the privileged position that Kesh Ladwa has found himself in.
A big football fan and table tennis player who also helps organise the Leamington Spa Half Marathon, Ladwa is loving every minute of his role as strategic recruitment manager for the Birmingham 2022 Commonwealth Games. "You have got sports and recruitment, and I am putting these two things together. It's a job made in heaven isn't it?" says the proud Brummie, speaking to Recruiter by phone from the Games' offices in Broad Street in the heart of England's second city.
Named Recruiter's 2017 In-House Recruitment Leader of the Year, Ladwa was encouraged to apply for the Commonweath Games position while in his last role at Nationwide Building Society. And the opportunity of heading up recruitment for such a major event in his home city was just too good to turn down. "It would have been wrong not to have been part of the Commonwealth Games in essence," he says. "It's a celebration of sport, a celebration of community and people, and I think it was just brilliant for me to be able to be part of that journey and that recruitment legacy by being able to recruit all the staff we need, making sure the organisation of the Games is inclusive, and that it is Games for everybody. And that starts with recruitment."
As one of the first 10 people recruited by the Games' Organising Committee, Ladwa has already been beavering away for 17 months, putting the building blocks in place to ramp up hiring of the 1,200 staff that will be needed to run one of the world's biggest sporting events outside the Olympics and certainly the largest ever held in the West Midlands.
Employees will work in 17 departments across nine divisions. Roles currently advertised on the Games website include head of security operations, head of venue transport, head of events services and energy zone manager, with many hundreds more set to follow as the countdown to the Games begins in earnest. Although Ladwa and his team won't have any responsibility for recruiting the 10,000 Games volunteers, which will be handled by another department, he says the intention is to work collaboratively once the person heading up that effort has been appointed.
---
Kesh Ladwa
Nov 2018 to present – Strategic recruitment manager, Birmingham 2022 Commonwealth Games
2017-18 – Divisional head of resourcing, Nationwide Building Society
2015-18 – Head of recruitment, Warwick Police and West Mercia Police
2006-18 – Various recruitment roles, both agency and interim
Current member of RL100 (Recruitment Leaders) Leadership Council
---
Blank paper
While relishing the opportunity to work on a project with such global scale and describing it "as one of the highlights of my career", Ladwa is not afraid to admit the job has presented him with new challenges. "When I came in there was no technology, no process; there was literally a blank piece of paper," he says.
Indeed, when Recruiter spoke to Ladwa in April, much of that planning and preparatory work remained to be done, including final sign-off of the applicant track system (ATS), with applications still continuing to come in in the traditional format of CV and covering letter.
Ladwa says he is confident that the ATS, provided by Gi Group, who won the contract to become the Games RPO [recruitment process outsourcing], will make a big difference. Not only can it be tailored to meet the Games' unique requirements, it will reduce admin and enhance the candidate experience by making it easy to apply for jobs. Other technology actively being considered includes chatbots and assessment tools aimed at addressing the needs of people with disabilities and those from other disadvantaged backgrounds.
While starting from scratch has its challenges, on the flipside it also gave Ladwa the opportunity to create exactly what he wanted, unconstrained by the usual legacy issues that face anyone who joins an existing recruitment function. "We were able to say how we are going to recruit new staff, bring them in, and decide on the processes and technology, even on the strategy of bringing in an RPO – all those things that in an existing organisation you will only be able to tweak," he says.
Back to basics
"The great thing was being able to go back to basics and literally practise what you preach," says Ladwa. So while many recruiters blithely talk about end-to-end recruitment and being 'hands-on', for Ladwa that was literally the case. In in the early days when the organisation was hiring for senior roles, he says he was personally involved in every aspect – first sourcing candidates, then being the first to interview them. And even meeting successful candidates at reception on their first day at work.
Building the function from scratch also meant that he was unencumbered by historic issues such as lack of talent or poor processes. "We had the roles, we knew what we had to go to market for. We just had to create something which was brilliant and was the right way of doing things, and which fits right with the Games," he says.
Dan Challis, GI Group's UK business development manager, led the company's successful tendering process in the summer of 2019. Challis says he is hugely excited to be working on such a prestigious event, and one of the biggest contracts of his career. "It's a unique opportunity for us," he says.
However, along with the prestige and the size of the event, he accepts that recruiting for the Commonwealth Games brings its own unique demands. "The two things that are pivotal to the Commonwealth Games are equality & diversity and local talent," says Challis. "We need to ensure that we deliver an open recruitment process that is open to everybody, so we are really trying to tap into every single talent pool that exists in the local area and across the West Midlands."
Local people, local jobs
From the start, 'local people for local jobs' has been high on Ladwa's agenda. In the early days, he explains, he made it his personal priority to network with different local communities and to build relationships with community leaders to promote the opportunities the Games bring. Although skills, knowledge and experience are obviously important, Ladwa says, a priority is to recruit people first from the local area, then from the region and then nationally. "We are focused on making a difference to Birmingham and the West Midlands. Everyone is welcome, along with their different life skills and experience. We are looking for great people to be part of a great Games."
Ladwa has identified a number of core attributes that are, if not compulsory, highly desirable in candidates. While a love of sport would be great, he says what he is looking for is "passion": "Passion for the Games, passion for community and a passion to deliver a successful Games."
While raising awareness of the Games, especially among people who may not have heard of them or know anything about the Games, is vital, Ladwa says it is also about inspiring them to apply for roles. "That is already proving effective," he says, "because a lot of individuals in the community have a passion for sport for starters, they have a passion for the West Midlands and a passion to be drawn in to something where they have a connection."
The 'local jobs for local people' message is one that clearly resonates with Challis, who explains that the focus on local talent incorporates not only how roles are advertised and marketed but also "being agile in understanding the extent of any gaps in that marketing, or in a particular demographic or geography."
---
Commonwealth Games key facts
First held in 1930, Birmingham 2022 will be the 22nd Commonwealth Games.
Held every four years, the Commonwealth Games are often referred to as the 'Friendly Games'.
Para-sports are fully integrated into the Birmingham 2022 sports programme.
At the 2014 Glasgow Commonwealth Games around 1.2 million ticket were sold.
71 nations and territories are eligible to participate.
Around 6,500 athletes and officials are expected.
Population of Birmingham and wider metropolitan area is 4.3m.
---
Right skillsets
However, Sam Vaughan, Gi Group programme manager for the Games, acknowledges that it won't be easy to balance the desire to hire locals against the skill levels and experience of someone who is not a local, but might have may have worked at Commonwealth Games in Scotland, for example. "It's coming up with a shortlist that represents both skill and location," he explains. That said, Ladwa acknowledges that there will be some roles where because of the specific skill set required, it will be necessary to source talent from outside the UK.
In addition to working with Jobcentre Plus, apprenticeships will be a key component of upskilling local people, along with work experience, as well as supporting people through workshops. However, when it comes to building that all-important employment legacy on which the Birmingham Games will undoubtedly be judged, Ladwa says that whether people take up jobs working for the Games themselves or are able to take up jobs elsewhere is in a sense immaterial. "The key point is that any contact we have with people leaves some sort of mark on those individuals to improve their skillset and build their confidence in some way shape or form so they are better able to apply for jobs," he says.
As part of the drive to build an employment legacy that is inclusive, Ladwa says the Games is a Disability Confident employer, so people with a disability who meet the minimum job requirements will be guaranteed an interview. No specific targets have been set at this time for particular minority or disadvantaged groups; however, it remains a subject under discussion. Even when the Games are over and the athletes have gone home, the efforts to build Birmingham 2022's employment legacy will continue, with Gi Group contracted to provide outplacement support to the Games' own staff.  
At the time of speaking to Ladwa and his Gi Group colleagues, there were still 826 days to go until the Birmingham Commonwealth Games opens. While that might seem a long way off, Ladwa knows that every second of every one of those days counts if he and his team are to deliver the talent needed for a successful Commonwealth Games.
"We haven't got the luxury of time," Ladwa says. "The Games are happening, the clock is ticking."