Skills bootcamps
Vivienne Russell
10 November 2023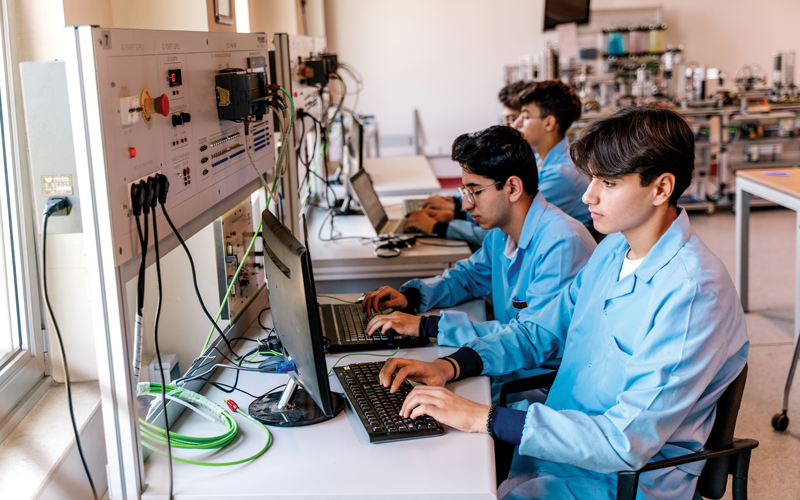 Filling the roles in sectors where skilling has lagged behind demand
Victory Uchenna says she finds it hard to put into words just how transformative her experience with a skills bootcamp has been.
Now working as a solutions architect with AWS (Amazon Web Services), Uchenna said the experience helped her not just to find a job but to believe in herself.
Like many graduates of the digital skills bootcamps run by the employment charity Generation UK, she initially had difficulty navigating the job market. Visa issues affecting her parents meant the threat of deportation hung over the family, and Uchenna struggled with self-confidence: "My self-esteem was really low. I didn't feel like a deserved to be in interviews."
The intensive technical training she received on her 13-week course coupled with the wider support offered on with confidence building and soft skills has changed her life, she says. "When I joined Generation, I didn't have any money. I didn't have any means to work, but [now] my parents will come to me for money, and I can actually support my brothers. And it just feels amazing that I can give back."
Skills bootcamps are a government policy, backed with funding from the Department for Education, designed to address the twin challenges of skills shortages and barriers to social mobility. Offering free training, they are open to anyone aged 19 and over but currently focus on only a few markets: digital, green industries, construction and health & social care, where skills shortages are particularly acute.
Michael Houlihan, CEO of Generation UK, says employers really struggle to fill roles in fields where skilling has lagged behind demand. "Cloud computing is a great example that exploded five to 10 years ago, and the skilling infrastructure did not keep up with how many cloud engineers were needed across the sector," he tells Recruiter.
"And the same thing is happening with data now, and it is happening with cyber as well. All of these segments are becoming very big and need tens of thousands of people doing jobs that didn't really exist 10 years ago. It's a very genuine employer need."
This is borne out by Soraya Scott, COO of Microsoft UK. "Our research shows that by 2025 there will be 3m job vacancies for tech. If you couple that with the wave of AI that's coming, this digital skills gap has the potential to get so much bigger," she says.
"It's top of mind for board level executives. It's definitely one of their top three priorities."
Sarah Atkinson is CEO of the Social Mobility Foundation, which works to support young people who face barriers accessing the job market and pursuing success in the workplace.
She points out that economic shocks such as Brexit, the pandemic and cost of living crisis are getting closer together and combine to widen and deepen social inequalities.
"These inequalities are widening faster than our capacity or ambitions to close them is growing," says Atkinson. "We actually need to be much more bold and ambitious about responding to the trajectory that we're facing."
Houlihan adds: "There's a very clear case for improved social mobility and a lot of awareness and appetite for that." What has changed, he says, is "the increased conviction that we need to identify vehicles and interventions that can actually make a difference".
Skills bootcamps seem to offer such a solution. A Generation UK report issued in September makes a compelling case, arguing that their effect has been broad, deep and durable.
In the four years since Generation launched the scheme, more than 2,350 learners have been enrolled at over 100 bootcamps leading to 1,200 job placements. Candidates completing bootcamps are twice as likely to find work and can expect to secure an average starting salary of £24k. Ninety per cent are still in employment one year on and Generation estimates each learner can expect to earn an additional £20k in income over five years.
Skills bootcamps are now an established part of the skills infrastructure and something recruiters ignore at their peril, Houlihan argues. They could even present the industry with an opportunity to develop a commercial or value-add offering around helping employers identify entry-level talent.
The Recruitment & Employment Confederation (REC) offers a slightly more qualified perspective. "The bootcamp scheme is not perfect with its bureaucracy and the limits on sectors," REC deputy CEO Kate Shoesmith tells Recruiter. "But it is useful in offering short-term flexible training in some industries experiencing shortages."
She does agree, however, that labour and skills shortages are real and getting worse. "We need more recruiters involved in such government projects because they are labour market experts in their respective sectors and localities, and the go-to people for local employers, providers and authorities to help fill skills gaps and vacancies."
---
Power Points
Any adult aged 19 or over and keen to learn new skills or improve existing ones can sign up for a skills bootcamp. Funding is provided by the Department for Education so they are free to individuals. Training can take anything between 4 and 16 weeks with a mix of classroom, online and on-the-job learning offered.
Skills bootcamps are currently available in sectors where there is judged to be an acute skills need. Courses are offered in: digital skills such as data engineering, software development or digital marketing; technical skills like construction and engineering; and green skills such as electric vehicle and heat pump technology.
According to the OECD, social mobility refers to changes in a person's socio-economic situation either in relation to their parents or throughout their lifetime. It is linked to equality of opportunity: whether someone has the same chance to do well in life regardless of their parents' background, their birthplace or other factors beyond their control.
Experts have warned that social mobility in the UK is headed in the wrong direction. A September report from the Institute for Fiscal Studies found that children from poor households were finding it harder to move into higher income brackets than 40 years ago and inheritances were becoming more important in determining life chances.
Skills bootcamps can help boost both upwards social mobility and the economy, according to analysis from Generation UK. The employment charity has already helped over 1,200 people into well paid, permanent work. It estimates a £6k return to the government over five years for each bootcamp learner trained.
---
Image credit | iStock