Special Report - Reboot, rebuild & reset 2021: Recruitment reinvented
Compiled by DeeDee Doke
25 January 2021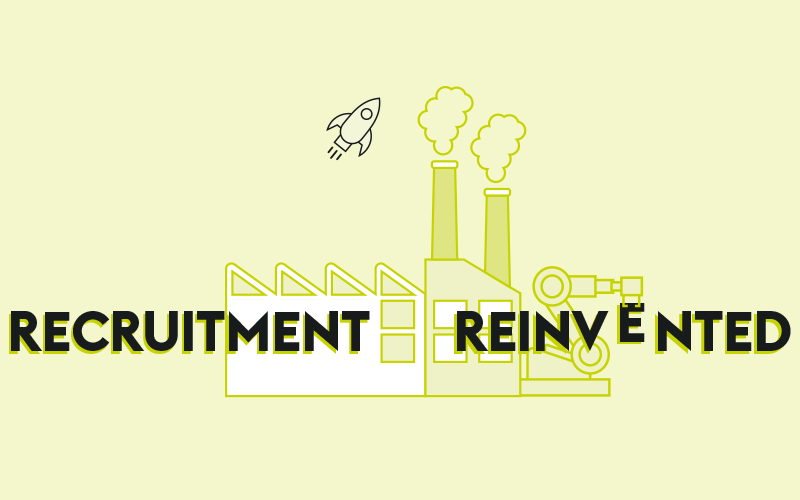 Business experts offer their advice to moving forward after the challenges of 2020. Is it time to reboot, rebuild and reset your operations?
Editor's comment
Welcome to our Special Report: Rethink. Reboot. Reset. A few familiar and some not-so-familiar experts share their thoughts on what is likely to come our way in 2021 and what to watch out for: how recruiters fared in the Brexit deal, what the M&A picture looks like and how 2021 could be the year of the start-up.
We also explore how a new organisation with relevance to many has burst into bloom this month and how another is experiencing a reinvention, to continue with our theme.
As one interviewee told me that last spring could have spelled the end of a fairly long-running business. Instead, he stated: "We said, 'No… let's do something different', and boom, off it's gone!"
Let us light your fire for a passionate and revitalising 2021.
DeeDee Doke Editor Recruiter/recruiter.co.uk
---
2021: the year of the start-up?
By Alex Arnot
Good riddance 2020. Welcome 2021. It is time to open our minds to potential new opportunities and revenue lines in 2021.
For example, there are now many reasons why members of your team might be looking to go out on their own and set up their own business in 2021.
So what do you do, especially if they have been a loyal and successful member of your team for the past few years? Do you try to turn them around? Potentially. But what if that is not what they want? If they do stay, it is unlikely they are doing so for the right reasons, and it's unlikely to be a long-term successful solution.
Immediately after the last big financial shock, more start-ups launched in 2008-09 than at any previous point in history.
Anyone who has spent time on LinkedIn over the past six months will have already seen this trend starting up again. And 2021 will see this accelerate. I believe it will be the year of the start-up.
If you have a quality member of your team considering starting up, rather than letting them go or threatening legal action, instead why not create an incubator environment where you invest in them rather than lose them? Support them, provide office space if necessary (you may have some of that spare due to the current environment), allow them to use your existing CRM/processes and even a share of your support team etc.
Or you could offer them the chance to launch a start-up for you on the same basis, giving them an equity stake in that new business. This could be a better solution than losing them altogether.
In return you can take an equity stake and charge a fee for the use of these facilities that can either build up against an increased equity stake in their company or that they pay back once they start making revenues.
With 2021 likely being the year of the start-up – the timing for you to rethink could be right now.
ALEX ARNOT is founder of MyNonExec and board adviser to more than 30 recruitment companies
---
10% of employees say they are regularly monitored for mental health and wellbeing
---
How to think about culture in 2021
By Professor Damian Hughes
You already know that culture is the single most powerful force driving your group's performance.
The real question is, how does it work? How do you make your group's culture better? How do you fix one that needs improving?
The answer, as with so many other big questions, lies in the 'how we think about it'. Traditionally, culture is seen as 'the soft stuff' – a special set of characteristics that groups possess.
The problem with this approach is: there's no 'how'. This is the reason why culture-building can often seem so mysterious and frustrating. There are no solutions, no plans and no process.
There is a better way. It's called a behavioural model of culture. Here's how it works. Stop thinking in terms of 'values' and 'mission' and 'competencies,' and start thinking about your group's culture as a continuous set of three fundamental signals:
Everyone knows how to behave – this ensures transparency and removes ambiguity
We measure and share accurate information about these behaviours – this provides us with a constant means of orientation
We do this with safety and respect – we address the behaviour and not the person.
Seen through this lens, culture is not about soft stuff – it's about behaviour. Your group's culture doesn't depend on who you are; it depends on what you do.
Culture isn't magic, it's about tuning into a series of small moments that send powerful messages: we understand how to behave here; we are psychologically safe to make mistakes; we are headed in this direction.
Professor Damian Hughes is an international speaker and bestselling author
---
51% of business owners and directors believe more and more recruitment firms understand the benefits of caring for their workforce's mental health and want to make a difference. 32% of the workforce feel the same way
---
Finding purpose in 2021
By Becky Willan
Having a clear and well-understood purpose encourages business leaders to think expansively about their future, rather than getting stuck in a constant cycle of short-term thinking. Purpose provides long-term direction and a roadmap out of pre-pandemic ways of doing things, enabling brands to start thinking about how they want to set up for the future.
1. Building back better
When it comes to business, the pandemic has challenged everything. Even for those fortunate businesses not in a fight for survival, the last year has forced adaptation to the extreme. The traditional corporate structure has been well and truly dismantled, and 2021 will be a time to build back – and some companies will build back better. For those who do build back with purpose at their heart, the rewards in terms of setting up for the future will be great.
2. The activist CEO
Rockstar CEOs will be replaced by activist CEOs, business leaders who are passionate about an issue or simply intent on leaving a positive mark on the planet. They aren't afraid to stand for something, and to have their voice heard.
We expect to see a fresh boldness among CEOs and brands when it comes to activism, as a result of the pandemic. Businesses that have managed to evolve in ways they could not have imagined pre-2020 are emboldened.
3. Increased scrutiny and backlash from consumers
'Cancel culture' isn't an internet phenomenon that will go away; it reflects citizens' rising expectations around the world and the increased scrutiny that brands and businesses will face this year. The events of 2020 mark a critical shift in people's understanding of the role businesses play in society, and consumers expect them to lead by example. But as some brands rush to join the conversation before they've put in real plans and concrete action, we'll continue to see more backlash against anything that suggests 'purpose-washing'. We expect 'purpose fails' to be publicly denounced more intensely this year.
4. Sustainability sitting firmly on the board
If the 2000s saw the emergence of the CTO (chief technology officer) and the 2010s the creation of the CCO (chief customer officer) – then the 20s will be marked by the arrival of the CSO (chief sustainability officer) as the new most important voice at the executive table. We've seen the CSO's rising influence and importance at board level in recent years, and in 2021 we will see sustainability and purpose more fully integrated into the DNA of organisations and being led from the top down.
5. Business alliance over the common good
In 2021, we expect to see more businesses partnering on purpose-related issues, sharing agendas and working together to create positive change, following on from 2020, which fostered a spirit of collaboration for common goals. Businesses can deliver positive change, if they come together. We may even see increasing external pressure for these business alliances in 2021.
6. Sustainability becoming accessible
More businesses and brands will provide solutions, which make sustainability accessible for everyone – and it is imperative they do. Consumers being priced out of sustainable choices is unacceptable. Increasingly, they expect to see the cheapest available products made as responsibly as possible.
Becky Willan is co-founder and CEO of Given, the agency for purpose-driven brands
---
1 in 4 employees believe that promoting mental health is done as a PR or 'tick box' exercise
Source: Mental Health in Recruitment Survey Report, December 2020: 2,200 responses
---
The Brexit Deal: a mixed bag for recruiters
By Neil Carberry
We have a deal. Like most business voices, the REC welcomed that fact on Christmas eve. It means we avoid a potentially disastrous cliff-edge, and goods keep flowing – if not entirely smoothly. It's a start – a platform we now need to build on.
Being struck so late in the year, the deal is not as deep or wide-ranging as businesses had hoped. That's especially true for services which make up 80% of our economy. For recruiters, the deal is a mixed bag. and more certainty and support are deserved.
Key points for recruiters:
Access to EU markets: One of our biggest fears was that, without a deal, recruiters would have to set up an office in an EU country to do business there. That would have been impossible for many. But the deal is reassuringly clear that this won't be the case.
Travel mobility: Recruiters will be able to travel to the EU on business for up to 90 days in a 180-day period, generally without needing a visa. Certain activities are restricted though, so recruiters need to consider those carefully.
Non-tariff barriers: Some may be allowed under the deal in certain circumstances, such as restrictions on placing agency workers across borders and qualification requirements. In truth, EU Member States will differ from each other in how services rules apply, so you will need to be clear on how you will operate in each country.
Data protection: It's not confirmed that the EU sees the UK's data protection regime as equivalent to their own. That's a problem for recruiters who, perhaps without thinking twice, send and receive vast amounts of personal data to and from the EU. For now, the deal allows for data to continue to flow as normal for up to six months until when an agreement must be reached. This has bought us more time, which recruiters should use wisely. Keep up with plans on alternative mechanisms for data sharing to avoid disruption if an agreement can't be reached. Data adequacy remains a key priority for the UK-EU relationship going forward.
Mutual recognition of professional qualifications: No provision. As it stands, UK professionals must comply with qualification requirements in each EU member state they want to work in and vice versa. For recruiters trying to place workers across-borders, this is especially problematic. A route for mutual recognition is to be agreed in the future, and we will keep pushing on this. In the meantime, recruiters must establish a process relevant to the sectors you represent on a profession-by-profession basis.
The deal as a whole: The devil is in the detail – or the lack thereof. A bridge is there, but it needs to be widened in terms of services rules, data and professional qualifications. The free trade deal can, and must, be built on to fully benefit the recruitment industry and the wider services sector – 80% of our economy and the area in which the UK's trading position is strongest. The coming weeks and months will be crucial.
Neil Carberry is the CEO of the Recruitment & Employment Confederation.
Note: The REC will be pushing for an improved deal for recruiters as part of the wider services sector. Recruitment is stronger as one voice, the REC says, so get in touch and let them know what would help you
---
21% of senior leaders say they have mental health first-aiders in place
---
M&A: Reason for cautious optimism heading in 2021
By Mark Maunsell
While deal volumes remained subdued through 2020 and on a year-on-year basis are down by more than 50%, it is the positive momentum in the latter parts of Q3 and into Q4 that will lay the foundations for the next 12 months, giving reason for optimism. The deals highlight the resilience and appetite of trade and private equity (PE) to continue engage in M&A in the sector and come against a backdrop of a global pandemic, ongoing Brexit negotiations and impending IR35 changes.
Key deals completed in Q3 and Q4 included the merger of Fircroft and NES Global, which saw the number three and five largest engineering staffing players brought together; CPL Resources taken private by Japanese-headquartered Outsourcing Inc; and PE firm Livingbridge exit The Up Group. A further high-profile deal came in the form of Towerbrook investing in ICS, alongside ONEX, although the deal completed earlier in the year.
The deals highlight several key trends, which continue to shape the M&A landscape:
First, international firms remain interested in the UK & Ireland as leading players look to build out global, more resilient businesses with exposure to attractive and mature markets.
Secondly, PE remains a key force in driving the level of M&A activity in the sector, either through acquiring new platforms in attractive niches or exiting portfolio companies at the end of an investment period.
The third trend relates to sector exposure and plays to resilience, with both financial sponsors and trade buyers interested in deploying capital in the healthcare, pharma & life sciences and specialist IT sectors.
While these challenges are likely to continue to hamper M&A in the immediate term, business sentiment and performance is improving and this, in conjunction with significant pent-up capital, will lead to a return to a higher level of M&A activity.
Mark Maunsell is director of business services marketing intelligence at Clearwater International.