Profile: Signifying success
Dean Gurden
25 January 2021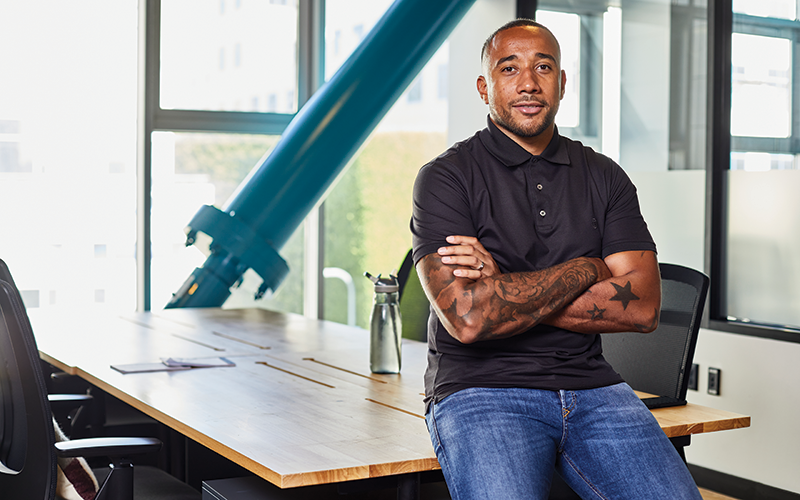 Founder and CEO of Signify Technology Ryan Adams has a mission to place the right Scala programmers with the right employers – using the best recruiters.
As this year's recipient of the Recruiter Awards 'Agency Recruitment Leader of the Year' and the Recruiter Investing in Talent Awards 'Most Inspiring Leader of the Year' accolades, Signify Technology founder and CEO Ryan Adams has certainly made his mark on the industry. But ask him why he became a recruiter in the first place and he'll admit to falling into the profession like many others.
"I'd love to tell you I grew up wanting to do this, but that isn't really the truth," he says. "I actually wanted to be a footballer and did manage to play a lot of semi-professional football for a variety of clubs in South London. I never managed to become a full-on professional, but it did teach me a lot about building teamwork and relationships, as well as the value of always pushing yourself to be better."
It was while at one of the clubs that he met someone who was to inspire and help him on his current path. "I admired the way they looked and came across," says Adams. "So one day I simply asked, 'How do I become like you, because you look like you're doing really well in life?'. Of course, he turned out to be a recruiter." The individual introduced Adams to the industry and to international staffing company SThree in 2007. He hasn't looked back since.
"I grew up on a council estate and I'll admit I didn't have the best education," he says. "But the thing I love about recruitment most is that, no matter what your background is, you can be as successful as you want because your career is ultimately in your own hands. Recruitment is one of those industries where it doesn't matter if you have a degree or where you grew up, people will take you on if you work hard and are tenacious. I love recruitment and can't think of doing anything else now. I genuinely love getting out of bed in the morning and still have the feeling that it's my first day."
Behind each piece of technology changing the world, is a person – it's our mission to introduce them to the companies that need them the most"
So how is a boy from South London now working in California? Having been blown away by the state on an incentive trip while working for ConSol Partners, he requested a transfer to its head office in Los Angeles. "They said 'No' because I was doing really well in London," he says. "I always resented it and decided that one day I was going to live here. It was one of my goals that I made happen. And it's definitely living up to expectations. My wife and kids love it here too. The weather's great and you're near to both the beach and the mountains."
People first
Signify's website proudly declares that 'Behind each piece of technology changing the world, is a person – it's our mission to introduce them to the companies that need them the most'. I ask Adams about the underlying philosophy behind the software engineering recruitment company. "Our main USP is that we're a niche specialist," he says. "My philosophy was really simple when setting up Signify: do one thing and do it well. We've focused on becoming as well-known as possible in our market and, four years in, I truly believe we've done that."
Adams likes to see Signify as a new breed of recruitment agency; one that's always innovating, but retaining an old-school approach of building real relationships and communities. With Scala programmers making up the lion's share of its clients, Adams admits it's still not the biggest market in the world – at the moment. "It may not be Java or .NET, but it's growing," he says. "A lot of Java developers are now transitioning to using Scala and we've placed people in over 20 countries so far." With 30 staff dispersed over four offices in London (HQ) and Manchester in the UK, and Los Angeles in California and Austin in Texas, Adams cites teamwork as the foundation of Signify's success. "It's all about having a clear vision and strategy that every single person believes in," he says. "And then it's just about finding a team of genuinely nice people that can all work together harmoniously. I see a lot of recruitment companies where it is 'dog eat dog', and everyone's competing and stepping on each other's toes.
"I like to think we have a really strong team of people that are all working towards one common interest, which is making our company better. I also think this needs to happen from the top down, so it's up to me as a leader and a manager to set a good example."
For Adams, this involves a recognition of the fact that everyone's different. "It's about finding out from people at the very beginning how they like to be managed, what their personal goals are and how can I help them achieve those goals. As a leader I spend a lot of time analysing how I can get the best out of each person and making sure that we're working together well. To that end, we have a lot of team-bonding events, whether that's company-wide incentive trips, taking part in sponsored runs or even setting things up like our Signify Health League Table.
Covid challenge
Health, both physical and mental, is a big deal for Adams. As for all businesses large and small, 2020 was a tough year. "Yes, it's been a really difficult period for the business, the recruitment industry and for me personally," says Adams. "I'm relatively young and have never worked through a pandemic before or even a global recession. For the last four years, our business has always done really well. It's been relatively plain sailing. We've always grown and increased our numbers, both by month, quarter and year, and we've grown 100% year on year."
But like all of us, Adams confesses to being blindsided by the pandemic. "I'll admit I wasn't fully prepared for it," he says. But then there are some things you can never prepare for. Adams lost his mum, Delia, in April to Covid-19. She was only 54. "I'm a very strong-willed person and I guess I've never been through any real adversity in my work or personal history," he says, "but to lose my Mum a few weeks into lockdown while also trying to manage my business was really tough. I'll be honest, I completely lost all my motivation for a while and didn't want to talk to or see anyone. But even at my lowest, I did try to keep leading from the front."
I like to think we have a really strong team of people that are all working towards one common interest, which is making our company better"
Adams cites a series of external speakers booked to give company-wide talks via Zoom as a real help to both himself and Signify's employees. "We had people do talks on mental health, stress management, resilience, etc" he says. "And we also signed up to an app called EveryMind, which is all about promoting good mental health and wellbeing. The lockdowns have been hard, but we have end-of-week Zoom get-togethers like a lot of other businesses, and quizzes and online fancy dress parties. I think everyone's felt supported and we've tried to pivot as a business to make sure that nobody felt alone or isolated."
Real diversity
The more you speak to Adams the more you realise how much he cares about supporting his staff. And in a recruitment industry traditionally dominated by men, he's quick to point out that Signify has an almost 50-50 gender split and a healthy level of diversity as well, including himself.
"I don't like talking about it too much," he says, "but I personally think that being a black CEO and founder of a black-owned business is a real rarity in the technology sector. And with everything that's happening in the world today with the Black Lives Matter protests and the like, it matters to me that we are a truly diverse business. It was part of my business plan from the very start."
As for the future, Adams has his sights set squarely on continuing to grow the business and moving into new territories. "We intend to take over the world one Scala placement at a time," he says. "But we also need to try and have fun while doing that. If the pandemic has shown us anything, it's that life's short and you never know when the end is near. You got to really love what you're doing and enjoy it."
And as for winning the two Recruiter awards, Adams couldn't be more chuffed. "In a year where I've faced so much upset, it's meant the world to me and couldn't have come at a better time," he says. "We all need a pat on the back sometimes and I only wish my mum was still here to see it. But I know she's looking down on me now and is really proud."
---
Managing morale
We've probably all had the January blues, when the return to work after the Christmas festivities and the prospect of a long month before getting paid can bring us down. Signify CEO Ryan Adams decided he needed to do something to alleviate those feelings among his staff, so he established Signify's Health League Table.
"It was during one of those bleak Januarys when I started thinking about how I could try and get everyone working towards creating a healthier, happier working environment," says Adams. "I wanted to promote eating well, exercising more and practising mindfulness, so I came up with the Health League Table."
Staff essentially earn points by contributing towards the aforementioned goals and generally being aware of their mental health. And at the end of each month prizes are awarded to those with the most points, which range from massages, facials, extra leave days, workout gear or vouchers to use on Amazon.
"The philosophy behind it was simply to get everyone through January, but the response has been phenomenal," says Adams. "We're now healthier than we've ever been and everyone's lost weight. What started as something temporary has become a permanent thing. And it's inspired us all to sign up to the endurance event Tough Mudder and do lots of 5k and 10k runs to raise money for charities."