HOT 100: 'Class' is permanent
Analysis by Sue Dodd, Agile Intelligence
25 January 2021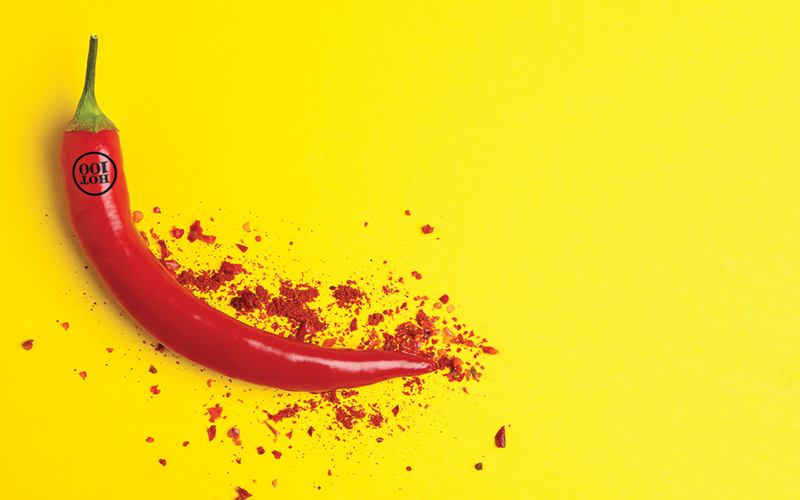 The latest HOT 100 of recruitment firms, compiled by Agile Intelligence on behalf of Recruiter, shows the importance of considering more than just temporary 'form'
In 2020, adaptability has been key to survival and for some, the key to success. Flexibility, responsiveness and pro-activeness have driven many companies onwards in the ongoing Covid-led environment. This environment has been compounded by the rollercoaster news feeds on a Brexit trade deal. Forward visibility has been reduced to something akin to a 1950s London 'peasouper'.
However, as ever, this 2020 HOT 100 reflects past performance – in either 2019 or early 2020 – with few firms' accounting period straying into the Covid-affected months. As the old sporting saying goes, 'Form is temporary, but class is permanent'. And the recruiters that made the 2020 HOT 100, based mainly upon their 2019 profitability and often serial constituents over the years, offer a benchmark as they continue to battle with Covid's impact. Furthermore, online forums, blogs and meetings held throughout 2020 show that the efforts of many to take care of their staff, contractors and temps have been a shining light of good practice.
Taken as a whole, the figures appear to show a weaker performance than for several years. But most company accounts reflect the calendar year 2019, one of the most politically volatile in living memory. Even as a benchmark for recruiters 2019 is outside the norm, skewed by the challenges of the Brexit story, which caused rollercoaster demand for temporary staff. This situation was exemplified by the monthly gross domestic product (GDP) figures – a nationwide inventory build-up, which was then unwound, not just once but twice in the one year.
Flexibility, responsiveness and pro-activeness have driven many firms onwards in the ongoing Covid-led environment
Despite these uncertainties and challenges, the reporting year 2019/20, almost entirely pre-Covid, saw modest, selective expansion in headcount from recruiters, as the labour market remained tight and skills shortages prevailed. However, caution remained and, indeed, hardened in the second half of the year in response to an increasingly paralysed economy. Evidence in the following analysis suggests that smaller companies – making up most of the HOT 100 – outperformed larger peers during this period.
So, what are the stand-out messages this report sends? Which companies derive most 'added value' from their own employees (before allocating overheads) yet still nurture the right atmosphere to encourage a profitable and sustainable sales approach? The 2020 HOT 100 table (see PDF below) helps to answer these questions.
---
Covid impact on this HOT 100
The need for adaptability has been equally true for the production team of the HOT 100 itself, as Companies House provided a three-month filing extension to companies. Inevitably, fewer accounts had been filed when this report went to press, so some companies will lose their ranking this year. But many companies, and also first-time entrants, had filed early or provided advance copies of their accounts, enabling the integrity of the HOT 100 to be preserved. We are grateful to the recruitment community that have helped to make this possible.
---
Key findings
2020 HOT 100 group sales turnover rose 4.4%, a little lower than the wider UK recruitment industry sales turnover growth of 5.2% reported for calendar 2019 by the Office of National Statistics. Like-for-like, comparing this group against their own figures for the previous year:
The 2020 HOT 100 companies collectively reported a sales increase from their previous year in latest available accounts of 4.4% to around £20.6bn. HOT 100 combined gross profit (GP) reached £4.3bn, a gain of 1.6% versus their prior year.
HOT 100 companies' in-house headcount rose 3.3% to total 42,345 employees.
Productivity (GP per employee) for this group of HOT 100 companies fell by 1.6% over the year to an aggregated average £102,474, declining 4.6% versus last year's HOT 100 group average. A simple average of each of the GP/head (GPH) figures, neutralising the weighted skew of the larger employers across both years, stood at £116,334 – nevertheless still 4.1% below the 2019 HOT 100.
If all seven recruiters with GP exceeding £100m are excluded, the headcount growth rate almost doubles and the GP gain reaches 6.9%, enabling a reversal of the drop in productivity to produce modest growth. This points to a year of consolidation by the larger recruiters.
HOT 100 average gross margin (GM) eroded by 60 basis points versus their prior year to 21% versus 21.6% – mainly attributable to the uncertain business climate and a shift in mix towards temporary placements and managed service or recruitment process outsourcing (RPO) supply. Excluding those seven largest recruiters, the remaining 93 averaged a slight rise in GM, albeit at a much reduced 18.9% versus 18.8% prior year.
Incremental growth analysis: This HOT 100 group in their past financial year added just £70m in net fees with an additional 1,362 staff at an incremental GM of 8.1%, making an incremental £51,205 additional GPH. Both these ratios are startlingly lower than previous years, and the incremental GPH has plummeted. This drop signals a sizeable shift in the balance towards more temporary than permanent business. This shift is well evidenced by excluding those seven largest earners – the incremental margin of the remaining 93 averages 22.2% and their GPH rises to more than £126,000.
Entry-level GPH (ranked 100) to the 2020 HOT 100 dropped sharply to £84,075, the lowest for several years and £7,384 below the previous year's threshold for the 'cut', which was at £91,459.
Individual productivity growth was also again measured to offer a more rounded perspective on performance and was a little less volatile than last year, ranging from +60.5% to -29.5%, with 55 companies out of the 100 reporting some growth.
Individual growth in net fees was seen at 71 companies, versus last year's 85.
The dream combination of expanding productivity simultaneously with increasing their internal headcount was achieved by 33% of HOT 100 companies. This proportion compares poorly with last year's strengthened 42% but is broadly in line with the previous two years.
---
Margin trends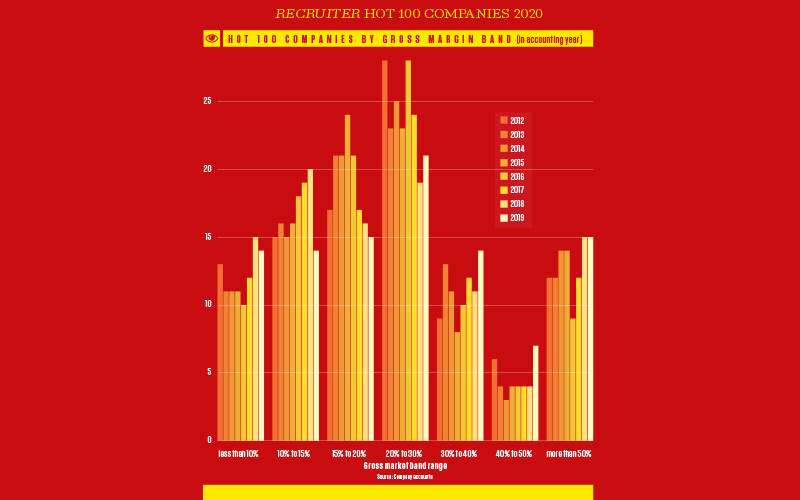 Gross margin is the GP (or net fees) as a percentage of sales turnover. The mix of business between temporary and permanent placements influences the level of GM, as does the trend in temporary pricing and employment-related costs. With larger contract business being competitive compared with SME or ad hoc placements, the type of business and delivery model/cost structure play a crucial part in determining both temporary margin and bottom-line profitability. The GM breakdown is examined in more detail in the table below.
Overall GM shed 60 basis points to average 21% (21.6%) across the 2020 HOT 100. However, excluding the seven largest earners, while this reduces the average GM as the business mix shifts slightly towards more temp/contract for the remaining 93 companies, the latter do then post a slight rise in their average margin to 18.9%.
The spread of margin has also shifted, with a drop in the 10-15% band of predominantly temp/contract recruiters and gains among the middle-margin bands of 20-50%, which typically reflect a much higher permanent presence.
---
Company trends
The bar for HOT 100 success this year fell by almost £7,500 to £84,075 GPH, yet the range from first place to 100th widened even further. Across the HOT 100, recruitment companies expanding their workforce held strong. However, only just over half of companies increased GPH.
Of the 33 companies achieving the 'dream combo' of expanding workforce and rising productivity, firms employing below 50 employees were slightly under-represented at just 10, middle-sized companies employing 50 to 200 employees were fairly represented at 15, while larger recruiters exceeding 200 employees again outpunched with eight constituents.
Six companies are included in both the top 10 of the HOT 100 and the productivity growth top 20, including Trilogy and NES Global Talent. [Editor's note: In September 2020, NES Global Talent merged with Fircroft Group to become NES Fircroft.]
The following reported only slight changes in headcount but still achieved remarkable GPH productivity gains: Ellis Recruitment Group (formerly Oracle Consultants), Red Commerce and People Source.
---
Agile Intelligence
Agile Intelligence has compiled the HOT 100 Report on Recruiter's behalf to determine which companies are best at leveraging their intellectual assets. Rigorously measuring the GP (net fees) per employee indicates how effectively an organisation uses the skills of all its own people to generate a profitable return for stakeholders. All in-house employees (excluding temporary workers or contractors) are included in the calculation – not just fee-earners; this is a standard senior management Key Performance Indicator (KPI). Notwithstanding wild cards, companies emerging strongly from this analysis, especially if featuring regularly, are primarily those that operate the most productive organisation, balancing the need for good, well-trained and directed, and motivated staff against the need to minimise costs.
---
Contract-type profile
The HOT 10 profile this year comprises only one – SSQ – 'nearly pure' permanent recruiter while the remaining nine have either a contract-heavy mix or almost entirely contracting business mix.
Across the whole of the HOT 100, there are three 'nearly pure' permanent recruiters included within the 15 companies with a predominantly permanent business model. At the other end of the scale, there are 14 companies with an extremely high proportion of their business from contract or temporary placements. A further 14 have a very high percentage contract/temp mix.
Size profile
Overall, 21% of HOT 100 companies employ at least 200 staff – a similar pattern to that of the past few years. Only a further 17% employ between 100 and 200 staff. There were also fewer very small firms. These figures suggest a fairly similar spread to recent years.
The average size of the 2020 HOT 100 member again increased, to 423 employees, including an additional large employer (Impellam), not included last year. Excluding the seven largest, where group accounts have been used, the average size drops to 112 staff per company for the remaining 93 recruiters.
Among the large corporate groups in the HOT 100, fewer have been listed by subsidiary operating company this year, partly owing to fewer group divisional disclosures, less transparency and the timing of accounts filings.
The year 2021 may prove, then, to be one of two halves for economic growth
Sector Profile
Across the HOT 100 there are 39 IT companies, 23 Professionals, 18 Technical recruiters, nine Public Sector, six STEM (combined with either IT or Technical but separated here for the first time), and five in the category of Office/Industrial/Trades.
In the top 20, representation stands at seven Professionals listed, of which one made the HOT 10. Seven IT staffing companies are listed in the top 20, with six of these ranked in the HOT 10 while the top 20 balance comprises just one Public Sector firm (Professional – Executive level) and five Technical recruiters (two in the HOT 10).
Drilling down to the HOT 10 by sector, all constituents are highly specialised recruiters. Technology/IT has dominated for the first time, with six constituents. In addition, there are two technical, one professional and one company with a more-than-average presence in executive-level Public Sector/Not for Profit. Because of accounts timings this year, there is one notable omission – Sheffield Haworth.
Outlook
In any normal year, we would assume that the increased headcount of 2019 in the recruitment industry would have generated a rise in productivity in 2020, to be reflected in the next HOT 100. But Covid shocks through 2020 have taken a substantial toll. The subsequent calendar-year 2020 shortfall in industry revenue (sales) is now estimated at around 15% following declines of up to 70% at the height of the first lockdown, with many companies downsizing, merging or exiting altogether. Through a shift in business mix, the GM will likely drop even further, leading to greater proportionate decline in GP than sales revenue. However, all of this will be masked by the furlough scheme, which fuels concerns for unemployment once government subsidies are lifted. In addition, although a Brexit deal has now been struck, 2021 is unlikely to begin on a positive note. But it is reasonable to factor in some recovery as economies reopen.
The year 2021 may prove, then, to be one of two halves for economic growth, but it is unknown how different recovery will appear from the pre-Covid model. Remote working, work-life balance, technology shifts, scientific surges, greater interest in STEM, local versus regional, transport demand, consumer buying patterns, structural unemployment – all are forecast to have changed permanently. Within this shift lies an opportunity for societies to come back better, cleaner and more efficient. There is little doubt that recruiters will be up for the challenge, and uniquely placed to find the talent needed to meet it.
---
Methodology
The data has been rigorously filtered by turnover, gross profit and employee numbers.
The companies featured in this edition employ over 42,000 in-house staff and generate above £20.6bn of industry sales revenue, while very many more were evaluated as part of the overall analysis. Latest available accounts have been used – dated 2019 or 2020 – several companies are normally excluded due to filed accounts timing. Companies filing abbreviated accounts and not providing their full figures separately are excluded. Increasingly, as the recruitment industry becomes more global, group accounts are now often used for UK corporations — examples would be Hays, Harvey Nash, Robert Walters, Page Group, SThree, Impellam and several IT and technical recruiters.
Companies operating primarily overseas have been excluded, although UK technical specialists placing talent worldwide are included. Overseas-based groups eg. Adecco or Randstad may be included, using either their UK divisional breakdown, or UK operating companies if filed transparently. Manpower UK and Reed are excluded from the analysis due to different accounting disclosures which invalidate comparisons. Companies combining temporary employees in their employee count are effectively excluded as this grossly underestimates productivity. The most specialist of search or 'headhunters' are omitted for a variety of reasons – incomplete disclosure, overseas business, incompatibility and a shortage of data for peer group comparison.
Disclaimer: while every effort has been made to ensure accurate reporting and analysis no guarantees are made regarding the information portrayed in this document.
Image Credit | Shutterstock