The Intelligence: Good mental health can increase productivity
Thalia Ioannidou
17 April 2020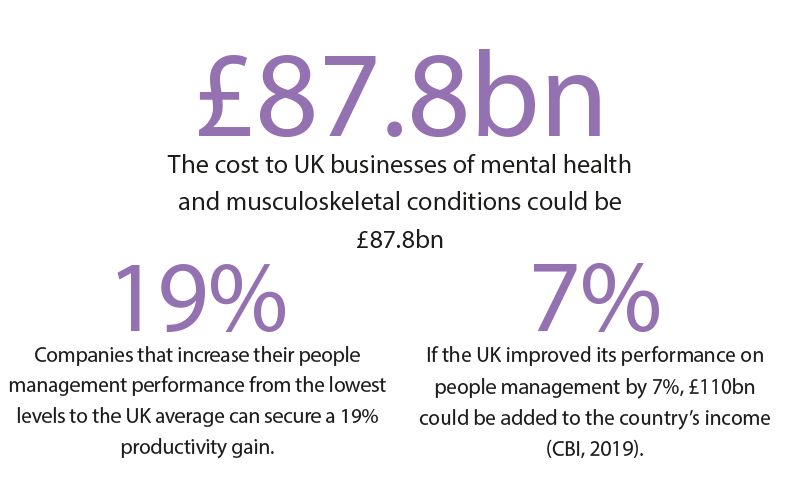 As workers across the UK self-isolate to deal with the coronavirus outbreak, ensuring those working from home receive mental health support has become even more important.
This year's Mental Health Awareness week starts on 18 May, so take the opportunity to focus on how you can reduce the damage the crisis is doing to employees and efficiency.
It is not surprising that losing your job is bad for your mental health, but many people in work also suffer from mental distress. This can be caused by unfair treatment, anxiety about job status or being asked to work in a new way. It has a knock-on effect on motivation, performance and organisational effectiveness.
The rising cost of mental distress  
The cost to UK businesses of absenteeism and reduced productivity because of mental health and musculoskeletal conditions could be as much as £87.8bn by 2025, according to the Centre for Economics and Business Research. That is a £14bn increase on present figures.
However, you can alleviate this. For instance, investing in specialist early interventions for mental health conditions could save businesses an estimated £38.1bn by 2025. These findings add to the importance of helping workers to manage mental distress and providing adequate mental health support at work.
Leadership is key
Line managers and business leaders generally know that caring about people's experience in the workplace boosts productivity. This is creating an increasing sense of responsibility for staff wellbeing. Great managers and leaders are committed to raising awareness of, and addressing, mental health challenges.
Companies that increase their people management performance from the lowest levels to the UK average can secure a 19% productivity gain. Similarly, if the UK improved its performance on people management by 7%, £110bn could be added to the country's income (CBI, 2019).
Embrace new ways of working
Businesses can support workers by offering flexible working, training on personal resilience and financial wellbeing and mechanisms to deal with staff complaints. Added benefits, such as support with travel and childcare, also help. Central to this is continuous communication within and between teams – which is particularly vital while Covid-19 keeps employees physically apart.
Thalia Ioannidou, Research Manager at the REC