IRP Award Winner
Georgia Walden
15 January 2020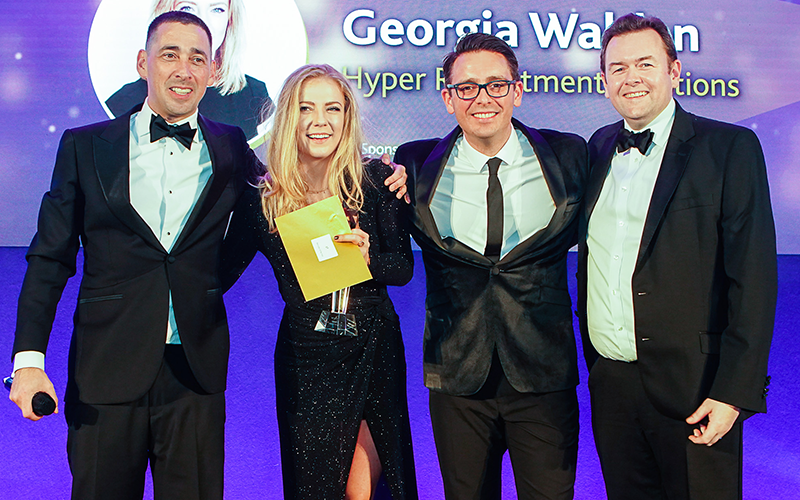 Georgia Walden, Senior Recruitment Consultant at HRS, on what lies behind her recent win as Recruiter of the Year at the IRP Awards.
How did you get into recruitment?
The career chose me. I didn't really know about recruitment when I left university with a Master's in science. I received a call from a manager at Hyper Recruitment Solutions, who described the company, how I could use my degree and the role recruitment played in helping people. It was more than helping candidates find their dream job and clients finding the best person. As the company specialises in science, the knock-on effect of placing someone who could play a part in creating life-saving drugs and life changing technologies was so inspiring. I joined the graduate scheme in 2016 and haven't looked back since.
What do you think has driven your success over the past 3.5 years?
The opportunities to progress have been amazing. I've changed desks and had the chance to do something new. The training and support I've received from more experienced colleagues when I've faced challenges has been fundamental to my success. But my motivation remains the importance of helping people. It makes my job so much more enjoyable. My favourite stories are about placing graduates struggling to find work, or those finding it hard to come back after a career break. It's less about the commission, more about the satisfaction of helping others.
What's been your biggest challenge?
I moved from the biologics desk where I was one of the highest billing consultants in the company, to a new regulatory start-up desk – billing nothing. I've persevered through the tough times. I've learnt about a sector I knew nothing about. I've even attended a course that is aimed at regulatory professionals, so that I can better understand what it takes to do the job. One of my new clients had struggled for over a year to fill a role specialising in personal protective equipment such as gloves and masks. However, I believe I've found someone suitable by going way out of the market. Another example was a start-up company, whereby I managed to fill 15 specialist roles (negotiating on the high salaries that come with that), essentially helping to build a company. I hadn't done anything like that before.
Hyper Recruitment Solutions also won the title of Recruitment Company of the Year for the second year running at the IRP Awards. How important is that to you – and the team you work with?
The team makes a massive difference, especially on those days where things aren't going so well. The same goes for the environment you work in – and that is influenced by training and the positive attitude from management down,
even when you mess up. I'd heard recruitment was cut-throat, but I've never seen that here.
What advice would you give recent recruits into the industry?
Keep positive. Keep focused. Recruitment can be very driven by your targets, but remember your team, your business, the sector that you work in – and that you are a part of something bigger.