Agricultural recruiters call for expansion of scheme to feed the nation
Agricultural recruiters call for expansion of scheme to feed the nation
Colin Cottell
21 April 2020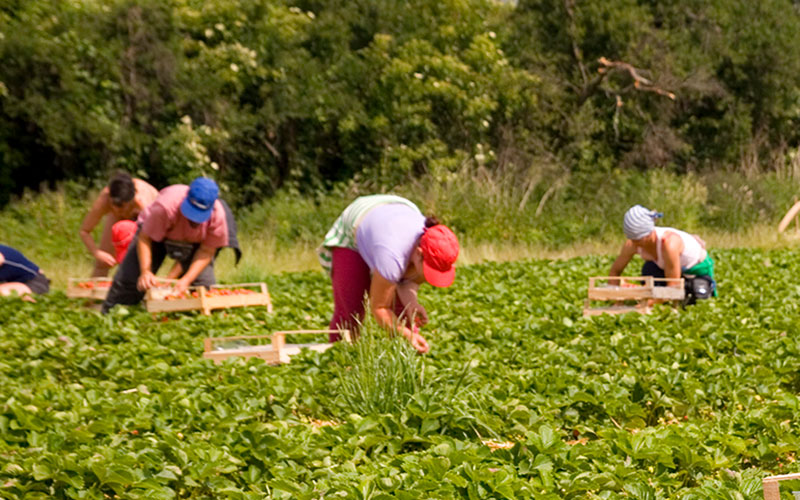 Fears that the UK's farming sector will run out of workers has led to a call to expand the Seasonal Workers Pilot scheme.
An alliance of agricultural recruiters is calling on the government to expand the scheme for agricultural workers, as coronavirus exacerbates an already difficult situation.
Donna Holland, head of marketing & growth at Concordia, a charity and one of the recruiters that make up the Ethical Alliance of Labour Providers, told Recruiter that the situation was serious. "The harvesting season begins for the majority of farms and crops from May onwards and we still have thousands of roles available for people, who are in need of a job," she said.
The three recruiters that make up the Ethical Alliance of Labour Providers – Concordia, HOPS and Fruitful Jobs – say that although government's Feed the Nation campaign has been a big success, with all their roles in April currently filled, on its own this will not meet the imminent spike in demand for farm workers during the harvesting season that begins in May for most farms.
"Each year the UK farming industry needs to fill 90,000 roles on UK farms – growing, harvesting and packaging fruits, vegetables and edible horticulture. Getting workers onto farms is absolutely vital for the UK to get through this pandemic, and we are doing everything we can to offer roles to those who've come forward," says Holland. 
As recruiter.co.uk recently reported, the situation is so desperate that last week the first of six planeloads of workers from Romania – the first being paid for by private farming company G's Growers – landed at London Stansted Airport from where the workers were transported by bus to East Anglia to pick lettuce and asparagus.
According to Holland, the Seasonal Workers Pilot – which allows non-EU workers to come to the UK to work in the sector for up to six months and was expanded in February from 2,500 last year to 10,000 for 2020 – has already made a difference. And now the Alliance is calling on the government to expand the scheme even further to 70,000 a year, Holland says. 
The Alliance is also calling for the scheme to be more flexible on visas. The Alliance's demand that the scheme be expanded echoes that of the National Farmers Union, which is calling the numbers to be increased to 80,000.
Petar Gyurov, a farm worker labour provider from Sittingbourne in Kent, says that unless something is done urgently some farms will literally run out of workers, citing one farm that normally has up to 300 workers, but currently has less than half the number.  
"It is definitely harder than any other year, much harder than I have known," says Gyurov, who describes coronavirus as the main problem, with many workers reluctant to travel to jobs because of the current travel restrictions. This continues to be a problem despite the government designating farm workers as key workers on 19 March, thereby allowing them to travel freely. Gyurov supports the expansion of the Seasonal Workers Scheme. "It could easily work," he says. 
However, David Camp, CEO of the Association of Labour Providers, told Recruiter that while the Seasonal Workers Pilot in 2020 allows for 10,000 workers from outside the EU to work in UK edible horticulture jobs, this has yet to feed through to significant numbers of such farmworkers on UK farms. "Corona-related travel restrictions have so far significantly limited this number," he explained.
Holland says, although the Feed the Nation campaign has attracted a lot of interest, there are a number of problems, and in particular a high attrition rate among workers who have applied for roles. Of 36,000 initial applications through their online jobs portal, the members of the Alliance say that only 6,000 have opted to do the video interview (an automatic process), while of the just over 1,000 people that have been offered a role, just 112 have taken up the offer.
Holland says the main reasons why successful candidates aren't accepting the roles is that they are unable to accept the length of the contract, which for health & safety reasons in the current climate is a requirement to limit the number of new arrivals on farms over the picking season. Other reasons are the farm is too far away from home, care responsibilities or only wanting part-time work.  
The Alliance also wants the government to commit to a wider programme of measures to promote farms roles to UK residents during the crisis. These include providing funds and resources, including government media channels to promote farming roles, help develop links between former workers in hard hit areas of the economy, such as hospitality, and allowing asylum seekers to be employed.
The members of the Alliance are committed to uphold high ethical standards in a sector, where exploitation of workers has often been a feature. "Workers do not pay our agents any optional non-recruitment fees, have free travel insurance, a comprehensive care package and are placed at farms that have invested time and resource into training, amenities and participant welfare," says Holland.
The Department for Environment for Environment, Food and Rural Affairs (Defra) was contacted for comment.
• Let us know what you think by emailing us at [email protected] or tweet us to tell us your thoughts or share this story with a friend.