Cut back on the booze and up productivity say Finlay James directors
Cut back on the booze and up productivity say Finlay James directors
Colin Cottell
17 December 2019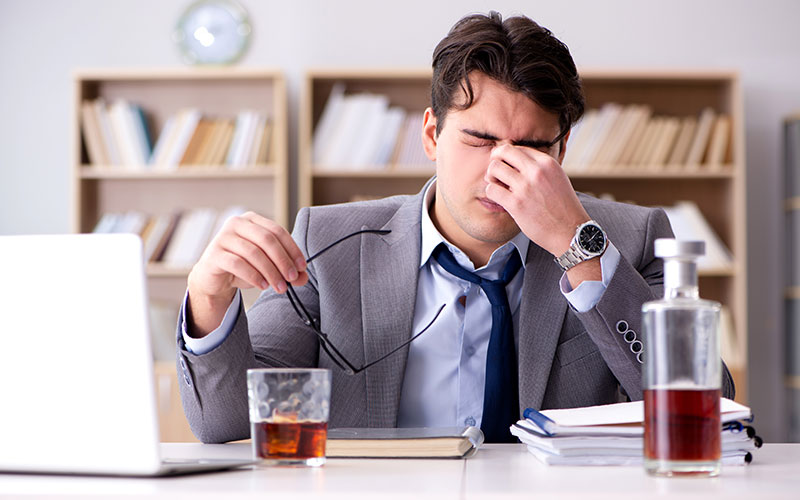 As the office party season moves into full swing, the directors of one recruitment company have highlighted the dangers of an office culture based around alcohol.
They also highlight the benefits both they and the company have experienced from changing their own behaviour and the company culture. 
John Gaughan, CEO of technology and digital recruiter Finlay James, and his wife, COO Sara Gaughan, who both gave up alcohol three years ago, warned of "the carnage" that alcohol causes and the damage to people's careers and lives. And they spoke of the marked improvement in their own productivity and increased revenue at the company. 
"It's not a coincidence, there has definitely been a correlation because we have had more time to invest into our day," said Sara Gaughan.
And while she said the couple "don't want to preach to ensure that all our staff stop drinking, the levels of productivity that we see when staff do a dry January, for example, is just crazy. They are just so much more focused".
Although Sara said "it is hard to say" whether cutting alcohol consumption would lead to a similar increase in productivity in every single staffing company, "I would definitely wager that it would improve the sector". She continued: "I would be very interested to see what would happen; it would definitely be a worthwhile experiment."
Sara's comments reinforce those she and her husband made at Recruiter's recent Future Gazing event in Manchester, where John Gaughan spoke of the damage alcohol had done to individuals and to the business. "Within the past five years people have left the business through things that they did on a Christmas day or night out or at an event where we have clients. And so basically you see people's lives changing for an instant on a night out," said John.
"We've also seen some relationships developing that shouldn't be developing through alcohol and other stuff, and the carnage that it can bring to a 50-person business is incredible because lives are at risk.
"The problem is, that night out or that trip away can cause such stress and such anxiety and such shame. It is horrible, and you know I've seen people leave either our business or other businesses, because of a situation that their employers and the owners of the business in some respects, put them into."
"Personally, I feel that you have got to be accountable for some of the behaviours," said Sara, who explained that as result the company had taken a number of steps to reduce the amount of alcohol consumed by staff, and to change the office culture. 
"While we still have a Christmas party we don't have a free bar anymore, and while we still offer staff incentives, we no longer give them a bottle of champagne; we give them money and vouchers," said Gaughan. They also make sure that half the office fridge is filled with alcohol-free drinks, and that people understand that when they go on work-related events, there is no obligation for them to consume alcohol. 
"It is a matter of choice in the same way that if you went to a restaurant and they ask you 'Do you have any allergies or dietary requirements?'. I think it should be the same with alcohol and no drinking," she said.
The Gaughans are not the first people to warn about the dangers of alcohol in the recruitment industry. Earlier this year, Paul Flynn, the co-founder of Staffgroup, who overcame his own battle with alcohol and substance abuse, highlighted the importance of those running recruitment companies leading by example, and urged the industry to take collective steps to address the issue.
After leaving Staffgroup, in 2016 Flynn set up Addcounsel, a bespoke service for wealthy individuals suffering the same sort of problems. And for the past two years, Flynn has been CEO of life science recruiter Umbilical Life.
• Comment below on this story. You can also tweet us to tell us your thoughts or share this story with a friend. Our editorial email is [email protected]