CONTRACTS AND DEALS: 11-15 SEPTEMBER 2017
CONTRACTS AND DEALS: 11-15 SEPTEMBER 2017
11 September 2017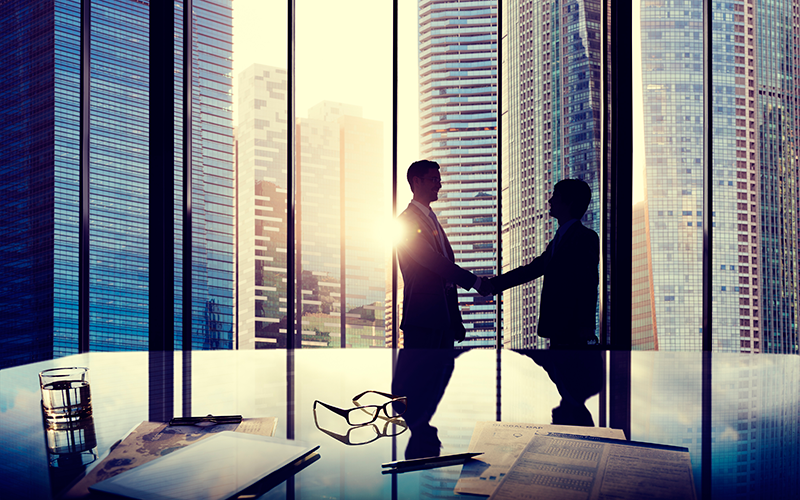 This week's contracts and deals include: Adecco Group, APSCo, Bullhorn International, Cammach Recruitment, Crimson, Harvey Nash, NRG, RACS Group, Sage People, SmartRecruiters, Softserve, TempBuddy
• The Adecco Group has acquired BioBridges, a career portfolio management company providing integrated services to the life sciences community.
The recruitment giant says the transaction strengthens its professional solutions footprint and establishes a US platform to enhance its global life sciences presence.
BioBridges will come under the leadership of president of Adecco Group's North America finance, office and healthcare businesses David Alexander. Jason Falchuk, founding partner and president of BioBridges, will remain in his current role following the acquisition. Jeff Souza, currently CEO of BioBridges, takes the new role of senior vice president of client services. Cindy Steinberg, founding partner, will continue as a consultant to the company through the transition, while BioBridges maintains its established branding and headquarters location.
Terms of the transaction have not been disclosed.
• The Association of Professional Staffing Companies' Asian operation, APSCo Asia, has merged with the Singapore Professional Recruitment Organisation (SPRO) to create APSCo Singapore. SPRO was established in 1989 to raise the overall awareness and practice standards of the recruitment sector in Singapore.
Cloud computing company Bullhorn International has acquired Connexys, a provider of recruitment solutions for mainland Europe.
Connexys's flagship product is an applicant tracking system (ATS) built on the Salesforce platform, while its solutions are used by 300 customers and 20,000 recruitment professionals across the Netherlands, Germany, France and Belgium.
The deal sees Connexys's founders including CEO Gijs van Heijst join Bullhorn's EMEA leadership team. Terms of the transaction were not disclosed.
• Aberdeen-based recruiter Cammach Recruitment has acquired a local rival for an undisclosed sum. Bryant Group will continue to trade under its current name, though founder Brenda Bryant retires from the business after 37 years in the recruitment sector.
The expanded firm will occupy the Bryant offices at 440 Union Street housing 16 members of staff across three floors, which Cammach says has room for increased headcount.
• Global technology recruitment and outsourcing group Harvey Nash has acquired IT solutions and recruitment company Crimson in a £15m deal.
Crimson, founded in 2000, specialises in digital and technology transformation solutions, as well as offering a full range of IT recruitment services, both permanent and contract. 
Of Crimson's three shareholder directors, Robert Mallaband and Simon Chave will continue as CEO and CIO of Crimson respectively, remaining with the business along with the current management team, post-acquisition.
Ryecroft Glenton Corporate Finance advised on the deal.
• Multi-sector recruiter NRG has agreed a partnership with housing association of Karbon Homes to recruit a number of leadership positions. These include a director for property services and assistant directors for business development and communications, strategic planning and insight, and development sales and marketing respectively.
• UK payroll provider RACS Group has secured a seven-figure funding. The firm says the funding will see the group realign its core business functions, invest in expert personnel and cutting-edge technologies, while also streamlining internal operations and programmes to benefit its clients.
The investment is being overseen by Jason Kennedy, who has 20 years' experience as leader in the recruitment sector with firms including Manpower, Grafton and temp worker software platform TempBuddy.
• Background screening firm EBI has integrated with talent acquisition specialist SmartRecruiters. The integration enables SmartRecruiters' customers, who use EBI for their screening program, to manage their background screening from within the SmartRecruiters application.
• Technology solutions company Softserve has deployed cloud computing company Workday's human capital management (HCM), Workday Time Tracking and Workday Cloud Connect for third party payroll.
• Multi-award winning workforce management platform TempBuddy has partnered with Minneapolis-based technical and scientific staffing specialists Award Staffing.
TempBuddy's workforce management app will enable Award Staffing to instantly share job details, receive notifications on worker interest and availability in a bid to make placements more quickly.
• Enterprise location intelligence solutions company Ubisense has chosen HR and people software provider Sage People to transform its HR operations in the cloud.
In a statement released today, Sage said Ubisense's 140-strong global workforce consists of both office-based and remote workers. Ubisense needed an accessible, simple and consistent experience, which reduced the time its employees (including the HR team) were spending on overly complex and time-consuming HR processes.