Big talking point: Mental health in the workplace
15 July 2019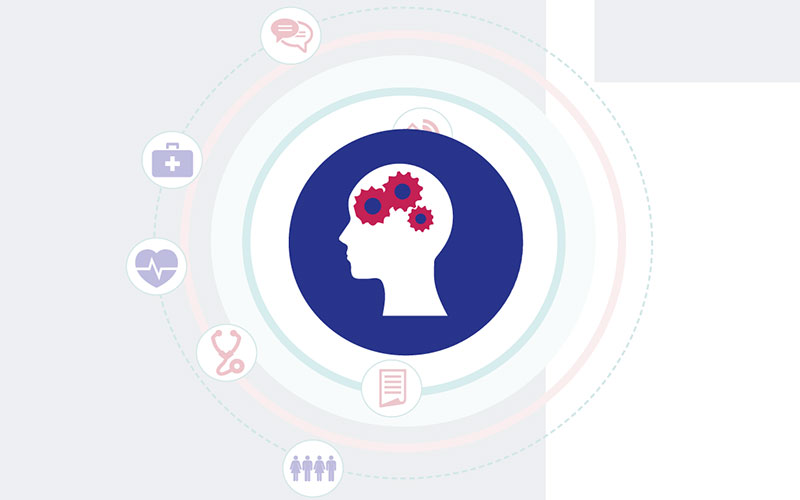 Do you know how to support mental health issues in your business?
As many as 1 in 4 of us will experience a mental health problem this year, according to mental health charity Mind. Recruiters working long hours in high pressure sales environments are likely to rank in this number, and whether they realise it or not, they'll also come across candidates who are suffering too. So what needs to be done to better support mental health in the recruitment sector?
This important topic was discussed at the REC's recent TREC conference. And one thing everyone agreed on was that working environment is crucial.
Workload, management and culture can all contribute to stress and mental health issues, which is why firms need to embed good mental health and wellbeing into their business.
There is also a clear business case for doing so – even if some managers might take convincing. According to the CBI, UK businesses spent an average of £720 for every person in their organisation due to time taken off work last year – whether for physical or mental health – and this cost rises by 9% for SMEs. Taken on its own, the government's Thriving at Work report suggests poor mental health costs the economy up to £99bn a year.
But stepping back from the figures, few could argue that companies perform better when their staff are happier, healthier and more engaged. Just think what can be achieved by a room full of recruiters firing on all cylinders, working with contagious positivity. And UK firms that have invested in long-term health and wellbeing strategies have been rewarded with lower absence rates, higher productivity, and are better able to attract the people and skills their business needs.
Small steps that can make a big difference
There was lots of practical advice about what good mental health practice looks like at TREC.
Leading a group discussion, Abigail Hirshman, senior adviser at Acas, said mental health and wellbeing support should be a 3-way model, actively involving employers, individuals and managers.
Measures people talked about putting in place included appointing and training mental health first aiders, peer-to-peer support networks, stress awareness workshops and activities such as yoga. Some ideas were as simple as recognising a job well done, or weekly 1-to-1 sessions with team members to catch up on their deliverables and KPIs, but also their workload and how they are coping.
Buy-in from managers and leaders is crucial in order to drive awareness and foster a culture of openness, people agreed. So is taking the time to understand your workforce and what they want or need, and tailoring the support you offer accordingly. In a male-dominated environment, for example, there can be low uptake of stress-lowering sessions, while a particularly young workforce may be facing issues around adapting to working life or a new city.
And although offering flexible working can be a useful tool in restoring work-life balance, several conference participants sounded a note of caution: it can have downsides if not supported properly, including loneliness and less of a sense of being part of the team.
The responsibility to share best practice
Recruiters have another reason to embrace best practice on health and wellbeing: candidates are increasingly interested in what policies prospective employers have.
According to Hays' What Workers Want 2018 report, 73% of candidates will only consider applying to organisations that have a public commitment to Equality, Diversity & Inclusion (and policies are expected to include mental health). Similarly, research from recruiter Robert Walters suggests 63% of professionals would be more likely to recommend their employer to their contacts if that employer had positive mental health and wellbeing policies – and employers typically underestimate the importance of them.
With the continued hunt for talent, being able to advise on best practice on mental health – and lead by example – is another important tool in the good recruiters' box.
---
Top tips for employers
Addressing mental health issues in their early stages is best way of preventing them escalating. That means having a long-term strategy in place for recognising the signs and providing services to help.
Make use of free services, such as the government's Fit for Work service, or those offered by your critical illness or group income protection policies. And if you've already got an Employee Assistance Programme, which offers services such as telephone or face-to-face counselling, make sure people are aware it exists.
Consider offering flexible working – it can be useful in assisting employees manage their work life balance and wellbeing.
Invest in training – especially for line managers and HR personnel. It can assist in tackling some of the ongoing stigma around mental health.
Improve staff satisfaction and culture – it has an impact on employees' wellbeing and helps management understand some of the issues a workforce faces. 
How you can beat the stress
Make time to talk – talking about your feelings can help you stay in good mental health and deal with times when you feel troubled. It isn't a sign of weakness.
Get moving – exercise releases chemicals in your brain that make you feel good and regular exercise can boost your self-esteem and help you concentrate, sleep, look and feel better.
Take a break – a few minutes can be enough to destress you. Give yourself some 'me time'. Why not give yoga or meditation a try?
Eat well – there are strong links between what we eat and how we feel. For example, caffeine and sugar can have an immediate effect. A diet that's good for your physical health is also good for your mental health.
Ask for help – none of us are superhuman. We all sometimes get tired or overwhelmed by how we feel. If things are getting too much for you and you feel you can't cope, ask for help.
For more detail on these and other practical ways to support mental health in the workplace, the REC has worked with Howden Employee Benefits & Wellbeing (formerly Punter Southall Health & Protection) to create a free guide which you can find on the REC website.