CONTRACTS & DEALS: 20-24 MAY 2019
CONTRACTS & DEALS: 20-24 MAY 2019
20 May 2019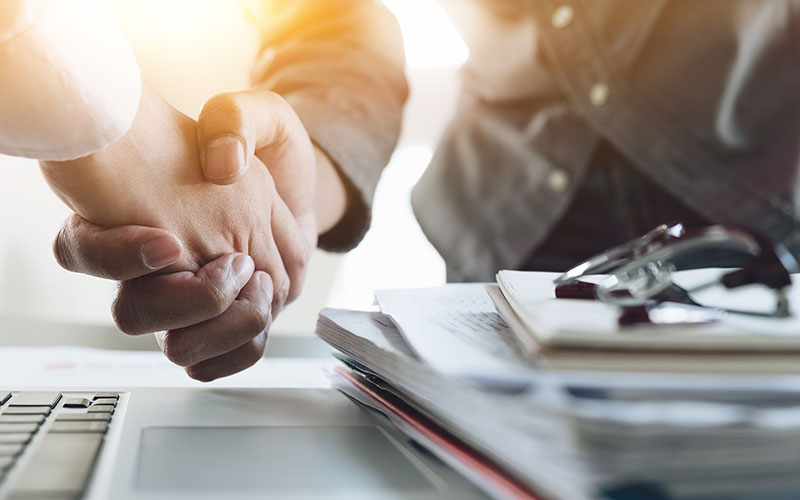 This week's contracts and deals include: Beaumont Bailey Executive Search, Cornerstone OnDemand, JobAdder, M65Jobsearch, Perpetual Partnerships, Recruitment Entrepreneur, Russell Taylor, Spider, Templeton and Partners, The Curve Group, Wagestream
• Spire Ventures, a property-focused investment firm led by entrepreneur and investor Faisal Butt, has launched property, infrastructure and industrial executive search firm Beaumont Bailey.
Alongside a core executive search offering, Beaumont Bailey's talent development and workforce analytics services will aim to help clients tackle HR challenges such as diversity, blocking managers, flight risks and turnover flashpoints. Insights offered by the firm will aim to help companies retain talent, develop future leaders and recruit at the right time and price and reduce mis-hires.
Beaumont Bailey Executive Search is the creation of founders George Dobbins and James Pope, while the deal includes recruitment investment firm Hamilton Bradshaw chair James Caan as the main co-investor.
• Education provider Cognita is using cloud-based learning and human capital management software Cornerstone OnDemand's Cornerstone learning, performance and HR suites. The software will be used to establish a shared identity throughout the Cognita group and improve communication across its global network of employees. Cognita also plans to implement the Cornerstone Recruiting suite to attract and retain top talent.
• Recruitment software provider JobAdder has partnered with recruitment investor Recruitment Entrepreneur, chaired by entrepreneur James Caan, to launch its new platform across 18 businesses. The firm says the decision followed numerous discussions with different CRM solution providers.
• Engineering, manufacturing and commercial staffing specialist M65Jobsearch has acquired the UK clients of multi-sector recruiter Ellison People as managing director Vicky Atkinson moves to Australia. Separately Katie Shaw has joined M65Jobsearch as senior commercial consultant.
• Wirral-headquartered engineering, construction and logistics recruiter Russell Taylor Holdings has acquired Cheshire engineering, technical and manufacturing recruitment firm Perpetual Partnerships. The group says the acquisition will be followed by a targeted growth plan for Perpetual Partnerships, with the firm seeking to create 15 new jobs at its Knutsford base. Perpetual Partnerships managing director Garry Rogerson, who is also a shareholder, will continue to head up the operation.
• East Anglian recruiter Spider has secured a national online recruitment advertising contract for container transport company Maritime Transport.
This contract comes off the back of a number of successful advertising campaigns over the last two years, which saw Spider attract candidates for Maritime Transport in Liverpool, Manchester, Felixstowe, Southampton and Tilbury, among others. Consequently, Maritime Transport have made Spider responsible for their external online recruitment drive throughout the whole of the year.
• Global niche technology-focused staffing firm Templeton and Partners has been awarded a SECO licence. Governed by SECO, labour leasing laws are applied to each placement throughout Switzerland. Templeton and Partners has been granted the SECO licence to place both permanent and contract personnel throughout the region.
• Recruitment and HR outsourcing provider The Curve Group has launched a recruitment process outsource solution for satellite operator Avanti Communications Group. The group is providing an end-to-end permanent recruitment service spanning the entire recruitment process and all levels of hires. The solution is underpinned by The Curve Group's Magnet For Talent candidate attraction and Employee Stickability tools, to ensure they find the best talent in the market for Avanti.
• Flexible wage app Wagestream has secured additional funding. The firm's latest round – jointly led by early-stage venture capital specialists Balderton and Northzone – adds £15m resulting in a total amount raised of £40m ($52.5m). 
This latest round comes on the back of earlier investments from QED, co-founding Investors in Wagestream, the Joseph Rowntree Foundation, the London Co-investment Fund (LCIF) and Village Global – a global venture capital backed by entrepreneurs including Bill Gates and Jeff Bezos – in addition to a wholesale funding facility of up to £25m from specialist savings and Shawbrook bank.