Think tank calls on government to resurrect strike-breakers proposal
Think tank calls on government to resurrect strike-breakers proposal
19 September 2017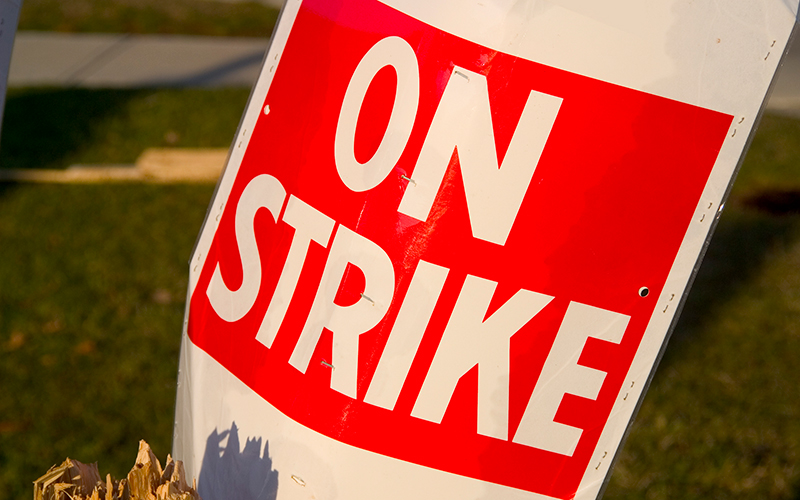 The Centre for Policy Studies has called on government to resurrect a controversial proposal that would enable recruiters to supply essential workers as 'strike breakers' as cover in the event of industrial action.
The proposal is contained in a report from the think tank, released yesterday.
The CPS's proposal builds on an idea first put forward by the Conservative Party in its 2015 election manifesto. 
In the summer after their general election victory, David Cameron's government consulted on a proposal to remove Regulation 7 of the Conduct of Employment Agencies and Employment Businesses Regulations 2003. This would enable employers facing industrial action to hire temporary agency workers to perform some of the functions not being carried out due to the industrial action. But two years on government has still not reported back its findings of this consultation. 
At the time of the consultation the proposal attracted opposition from unions and the Recruitment & Employment Confederation (REC), who said at the time it was not convinced that putting agencies and temporary workers into the middle of industrial relations situations was a good idea for agencies, workers or their clients.
And today in a strongly worded statement sent to Recruiter in response to the CPS's report, Unite union's assistant general secretary Howard Beckett said: "The UK already has the most restrictive labour laws in the Western world, and that calls for measures such as these only further tilt the scales in favour of rogue bosses.
"It also fails to address the heart of the matter – seven years of service and wages cuts to a dedicated workforce now fed up with a government that will not listen.
"This is an over-the-top call from a hard right group which has no idea about the challenges faced by working people. These are the measures of despots, not democrats."
However, there are a number of ways government could make the CPS's proposal a reality, according to employment lawyers Recruiter has spoken to.
"The current law prevents an employment business from supplying employers with agency workers to perform the duties normally performed by a worker who is on strike or taking industrial action," explains Dr Sybille Steiner, partner solicitor at law firm Irwin Mitchell. 
But she adds the government could make the CPS's proposal law by:
proposing amendments to the Trade Union Act 2016, to allow employers providing essential public services to employ agency workers who can perform a minimum standard of service during public sector strikes 
amending Regulation 7 of the Employment Businesses Regulations 2003, which currently prevents an employment business from supplying employers with agency workers during official strike action or alternatively to include an exemption under Regulation 7, allowing employers to employ agency workers during essential public service strikes
increasing the current threshold of votes required for lawful strikes in "important public sectors", making it even harder for lawful strikes to take place, thus allowing agency workers to be employed during unlawful strike actions. 
Steiner continues: "A change in the current law would mean that recruitment agencies providing agency workers in essential public services may become exempt from the current prohibition under Regulation 7 and may be allowed to provide agency workers to employers providing essential public services during strike action."
Government could also push the proposal through as secondary legislation to the Trade Union Act, but according to Jacqueline McDermott, consultant solicitor at law firm Keystone Law, that would still need to be approved by both Houses of Parliament – the Commons and the Lords – before it could become law.
"Arguably, it would also have to publish the results of the consultation, which it appears it so far failed to do.
"If it were to be successful in repealing Reg 7, then it would apply to all sectors and services and not just essential ones, unless any secondary legislation specifically limited the use of agency workers to essential services."
When contacted by Recruiter for comment on the CPS's proposal, a Department for Business, Energy and Industrial Strategy (BEIS) spokesperson said in a statement it is an offence for an agency to supply temporary workers to cover official industrial action called by trade unions, but added: "Trade unions have a constructive role to play in representing their members' interest but the public has a right to be protected from strike action demanded by a small proportion of union members.
"That's why we introduced the Trade Union Act, which has already prevented undemocratic industrial action on the London Underground and in Scottish public services and is expected to save around 1.5m working hours per year from being lost – worth £10m to the economy." 
• Want to comment on this story? Email us at recruiter.editorial@redactive.co.uk or tweet us below to tell us your thoughts. We will run comments online in a round-up at the end of the week.