Capgemini extols virtues of degree apprenticeships
Capgemini extols virtues of degree apprenticeships
6 July 2017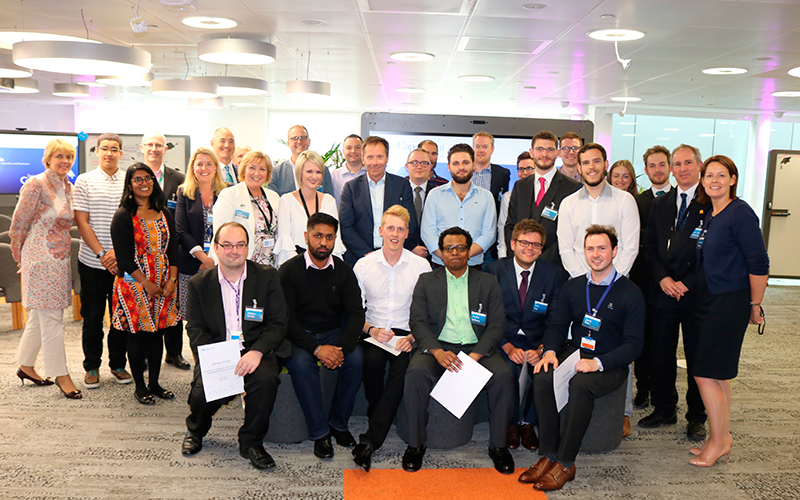 Introducing a degree apprenticeship has helped Capgemini cut recruitment spend, reduce attrition and helped develop the talent of the future.
Recruiter spoke with head of graduate apprentice and placement programmes Ruth South to find out how the consulting, technology and outsourcing services provider has achieved this.
Back in 2014, Capgemini, along with Aston University, introduced a degree apprenticeship aimed at developing software engineers and business analysts. The recruits are employed within the business full time. 
Currently, there are 800 people overall on the firm's graduate and apprentice programmes with 369 apprentices and 250 on the degree apprenticeship programme and on 17 July the first batch of recruits will graduate. Last week a ceremony was held to celebrate their imminent graduation (see picture above).
According to South, most have stayed the course, with the programme boasting a 93% retention rate and 64% securing firsts. Some, she adds though, have chosen to defer their graduation by a year or so, but as the programme is quite a commitment for recruits, the company is happy to be flexible enough to accommodate their needs.
South told Recruiter key to the success of the programme has been getting recruitment right when taking on people on.
This has meant recruiting people that can demonstrate the right attributes. These include commitment, passion, drive, a "real desire" to grow skills and capabilities, the ability to work in an agile environment, adaptability – to adapt to different working styles, ownership, credibility and a strong work ethic, South says.
According to South, the firm has benefitted from having lower recruitment costs as it takes people on at an entry level. As these entry-level recruits tend to stay on the programme, they are inclined to stay with the business for longer. And with these recruits working their way up through the company, they can also progress to team leader, responsible for developing the next batch of new apprentices during the programme.
For any business seeking to introduce such a programme, South recommends choosing a partner that really understands their industry and can have open and ongoing conversations with to evolve and develop their programme, as well as ensuring they get buy-in from leadership. Capgemini chairman Christine Hodgson has supported the programme from its very outset, South says.
But the programme has proven a win-win for apprentice and company alike, South added. "It's fantastic to see people go through an experience like this, where perhaps for whatever reason they couldn't do a degree, or from a social mobility perspective for whatever reason life has stopped them, meaning that wasn't an option for them. 
"To see the difference in these people over the course of these years has been fantastic for all of us and something I think other employers could benefit from as well."
• Want to comment on this story? Email us at recruiter.editorial@redactive.co.uk or tweet us below to tell us your thoughts. We will run comments online in a round-up at the end of the week.