Executive Briefing: Secrets of a good sale
Executive Briefing: Secrets of a good sale
1 March 2017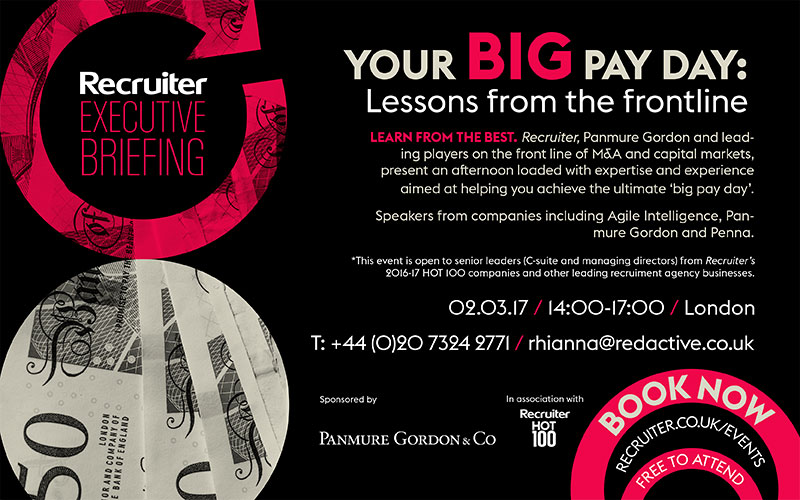 Gary Browning, board adviser and non-executive director, will share his insights...
from the recent sale of Penna to recruitment giant Adecco at a special Recruiter Executive Briefing on 2 March in London.
Hosted by Recruiter HOT 100 sponsor Panmure Gordon from 2pm-5pm, 'Your Big Pay Day: Lessons from the frontline' will also feature commentary from HOT 100 research partner Sue Dodd, Panmure Gordon head of M&A Karri Vuori and chief economist Simon French, plus Andrew Mainwaring of Inflexion and Matt Siebert of Tosca.
Browning told Recruiter his talk will focus on "the journey of building sustainable value and growth" for clients and stakeholders of the business. He will also reveal how that was achieved through, among other measures, services and "being slightly different".
The timing is right for recruiters to explore M&A opportunities, Panmure Gordon's Vuori said: "Following on from a record year for M&A in 2016, with surprisingly upbeat UK macro data at the moment, we are expecting a buoyant market for M&A in general with M&A in the recruitment sector typically following macro trends."
Recruiter editor DeeDee Doke said: "We are delighted to present a very exciting M&A case study with a real win-win scenario at this event. There will also be expertise shared by both public market and private investors that forward-thinking recruitment business leaders won't want to miss."
Attendance is open to senior leaders (C-suite and managing directors) of recruitment businesses. To attend, email Rhianna Fitzgerald at

[email protected]