Recruiter Awards 2021: Getting it right
Rachel Masker
30 November 2021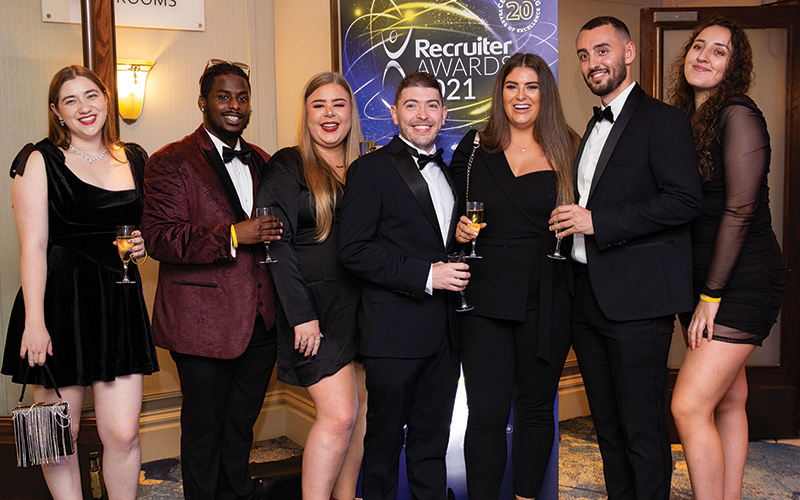 In exceptionally challenging times, many recruiters and businesses have gone above and beyond.
In a year that has seen a global pandemic, the recruitment industry has had to grapple with the seismic impact on the world of work, jobs, skill shortages and business generally. The 2021 Recruiter Awards celebrated the agencies, in-house and RPO teams who fought their way through the tide of uncertainty and got it right. The inspiring leaders, consultants, back-office teams and individuals who showed resilience, innovation and compassion. Faced with exceptionally challenging times, many have gone above and beyond to pivot their business models to turn a crisis into a win.
---

Agency Recruitment Leader of The Year
Andrew Anastasiou
Founder and CEO of Pertemps Professional Recruitment (PPR) Andrew Anastasiou knows more than most about leadership. The teacher-turned-recruiter was a managing director of corporate giants Hays and Capita, employing thousands of people worldwide, before finally starting his own recruitment business.
Award judges praised Anastasiou as the "epitome of what a great leader should be – energetic, engaging, authentic, honest and passionate about his role and the industry in general". After a 27-year career in recruiting, Anastasiou said that to be recognised by his peers was "the biggest thing for me" and "a fantastic accolade for myself and my team".
Based in London, Anastasiou currently employs 60 people and specialises in education, health and social care. When he set up PPR in 2016 it was just himself in the corner of an office with a laptop.
Today – five years later – his business is the fastest growing branch of the Pertemps Group Network. Anastasiou is now a group board director of Pertemps Network Ventures, giving him a seat at the table of one of the biggest UK recruiters.
But there's something to be said for starting small. "I like the intimacy of being able to make a decision," said Anastasiou, adding he became fed-up with the "stuffy" corporate world where decision making can take months. Adaptability to change is the one key quality of a good business leader, says Anastasiou.
Coronavirus highlighted how important it is to be able to respond quickly. Despite the pandemic, PPR delivered a £1.4m profit in 2020. Plans in the pipeline include expanding into life sciences recruitment. "We want to grow. The big goal for me is to hit that £50m turnover."
---

International Recruitment Agency of the Year
Winner: Elemed
When the pandemic hit, some recruitment companies reluctantly closed their doors and put staff on furlough, unsure when they would reopen.
But niche, medtech recruiter Elemed pivoted their business to survive Covid, "punching well above their weight," say award judges.
The mostly female, multilingual team specialises in technical roles – regulatory, quality, clinical – within the medical devices industry. Travel restrictions had an immediate effect on business. While London-based, the team recruits across Europe, including Germany, France and Switzerland.
Karen Muenz, senior marketing and operations specialist, explains: "A lot of our candidates are relocators, and we move people around Europe. With limited travel, the potential for companies to accept relocator candidates decreased, decisions were taking longer, companies weren't comfortable interviewing or onboarding people online as they hadn't done it before."
The pipeline slowed. Elemed had to adapt to survive. The company launched Elemed Mentoring Academy. The initiative took about three to four months to set up. "We had to research, test, plan and prepare lots of material and the actually mentee/mentor matching process literally took days," said Muenz. Candidates were paired with experienced professionals in the industry. In addition to one-to-one mentoring, the structured, seven-month programme included on-demand webinars, work packs and virtual monthly meetings. Some 23 mentees signed up, providing a much-needed revenue boost.
"We are the first recruitment company ever that has built a hybrid programme combining mentoring, training and networking," said Muenz. International Regulatory Affairs Professional Society (RAPS) asked to collaborate. Currently closed to new applications, the plan is to offer a revamped Mentoring Academy in spring 2022.
---

Recruitment Supplier of the Year
Winner: Tribepad
Coronavirus lockdowns made recruiters more reliant than ever on technology. And Tribepad showed its credentials as "a true business partner to its clients and a caring and committed member of the recruitment eco-system", said judges.
Commenting on the award, Dean Sadler, CEO, said: "To win means everything to Tribepad, especially this year during the pandemic. It's an accolade to how hard our teams have worked to provide the best possible service to our clients despite, at times, really challenging circumstances."
Known for its software, which helps recruiters track applicants, host video interviews, onboard candidates and manage contractors, the tech firm massively upscaled its operation. During the first lockdown, it went from processing 1m job applications per month across all its clients to 1m per week. Tribepad systems became critically important for recruitment drives for key workers by Tesco and Nightingale Hospitals, for instance.
Judges also praised the firm's innovation. Working with a Sheffield charity as part of the national Covid-19 effort, the firm adapted its contractor management system (Flex) for free to connect charities with volunteers. This custom-built platform made it quicker and easier to verify DBS checks, driving licences and other documents. More than 1,100 volunteers were recruited and mobilised.
Tribepad believes tech should be a great leveller. By developing its anonymous applications feature, one council that wanted to improved its equality, diversity and inclusion, saw Black, Asian and minority ethnic (BAME) applications more than double and 39% of hires are now from BAME backgrounds.
What of the future? Sadler said: "We're focused on people first, product second and profit third. That means we want to be the best possible company we can be for our team. We want to continue to grow our platform and deliver brilliant service for our clients."
---

Best Public/Third Sector Recruitment agency
Best Recruitment Agency of the Year – Medium
Best Temporary Recruitment Agency
Most Effective Back office Operation
Winner of all four: Seven Resourcing
Seven Resourcing has triumphed, with four awards to add to its growing trophy colllection. The Ipswich-based company clinched the best public sector, best temporary recruitment, best medium-sized agency and the most effective back office.
Commenting on the record-breaking haul, George Owen, head of marketing, said: "This was the biggest night we have ever had on the awards front by far." He paid tribute to employees who worked round the clock to supply frontline, temporary health and social care workers during the fight against Covid-19, including Britain's vaccination programme.
Owen said: "It's a mix of being in the right place at the right time and really going for it."
Seven's back office staff was the driving force behind a 40% increase in gross profit to £5.6m. Judges not only praised Seven's impressive commercial growth, but said the business showed "innovation, investment, compassion and reward".
In early 2020, the company was inundated with urgent requests from health and social care services for temporary key workers. Faced with processing a mountain of paper timesheets, still used by healthcare organisations, owner and managing director Richard Cooke, a "technical whizz", designed a digital timesheet. The new software, PayTech, means paper timesheets "no longer get lost, damaged or forged and clients can easily track spend", said Owen. Moreover temps get paid on time, every time.
While health and social care sectors were busy, Seven's animal health and education branches froze as schools and vets closed. Instead of furloughing staff, they were retrained to help provide a 24/7 service for frontline key workers.
In a bid to keep staff safe, happy and motivated, Seven invested £30k in PPE and remote working improvements. With communal facilities out of bounds, staff in the company HQ were each given their own fridge, microwave, kettle and water filtration system.
Remote working can bring extra stresses and strains. Seven hired a full-time professional specialising in employee development and mental health, ran workshops for all staff and asked charity MIND to train managers. Meanwhile, rewards included quarterly gift boxes up to the value of £500. Key worker temps were sent 'Hero Boxes' filled with critical PPE, their own reusable mug, pen and tasty treats.
Future plans? "We are looking to double the size of our office space in Ipswich, going from 100 to 200 staff on site by Christmas," said Owen. Other plans include a bigger Colchester office which recruits for life sciences and expanding nursing recruitment in the US. "It is all going to be about growth for us. It's going to be a super exciting time."
---

Recruitment Impact Award
Winner: Hung Lee
When Hung Lee sent out his first 'Recruiting Brainfood' email newsletter in 2016, he didn't have big plans. It was just a fun thing to do, a "reasonable side hustle", he says. Today some 25,000 people are signed up to receive the free, weekly newsletter which has grown into a full-time, multi-channel business, including podcasts.
Asked for his reaction to winning, Lee said: "Shock. Surprise. Delight. That it came from nomination and vote by people in the industry made it all the more special." Unlike other categories, where companies and individuals nominate themselves, those shortlisted for the Impact Award are nominated by the judging panel. Judges praised Lee as "an acknowledged thought leader, particularly in the technology recruitment space."
Recruiting Brainfood aims to cope with the digital age. Lee says: "There is too much information for busy recruiters to process; certainly, too much bad information that you have to swim through to get to the great stuff. I had this problem myself and found a solution by creating an archive of the great content I found. Halfway through, it occurred to me that others might have the same problem, so why don't I share my solution?"
Lee says some of the best blogs and articles are from people outside the recruitment industry. His favourites include: "Dan Luu, a software engineer but really a philospher of human behaviour, Dr Richard Claydon, who is some kind of organisation anthropologist and Chloé Valdery, author, feminist, a true breaker-of-chains. There are so many more."
Despite its huge success, Lee still curates the newsletter himself. "The reason why the newsletter works is because the pieces in it are from non-mainstream outlets, usually bloggers or commentators. How I find them is simply to be in the middle of information flows – it's less search, more catch."
Image credit | Redactive Publishing ltd