Turning on the tourism talent tap
1 December 2020
Saudi Arabia's Red Sea Project is going to require a workforce of 35,000 in a sector in which it doesn't have a huge home-grown skill base
Saudi Arabia is blasting onto the leisure tourism scene with a new luxury development spanning 28,000sq km. The Red Sea Project includes 200km of coastline, over 90 islands, dormant volcanoes, desert and mountains, all on Saudi Arabia's Western coast.

"It's the size of a country," says Ahmad Darwish, chief of staff at the Red Sea Development Company. "It's a giga project – the most ambitious tourism project in the world. It really is exceptional, with several experiences all in one location."

Although the resort covers 90+ islands, 75% of them will be left untouched. This is for environmental reasons and to limit the number of visitors. Its airport, which should be operational in 2022, is predicted to serve 1m tourists a year, at a peak of 900 passengers an hour.

A project of this size and scope requires a large workforce with a varied and extensive skills set. The resort will have created 35,000 direct jobs by the time it is complete, with another 35,000 jobs being created indirectly. This means that if the Red Sea Project is to fulfil its promise of being a luxury destination, "an exquisite sanctuary offering indulgent experiences, seamlessly customised to the unique needs of each visitor", as it says on its website, it is going to need a very skilled and experienced set of employees, and a lot of them.
Global talent search
Given that the region does not have a history of leisure tourism – the only tourism that has really existed in Saudi Arabia until very recently is religious tourism – this has presented certain recruitment challenges for the resort. So far, 50% of people hired are Saudi, with the other 50% coming from abroad. The latter situation is because there isn't a sufficient base of existing skills to tap into, and some skills are not represented at all in the area.

"On a project of this scale we need a lot of technical skills," says Moneer Brembali, executive director of HR at the Red Sea Development Company. "These workers are not easy to find within Saudi Arabia, so we have gone outside. We have been going around the world looking for talent."

The Red Sea Project has and continues to make use of international search firms and headhunters to spread the word about the resort globally and to draft in skills that don't exist or are in short supply in Saudi Arabia. For example, the resort has a big focus on sustainability, and there is not a strong representation of people with relevant sustainability expertise locally. "By creating this project, we are creating a new sector that has never existed before," says Darwish. "Tourism never existed, so we have had difficulties recruiting Saudis for roles such as on the environmental side of things, the smart side of things, in design and sustainability."

Darwish is keen to stress that the intent is not to rely on imported talent. The recruitment strategy is one of recruiting locally wherever possible but looking further afield when necessary and then sharing skills and knowledge around the organisation to build up local capabilities.

"We want knowledge transfer from experts," says Darwish. That said, the resort will be an international destination, so it is useful to also have an international workforce.
These workers are not easy to find within Saudi Arabia, so we have gone outside. We have been going around the world looking for talent"
Growing local talent
The Red Sea Development Company has also entered into partnerships with universities to build up a graduate talent pool and will keep forging networks to find and develop new skills. "We are growing our local talent, taking on young Saudis and training them to be the leaders of the future," says Brembali.

Women are being recruited into roles, as well as men, which is far from standard procedure in Saudi Arabia. There are already women working in all departments, including in risk and resilience, security and project management. Any job advert that is put out is assessed for gender bias and skills analysis before posting, and care is taken to ensure that the tone and vocabulary used will appeal to both men and women.

To ensure an effective and efficient recruitment process, Mohammad Altuwijri, recruitment manager at the Red Sea Development Company, says they have embraced what digital has to offer. This includes a shift from manual processes to automation, using a SAP applicant tracking system, and using AI and Searchie.ai during the interview process to map candidates' strengths and weaknesses.

Doing this has streamlined the recruitment process from an organisational point of view, resulting in better hires, a reduced time to hire and a better carbon footprint. Altuwijri says it also ensures a better candidate experience. If you want the best talent, Altuwijri says, you have to give them the best experience.

"With ambition comes very high expectations. We are looking for pioneers and these people are hard to find. The HR team have implemented world-class HR practices – talent management systems, development programmes, onboarding, rewards packages and relocation packages – and we want to ensure candidates have a red carpet experience."

Automating the hiring process allows the organisation to analyse hiring metrics, which helps it to identify any areas for improvement. It has also led to considerable time savings as the tech does most of the legwork. "We had almost 15,000 applicants through Searchie.ie," says Altuwijri. "AI has helped us shortlist high volumes and create efficiencies."

Before rolling out the ATS system, the organisation ran workshops for hiring managers to train them on using the system and ensure buy-in. A project team oversaw the process, communicating with all the relevant stakeholders and issuing regular updates.

Brembali says the company is taking a one-platform approach so that employees and managers will be able to access everything they need in one place online.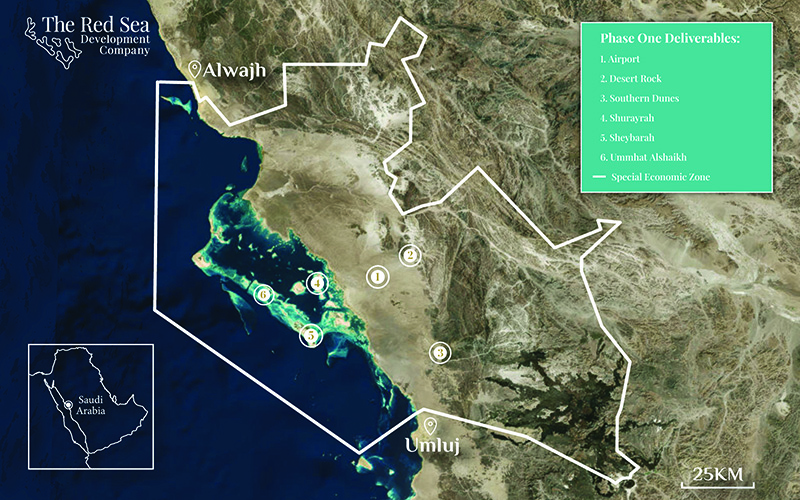 Inspiring change
So where does the inspiration for this Red Sea Project come from? The whole project actually stems from a nationwide drive to modernise, diversify and increase prosperity through moving into new markets. And the impetus for change is coming from the very top, from Mohammed bin Salman bin Abdulaziz Al Saud, the Crown Prince of Saudi Arabia and deputy prime minister.

Back in 2013, Saudi Arabia made the historic announcement that tourist visas would be issued for the first time, although it was a while (2019) before any visas were actually granted. And in 2016, Vision 2030 was launched. The brainchild of the Crown Prince, Vision 2030 was a new framework that aimed to reduce the country's dependence on oil and diversify its economy into new areas, including tourism. It is Vision 2030 that paved the way for the Red Sea Project.

There are three overarching themes in Vision 2030: for Saudi Arabia to become a vibrant society, a thriving economy and an ambitious nation. Included in those themes are a focus on urbanisation, culture and entertainment, and the role of women in the workplace – all things that are not traditionally associated with Saudi Arabia.

And some of this is already happening – the Red Sea Project is underway, with the first hotel due to open its doors to guests in 2022. In 2017, the first public live music concert in over 25 years was held and it featured not just Saudi singers, but also an American country musician. In 2019, the first ever women's professional wrestling match to be held in Saudi Arabia took place. A range of other projects have either also happened or are in the offing.

The Red Sea Project ties in with several of the themes of Vision 2030 – it is bringing tourism to the nation, it is bringing women into the workplace, it addresses sustainability issues, it is developing local skills and boosting the local and national economy, and it repurposes the perception of Saudi Arabia at home and abroad.

"The country has been evolving and changing," says Darwish. "The vision is clear for us – we need to open up the country, develop Saudi nationals and have a better life for people in this country."
Image credit | iStock