COVID-19 testing – good for businesses, good for staff
12 October 2020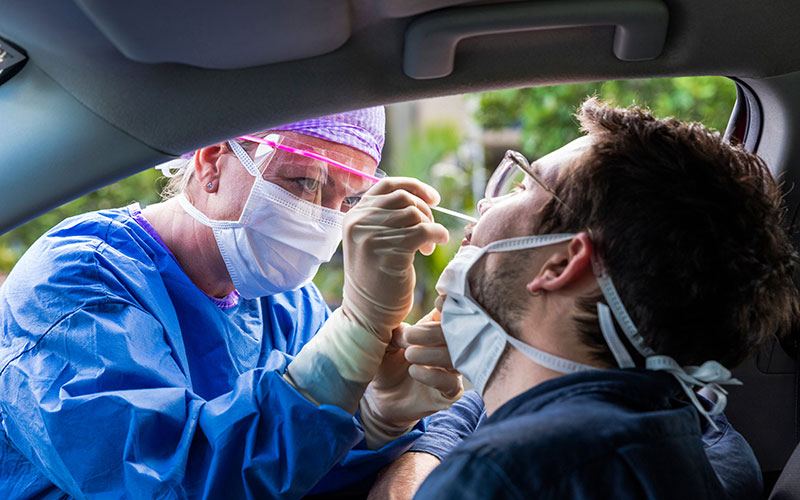 As we edge closer to winter and into a potential second wave, COVID-19 testing could become a deal breaker for employers and their employees, alike.  
Despite the chaos and uncertainty of the COVID-19 pandemic, some things have become more certain and familiar since our 'new normal' began. One such thing is COVID-19 testing - a topic much discussed and debated – but for some time now, hailed as one of the key tools that will help to combat the virus by tracking and slowing its spread. 
In spite of some teething issues, COVID testing is now much more prolific and more readily available via the NHS as well as private providers. There are certain conditions however for accessing NHS tests, namely, the presence of COVID-specific symptoms, which is where private testing can really help anyone else looking to test either themselves or their employees. 
In fact, businesses are increasingly turning to workplace COVID testing as a way to buffer the threat and potential impacts of the second wave, to maintain a healthy workforce in the meantime and to reassure employees.
AlphaBiolabs, a company specialising in laboratory-based testing services for workplaces since 2004, is now providing COVID-19 testing tailored for businesses. 
The company offers three types of test to suit every employer – the rt PCR test, the Antigen test and the Antibody test. Together, the tests can determine current and past COVID-19 infections and can deliver onsite results in a little as 15 minutes, or via the company's world-class, dedicated laboratory facility, which provides next day results.  
AlphaBiolabs has invested in this specialist facility and a team of scientist to bring rt PCR COVID testing – considered the gold standard in COVID testing – to employers. 
The PCR test analyses a nose and throat sample for the presence of viral RNA. The sample is collected by the employee themselves or with the help of an occupational health practitioner, using an AlphaBiolabs sample collection kit, and returned to the laboratory. Once the laboratory confirms a conclusive result, it is emailed to the employer the next working day, revealing whether the sample donor is positive or is negative. 
Antigen testing works similarly in that it determines a current, active infection of COVID-19, from a nose and throat swab sample, however, there is no laboratory process necessary and results are available within 15 minutes, via a lateral flow, immunoassay device included in the self-contained sample collection kit. 
Both the PCR test and the Antigen test can determine whether an individual has an active case of COVID-19 and is therefore likely to be infectious to the rest of the workforce. Where an employee returns a positive result, employers can quickly put in place isolation measures to protect the rest of the team. 
The Antibody test is quite different from the Antigen and PCR tests in that it looks for evidence of a previous COVID-19 infection by analysing a finger-prick blood sample. 
 
Like the Antigen test however, the Antibody test will return a result in 15 minutes via a custom-built immunoassay device, when the blood sample is dropped into a sample well and mixes with a buffer solution. 
The AlphaBiolabs' Antibody test can identify an employee's immunological response to a coronavirus infection from 21 days after exposure or from 7 days onwards after the onset of symptoms. 
Where a result is positive for COVID-19, employers can begin to identify high-risk environments within their workplaces, or any patterns of infection meaning measures can be put in place to minimise future risks of transmission. 
All your testing needs under one roof
For more than 15 years, AlphaBiolabs has been providing drug and alcohol testing solutions to workplaces across the UK. We believe this testing has never been more essential as the global pandemic has also caused a rise in drug and alcohol usage. 
To highlight that point, our recent drug and alcohol testing results tell us that there have been considerable increases in the amount of alcohol and illicit drugs employees are taking. Perhaps months of home-working, without the need to drive or commute to work, or indeed to limit consumption of alcohol and in some cases, illicit drugs, has led some to develop new habits unfit for the workplace. 
In these challenging times, employers can put a host of robust measures in place to keep their businesses running and protected – not least of those is a means of keeping a healthy team of staff who can continue to carry out their duties capable and COVID-free.
Call AlphaBiolabs today for more information about our workplace COVID-19 testing solutions and our range of workplace drug and alcohol tests, so we can help protect you, your workforce and your bottom line. 
Email: [email protected] or call, 0333 600 1300.
Rachel Davenport
Commercial Director, AlphaBiolabs
Image credit | Shutterstock