REC2020: REC's flagship conference goes virtual on 8 September
24 August 2020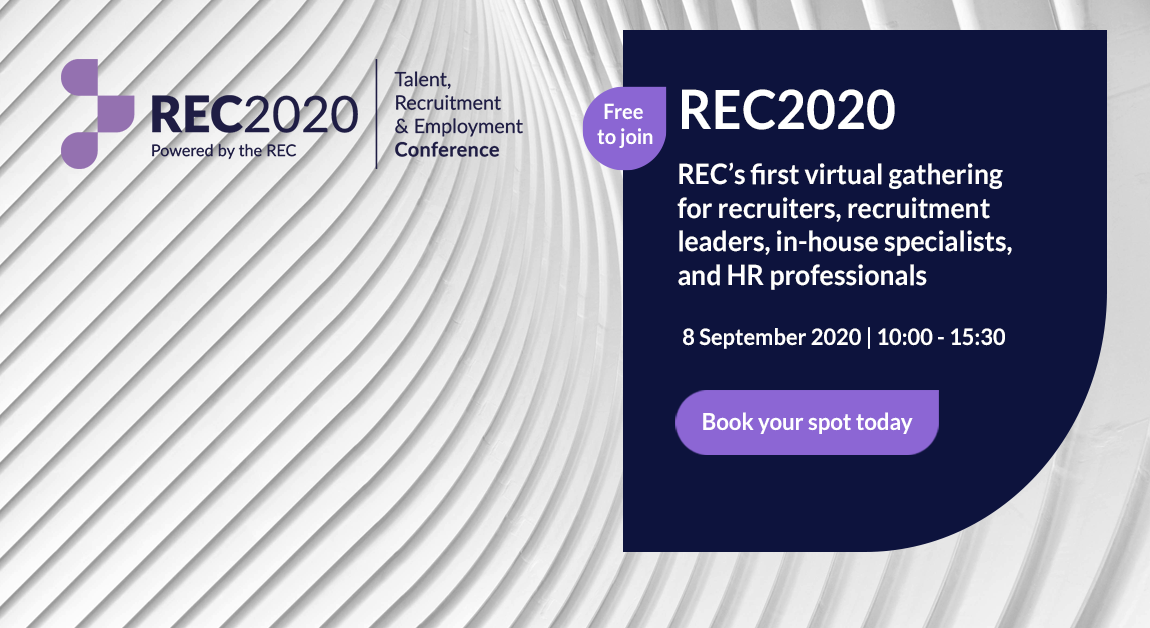 We live in a world of new realities.
Over the past five months, our industry has gone through a colossal change. Recruiters, employers and society in general, have been forced to adapt.
At REC2020, the REC's first virtual conference on 8 September 2020, we are aiming to unravel some powerful formulas to make change happen in a post-pandemic world, and work out how we continue to thrive in the future. 
You'll take away new ideas and inspiring stories to help you prepare your business and your career for the future. And the best thing is, it's free for all – from agency recruiters to in-house specialists. Book your spot today.
What to expect at REC2020?
REC2020 will follow an agenda designed to help you become a future-fit recruiter.
We'll be joined by an elite line-up of speakers from across the industry - from agency recruitment, talent acquisition, in-house recruitment, think tanks, influencers, mentors, coaches, and more.
Together, we will be bringing you real-world solutions on issues that matter to you as a professional in the recruitment and employment space, including:
Technology and work
Inclusion and diversity
Productivity
Employer branding
Candidate experience
Employee well-being
This free full-day virtual conference will see inspiring keynotes, panel discussions, case studies, and breakout discussions from the industry's leading names. We are delighted to confirm that Dame Carolyn Fairbairn DBE, Director General of the CBI, Beverley White, Chief Executive of Harvey Nash Group, and Justine Lutterodt, Director for the Centre for Synchronous Leadership will be joining you, along with many others to be announced in the coming weeks.
You can personalise your agenda itinerary by selecting the case study or breakout sessions that fit with your line of work. View the agenda. 
Who is it for?
REC2020 is a conference for all - recruiters, recruitment leaders, in-house recruiters, HR professionals and aspiring recruitment business owners. It's your opportunity to:
troubleshoot organisational issues you're facing
share experiences with fellow professionals who've been through the same
learn future-fit best practices from trailblazers
network with innovators, disruptors and influencers
uncover "golden nuggets" of ideas from prominent leaders on how they're future-proofing their business and people.
So, what are you waiting for? Book your spot today and join us on 8 September from wherever you are.
Image credit | Shutterstock