Big talking point: Working 9-5 isn't the only way to make a living
17 October 2019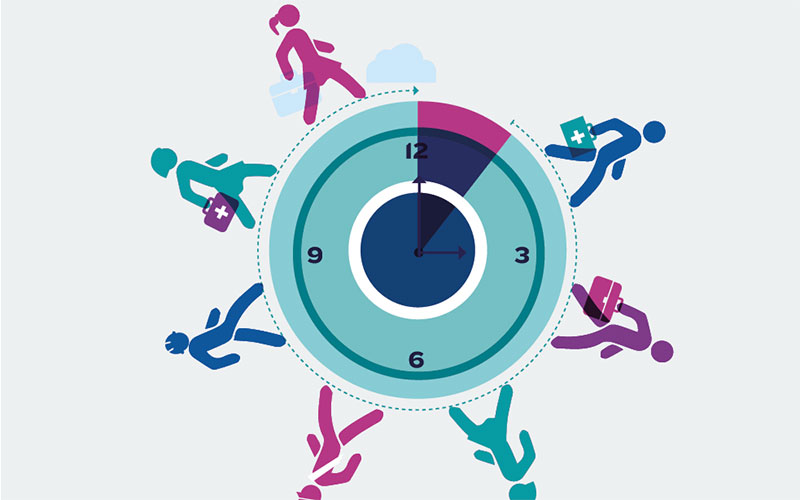 Despite the benefits of flexible working, roles advertised as such are still limited. Here's how recruiters can influence change
Just over 15% of jobs are advertised as being flexible, according to Timewise's latest Flexible Jobs Index. That's up from 9.5% in 2015, but progress is slow when the demand for working something other than the standard 9-5 is higher than ever. The same research has indicated that as many as 87% of UK employees want to work in this way.
Why does this matter? At a time of widespread skills shortages, looking at what attracts people to a role – or to stay in it – is vital. Flexible working is one of those factors, as people hunt for that elusive work-life balance and try to juggle other commitments (such as caring or education) with the work they do.
In a nutshell, flexible working can support talent attraction and retention, improve productivity, and health and wellbeing – and it's an important tool for driving greater diversity and inclusivity too.
So what's holding employers back?
Some jobs and sectors are better suited to working flexibly than others. Even within one organisation there may be some jobs that are suitable for flexible working and others that are not. Then there's the possible effect on teamwork, face-to-face interaction, management and the ability to learn from one another – and many employers are unsure of how to adapt to minimise these issues.
On the flip side, the ability to work from anywhere – and the availability of technology to facilitate that – means that there's a risk that the boundaries between work and home life erode even further. So although flexible working is often used to address employee wellbeing, employers can harbour concerns about the potential negative impact it can have on both employees and on company culture, which again takes time and effort to manage.  
Making matters harder, there is no one-size-fits-all solution when it comes to flexible working. Tailoring the right approach takes knowledge of the cultural biases and operational constraints of a specific sector or type of business. And many employers need help to understand what can work well – and why the effort will be worth it.  
This is where recruiters can help
Each recruitment business works with dozens – sometimes hundreds – of employers, many of them SMEs. By ensuring the benefits of flexible working form a central part of all briefing discussions with hiring organisations, they can challenge the status quo and accelerate change.
And here are just some of the arguments they can use:
Diversity and inclusion

The business case for diversity and inclusion has been made successfully, but firms are still grappling with turning the theory into practice. Offering flexibility from the outset – or at least being clear it will be discussed during the recruitment process – can help in reaching out to, and ensuring applications are received from, more diverse backgrounds.

The link between flexible working and returning mothers is well established. The same attitudes are gradually broadening out to include carers and those with disabilities unable to work full-time.

But a lack of flexibility was identified by Lord Davies' review on women on boards as a key barrier to improving diversity at senior levels, and more recently by the House of Commons Women and Equalities Committee as a cause of the gender pay gap.

Both of these issues are increasingly visible to, and important considerations for, jobseekers, so businesses wanting to be employers of choice are looking to act. Recruiters are well placed to offer advice around how flexible hiring can make a difference.
 
Employee needs and expectations are evolving

Even if jobseekers don't ask about headline boardroom diversity and gender pay gap figures, employers will have noticed a marked increase in the number of individuals asking about working patterns and organisational culture. REC members certainly have – suggesting that although pay and progression opportunities remain priorities for candidates, they're using the tight labour market in their favour and placing greater emphasis on work-life balance and workplace environment.
 
Retaining the best talent for business success

And it's not just about jobseekers either. The REC's 'Report on Jobs' data shows that demand for staff is increasing month on month while candidate availability is decreasing. This has made better employee retention a major priority for most employers. Ensuring jobs work around people's lives can help build trust, respect and help to retain staff.
 
Now is the time for employers to think differently

The tight labour market has added urgency to the need for employers to respond to the current focus on D&I, the evolution of employee expectations and the importance of retention. And it's possible the government will do more to force employers' hands.
The government's Good Work Plan includes progression as one of its key pillars – and the latest Timewise research highlights the lack of flexible working as a barrier for workers trying to move up from very low paid jobs. Flexible working is offered in 23% of job ads where the salary is less than £20,000 (FTE); but at the next salary band (£20-34,000 FTE), the availability of flexible jobs drops to only 14%.
So it should come as no surprise that one strand of the government's consultation on this policy – which closed in October – has been looking at whether employers should have a duty to consider if a job can be done flexibly and make that clear when advertising a role.
And with the increasing scrutiny on modern workplace practices and how they are regulated, recruiters have the opportunity to be at the heart of establishing best practice across the economy. The REC's Good Recruitment Campaign was designed with this in mind – and considering flexible working options is a strong part of the pledge, that so far, nearly 500 employers have taken.
Watch out for the latest research on flexible working in the UK, including why people choose to be agency workers and contractors, in the next issue of RM.