#TREC2019 – Optimism, pragmatism and productivity is the way forward
13 June 2019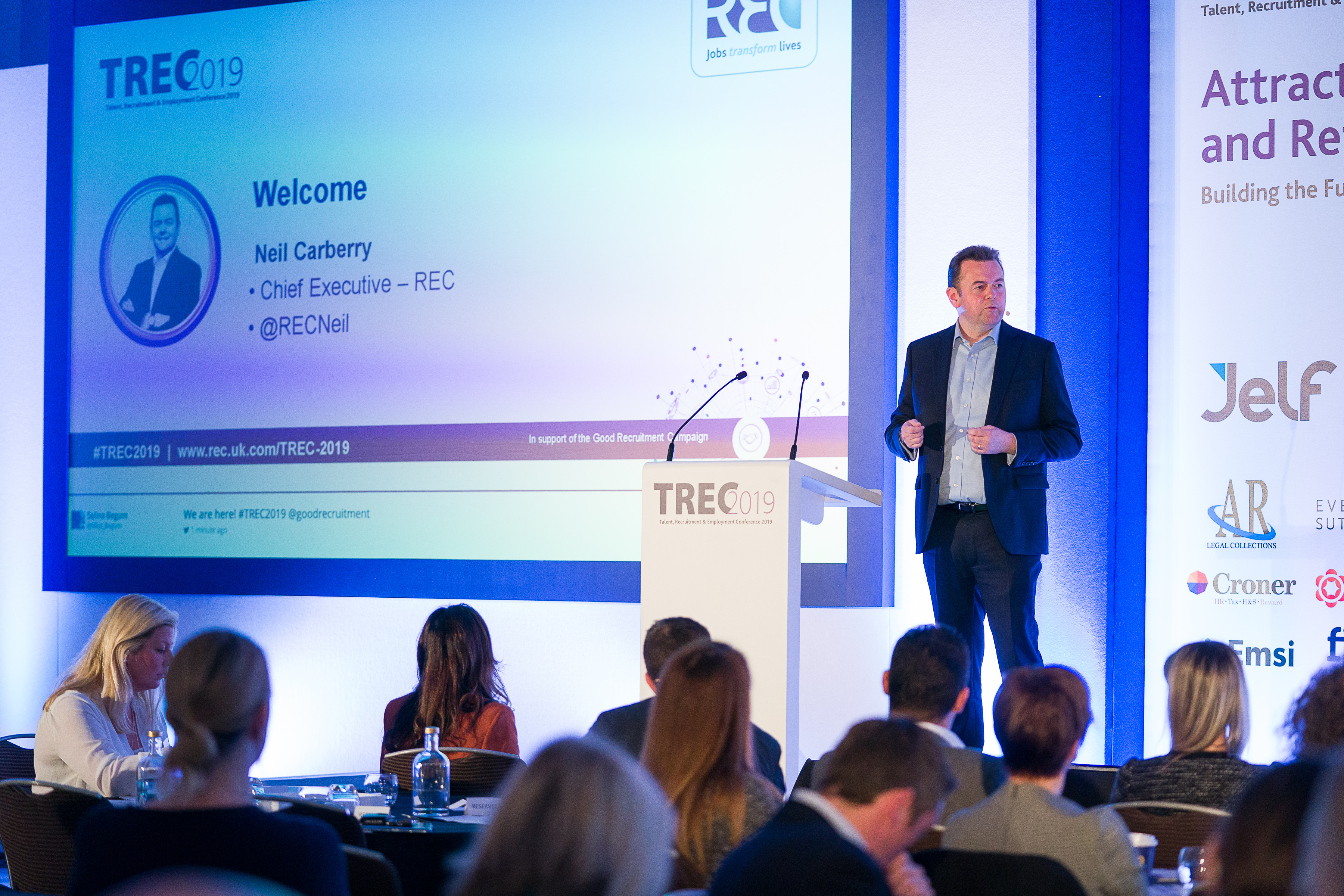 Joined by just under 300 recruitment and HR professionals from across the country, TREC was a great platform for taking stock of current recruitment and resourcing challenges and for looking ahead at potential solutions.
In his opening address, REC CEO Neil Carberry made the case for brilliant recruitment as a driver of economic growth and called on the HR and recruitment community to show real 'optimism' in the way it approaches an evolving employment landscape. Building on this keynote speaker Bruce Daisley, VP EMEA of Twitter and best-selling author, identified five practical tips to making people love work again – the top two being to get more sleep and get happier friends!
5 more tips to love work again
Understand how we think
Understand how we team
Understand how we relax
Understand how we settle in
Understand how we belong
Bruce Daisley at #TREC2019
Discussions focused on shaping the future of work with high-level panellists Torsten Bell of the Resolution Foundation, Cheryl Brennan from Howden Employee Benefits & Wellbeing, Severn Trent's Lisa Scales, and Ralph Tribe of Ascential. Skills shortages, evolving worker/candidate expectations, the need to make change happen on diversity and inclusion and effectively harnessing technology/AI stood out as key external factors shaping recruitment and workforce management over the coming years.
Check out the photo highlights from #TREC2019
Expert-led roundtable discussions focused on a variety of issues including on-boarding, employer brand, diversity and inclusion, wellbeing & mental health strategies, using new technology for talent attraction, managing a multi-generational workforce and regulatory developments (e.g. IR35 and the 'good work' agenda). Looking at the bigger picture of how effective people strategies can boost productivity, Tony Danker, CEO of Be the Business provided a timely recipe for everyday competitiveness.
Tony Danker's Recipe for Everyday Competitiveness
Leadership & management
Digital adoption
Curiosity & connectivity
Pace & agility
Practical insight into how leading organisations are ramping up their people strategies and delivering real change was provided by Eversheds Sutherland partner Simon Rice-Birchall, GSK's Jayne Haines and The Girls' Network CEO Charly Young. #TREC2019 concluded with an uplifting and highly motivational speech from Bonita Norris, the youngest person to reach both the summit of Everest and the North Pole. In Bonita's words "Change nothing and nothing changes"; this was a great rallying call as we look to radically change the way recruitment is delivered and perceived through the REC's ongoing Good Recruitment Campaign.
And that's a wrap! We'd like to thank all our delegates, speakers and sponsors who made this year's TREC event a successful one. TREC will return next year.
If you wish to request a copy of the slides from the day and a copy of the key takeaways from the roundtable sessions, please email us at [email protected].