The Intelligence: Hiring confidence
Thalia Ioannidou
13 December 2018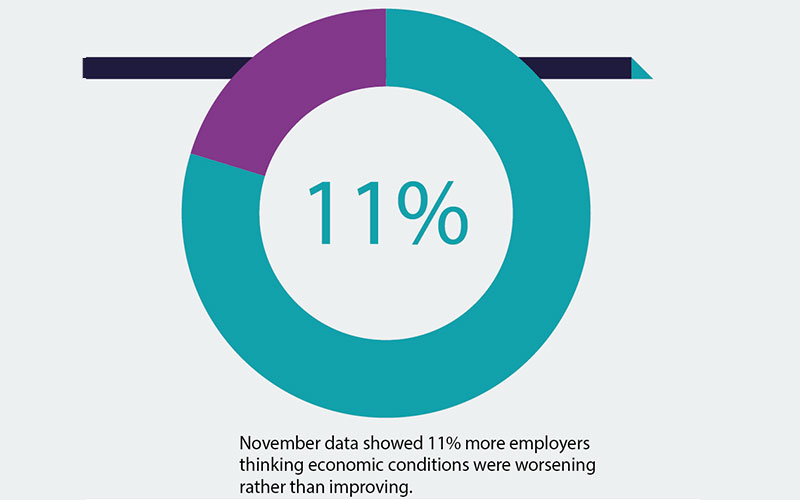 JobsOutlook shows a changing picture of employers' sentiment on the economy and hiring, says REC senior researcher Thalia Ioannidou
2018 was marred by tense Brexit negotiations, persistent labour and skills shortages, and a cautious – if not pessimistic – economic outlook.
At the time of writing, ongoing uncertainty over Brexit continued to impact on business confidence. Following three months of positive sentiment, employers' confidence in the prospects for the UK economy returned to negative territory (JobsOutlook, August 2018). Confidence further plummeted in July to September, returning to levels witnessed at the turn of the year. Survey data published in November showed 11% more employers thinking economic conditions were worsening rather than improving.
But despite this, employers remained confident in making hiring and investment decisions throughout 2018. Sentiment towards permanent hiring in the short- and medium-term stayed buoyant in the second half of the year and well above hiring intentions reported for the same period in 2017. Similarly, the net balance of short- and medium-term forecast demand for agency workers in the second half of 2018 remained significantly higher.
During 2018, an average of three quarters of employers reported they had little or no capacity to take on more work without needing to hire additional staff. While staff appointments continued to increase at a quick pace, the latest data showed growth of demand for staff remained historically sharp at the start of the fourth quarter (Report on Jobs, November 2018). The Office for National Statistics (ONS) revealed the number of job vacancies reached 845,000 for August to October – the highest number of vacancies since comparable records began in 2001.
Growth in demand for staff is generally a welcome development. However, UK labour market trends point to declining staff availability which, in turn, puts a considerable strain on businesses. The unemployment level in the country is at a record low, while the number of EU nationals working in the UK has been falling. Comparing the latest estimates for July to September 2018 with those of a year earlier, the number of EU workers in the country fell by 132,000 to 2.25 million – this is the largest annual fall since comparable records began in 1997.
Employers' concern over the availability of permanent and temporary staff rose, year-on-year, from 42% to 48% and from 40% to 53%, respectively (JobsOutlook, November 2018). Recruitment and employment consultancies have also signalled a sustained fall in overall candidate availability – this has declined at the quickest pace for nine months in October. Staff shortages are fast becoming business critical, especially in areas such as health and social care, logistics and hospitality.
Labour and skills shortages will remain a pressing challenge for UK businesses in 2019. The recruitment industry has a vital role to play in addressing heightened business concerns, supporting employers in planning their workforce effectively and ensuring the long-term health of the jobs market.
Headcount growth grinds to a halt
The latest real-time information from the RIB Index shows that, having hovered around 6-7% across H2 2017 and Q1 2018, headcount growth subsequently slowed – and flat-lined in Q3 2018.
Set in context of total billings, headcount growth declined, hand-in-hand with a decline in revenue growth experienced over the same period.
Having averaged 10% growth year-on-year across 2017 and remained buoyant across the majority of H1 2018, total turnover growth for the median RIB recruiter subsequently fell to just 2.9% in Q3 2018.
As such, the industry – known for its remarkable agility – eased off from adding headcount while recruiters, and their client base, await the clarity and certainty required for them to return to hiring in confidence.
Belinda Johnson runs employment research consultancy, Worklab, and is associate knowledge & insight director of Recruitment Industry Benchmarking  (RIB) – a strategic partner of the REC. The RIB Index provides bespoke confidential reports on industry benchmarks and trends. See www.ribindex.com; [email protected]; 020 8544 9807.