Indeed's refugee careers fair brings employers to great jobseekers
Indeed's refugee careers fair brings employers to great jobseekers
Vanessa Townsend
17 October 2023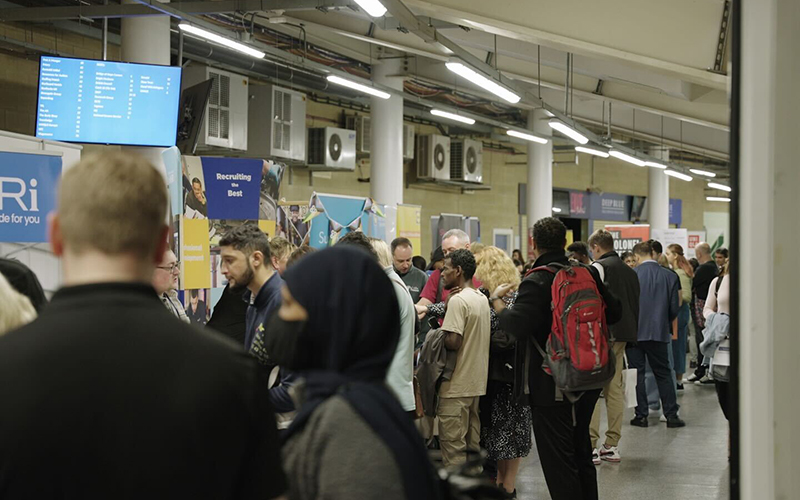 Nearly a thousand refugees and dozens of employers attended a job fair in Kennington, South London last week [11 October], at the Kia Oval cricket ground.
The event was hosted by the global hiring platform Indeed, in conjunction with the Tent Partnership for Refugees (Tent), the Department for Works and Pension, and the UN Refugee Agency (UNHCR), with the aim to make the search for work as simple and seamless as possible for local jobseekers, with a focus on refugees. Nearly 950 jobseekers attended the careers fair.
Around 60 employers in industries such as healthcare, hospitality, logistics and retail were at the event, including Amazon, The Body Shop, Lidl, Marriott International, the NHS and Starbucks.
Recruiter spoke with Indeed's Clive Meyers, director of public sector strategy, EMEA and APAC on the day, who had the brainchild for this event: "There are so many barriers that people face when getting recruited these days – whether that be accessibility or length of job application."
He told Recruiter that he had worked closely with an organisation [at the job fair] that unbelievably has an 18-page application process!
Daunting enough if you're a UK national, he said: "Imagine if you're coming into this country. You're scared, you don't know what's going on. So what we really want to do with these events is to facilitate a conversation between great people that could offer a huge amount to this country."
Meyers told Recruiter Indeed has committed to "helping 15,000 refugees over the next three years and how we're going to do that is by running events like this. We have got companies today that are interviewing and offering on the day".
Indeed's partner Tent agrees career fairs can bypass the structural barriers that refugee candidates face when looking to enter the job market. Jen Stobart, country director, UK for Tent, told Recruiter: "That can be around language skills, access to transportation to get to work, knowing where jobs are advertised… also the components of having a gap on your CV or not knowing what an interview etiquette looks like in the UK.
"We know in the UK there are labour shortages," she added. "We also know that there's coming up to 400,000 people [who] have a refugee background in the UK with the right to work. So beyond the job fair, there's more to do."
She said Tent does a lot of work to support companies to be intentional about looking at their processes. "So it's sort of saying, can we bring in jobseekers to work with us who are still learning English? Because actually, certain jobs don't need a fully professional level of English. Or can we look at being deliberate with onboarding programmes to give a supportive, inclusive environment where people are coming into join?"
According to the UN Agency for Refugees, there are 365,258 refugees, including other people in refugee-like situations in the UK. Research shows that refugees are less likely to be in employment than the UK-born and migrant population, with 51% of refugees in employment compared to 73% for UK nationals.
The job fair at the Oval was one of several happening across Europe in partnership between Indeed and Tent to help refugees integrate in their new countries through employment. So far, thousands of jobseekers have attended events in Warsaw, Krakow, and Milan with four others – including Berlin and Amsterdam – happening later this month.
• Comment below on this story. Or let us know what you think by emailing us at [email protected] or tweet us to tell us your thoughts or share this story with a friend.