Social recruiting July/August 2023
Social recruiting July/August 2023
10 July 2023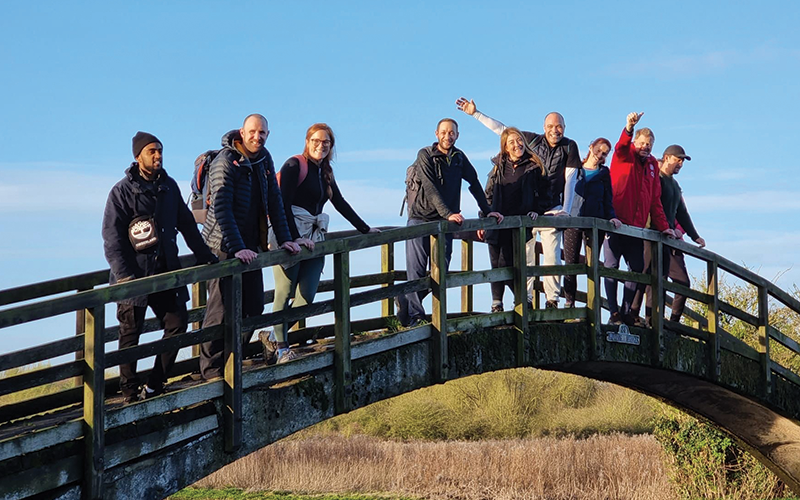 Whether it's charity walks, helping out youngsters, beach cleaning or simply having a ball, you've been busy since the last issue of Recruiter…
Macildowie staff celebrate 30 years by walking 30 miles
Intrepid walkers from the Midlands-based recruitment and retention consultancy Macildowie have walked 30 miles to celebrate 30 years in business, raising money for local charities. As a result, the Macildowie team has raised an amazing £3,479 to be split between Lamp (The Leicestershire Action for Mental Health Project) and Stonebridge City Farm.
---
APSCo Charity Ball raises £50k for hospice
International recruitment trade body APSCo Global has raised more than £49k for St Christopher's Hospice in London, thanks to its annual APSCo Charity Ball. The glamorous Atlantis-themed event saw leaders from across the professional recruitment market don their tuxedos and ball gowns to raise money for a very worthy cause. Ann Swain, Global CEO at APSCo, praised everyone involved: "I'd like to thank everyone who sponsored, helped to organise and attended the ball."
---
Holt Recruitment helps students get interview-ready
Daniel Barrett (right), director of Bournemouth-based Holt Executive Recruitment, was among industry leaders supporting a mock interview day for students at Ferndown Upper School, joining professionals from local employers conducting 130 mock interviews with students at the event. Holt Recruitment is due to start its own foundation to support children with business skills that will be effective in future careers.
---
Marshall wins first Tony Berry award
Berry Recruitment Group's inaugural Tony Berry memorial award for the business's 'combined top biller' was won by Nicola Marshall from its Wild Berry Associates business in London. The company's annual conference heard a tribute to its late chairman who died last year aged 81.
---
Elevating fundraising for children's charity
What do you get when you drop 25 recruiters in the Yorkshire Dales for 12 hours? The answer is more than £5k for Sheffield's The Children's Hospital Charity. Twenty-five brave members of Rotherham-based Elevation Recruitment Group team took on the Three Peaks Challenge and raised the recruiter's entire annual fundraising target in one go! The Yorkshire Three Peaks Challenge asks walkers to summit three peaks of the Yorkshire Dales National Park (Pen-y-Ghent, Whernside and Ingleborough) within 12 hours. The team doubled its original target of £2.5k and raised an incredible £5.3k.
---
Green Folk helps clean up the coast
Hampshire-based engineering and manufacturing recruiter Green Folk is sponsoring eco-hero Oly 'Human fish' Rush (centre right) on his next anti-plastic pollution swim – a 46 mile, 24-hour swim around the Greek Island of Ithaca. Green Folk founder Chris Payne (centre left) has also pledged to fund Oly's regular beach cleans along the Dorset coast, where Chris and his team of recruiters often help out. Follow Oly's swim on the ProjectPlanet.earth website.
---