Jobseeker banned from employment tribunals for 'vexatious' claims
Jobseeker banned from employment tribunals for 'vexatious' claims
DeeDee Doke
16 March 2022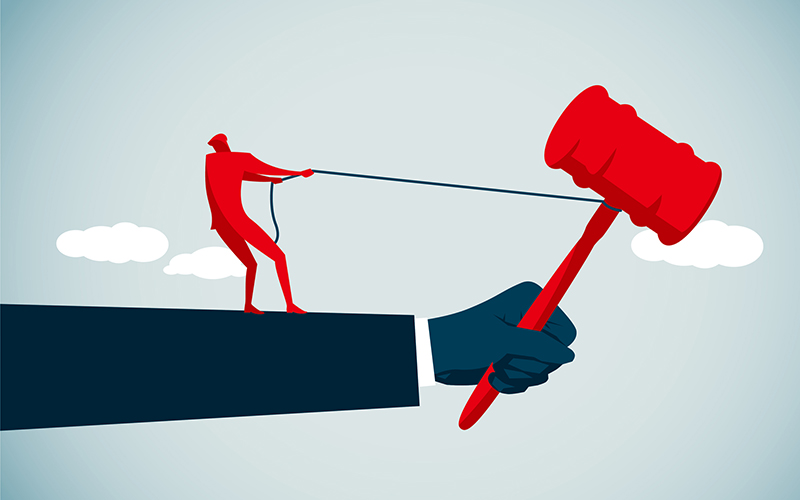 A jobseeker who was a serial claimant has been handed indefinite prohibition after bringing cases "without any reasonable grounds" following job application rejections over an eight-year period.
A man has been banned from using the employment tribunals (ET) service after making more than 40 "vexatious" claims against multiple companies, the Employment Appeal Tribunal (EAT) has ruled.
Mr D Taheri was handed a Restriction of Proceedings Order (RPO) of indefinite notice, prohibiting him from making claims against employers without the permission of the EAT or the Judge of the High Court.
Most of his 43 claims, brought between 2012 and 2020, were struck out because of having no reasonable prospect of success, being withdrawn by Taheri, or after the claims were settled out of court, the ruling said. All of the claims he brought forward failed.
His claims were often brought on the grounds of race, age and/or disability discrimination. Taheri described himself as being of Iranian ethnicity, and had also been diagnosed with prostate cancer.
He made his first claim of £1k on 18 October 2012 against Orchid Pubs and Dining after his application for a chef role was rejected. The pub claimed that he was not invited to interview because of the "pushy and insistent nature" of his emails.
Taheri was found guilty of harassment against a member of staff at Orchid, was sentenced to 28 days of imprisonment and handed a two-year restraining order against the employer.
In 2013, he also claimed £5k against a clothing retailer after he was rejected from a part-time sales assistant role, claiming that this would cover "a year's wages". The retailer claimed he had turned up at one of its shops and had been staring "menacingly" at staff through the window.
On 6 November the same year, the president of the England and Wales Employment Tribunal wrote to the treasury solicitor about Taheri, describing how he "seeks thousands of pounds but then writes to the Respondent's representatives repeatedly (20 or 30 times) demanding settlements of £500, and threatening to hold a press conference".
No formal action was taken as a result of the letter. However, Taheri did not pursue any other claims for a number of years.
Other claims:
In 2018, he sought "at least £10k" after being invited to interview for a sales role at Parkdean Resorts, and being, in his words, "fobbed off again and again". The holiday company had written to Taheri informing him that the position was no longer available due to full staffing levels. Another claim to the company for disability discrimination made in 2019 after four unsuccessful job applications was struck out after Taheri failed to pay a deposit of £600.
Also in 2018, Taheri lodged separate claims for £25k of damages from both Stoneacre and Wilson and Co. Motor Sales. The claim against Stoneacre was settled on 10 April, and the claim against Wilson and Co was withdrawn after Taheri failed to attend a preliminary telephone hearing.
Further in 2018, he lodged a claim of £25k after being turned down from a sales role at Perry Motor Sales. The employer described how he had been "overbearing" during an initial group exercise and had emailed threatening litigation unless he was invited to another interview. The claims of age and race discrimination were later dismissed, and Taheri was ordered to pay the company £1k.
Then at the end of 2018, he claimed £50k for age discrimination after his application for a sales adviser role at Virgin Media was turned down. The claim was struck out after he failed to pay a £750 deposit.
Over the course of 2018, Taheri attempted to secure "at least" £485k of compensation from 17 different employers, and made 10 separate claims of £25k, the tribunal ruling said.
Taheri argued that since February 2021, he had "only" three claims outstanding; however, the EAT commented in its ruling that three claims was "not an insignificant number".
The tribunal ruled that he had "used the ET process to put pressure on would-be employers to enter into low-value settlements" and "habitually and persistently brought proceedings without any reasonable grounds", causing would-be employers "inconvenience, harassment and expense out of all proportion".
• Comment below on this story. Or let us know what you think by emailing us at [email protected] or tweet us to tell us your thoughts or share this story with a friend.