Social recruiting Mar/Apr 2021
Social recruiting Mar/Apr 2021
23 March 2021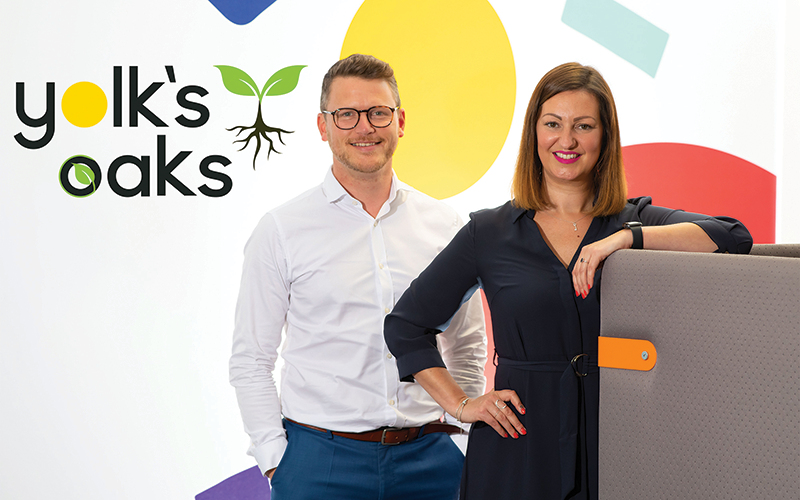 What have you been up to? get in touch!
As our Social page in the magazine over the years has shown, recruiters are extremely generous with both their time and money in helping charities and those disadvantaged communities. This has been highlighted during lockdown, where pupils had to stay away from schools and learn remotely on their own computers or laptops. However, what about the children struggling to learn due to having no access to technology at home?
---
Yolk Recruitment plants seeds of hope
Yolk Recruitment is to plant a tree in woodlands for every candidate it successfully places, as part of the company's drive to champion social responsibility through its 'Yolk's Oaks' initiative. Yolk will plant one oak tree in Blaen Bran Community Woodland in Cwmbran, South Wales for every candidate it places. Gareth Jones and Nici Jones (above) lead the campaign
---
Project 500 give laptops to Birch Copse Primary School
Established by Chris Redmond (managing partner, RedHolt Search & Advisory Service), Tim Roedel (CEO, Simply Commerce) and Sean Anderson (CEO, Hoxo Media), Project 500 called on the recruitment industry to help and raised more than £42.3k to supply 500 laptops to struggling families over February.
---
Zeel gives 30 Solutions to school
Recruitment software company Zeel Solutions donated over 30 new laptops, split between two Midland schools: Bantock Primary School in Wolverhampton, and Heritage Academy in Birmingham. Pictured (l-r): Stacey Wright and Tarj Sahota from Zeel Solutions, and Harvey Sarai, head teacher of Bantock Primary School, with Zeel's donated laptops
---
Driver require delivers
Driver and logistics recruiter Driver Require donated 15 of its old laptops to local Stevenage schools via 'People for People – Stevenage', which were handed out to their home learning pupils most in need.
---
Cento gives hope at the end of the rainbow
Specialist recruiter Cento Group has been raising money to support its local hospice. Rainbows Hospice in Loughborough provides vital care and support to families affected by life-limiting conditions with end-of-life care, symptom management, short breaks and respite care.
---
Instagram
VIQU
viqu_uk We're still blown away by our win at the #investingintalentawards for 'Best Recruitment Team of the Year'. Thank you for your continued support @recruitermagazine