Three recruitment giants create guide to help people back to work
Three recruitment giants create guide to help people back to work
14 May 2020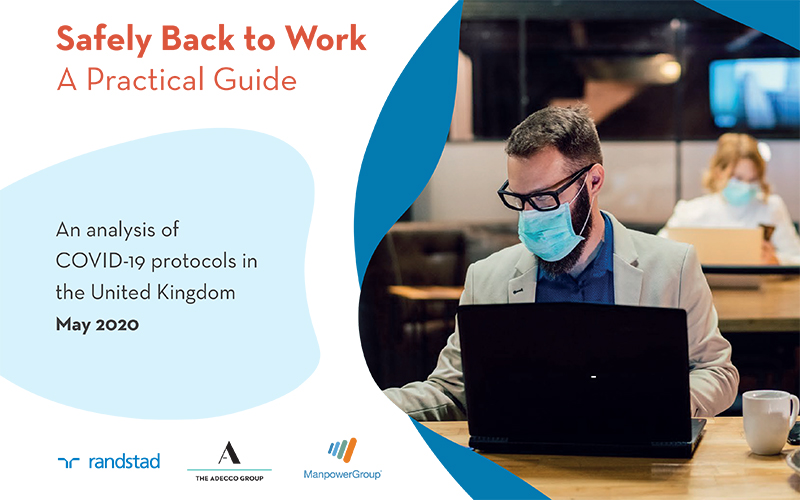 Recruitment giants Adecco, Randstad and ManpowerGroup have joined forces in a global alliance to create the 'UK and Ireland Safely Back to Work' guide.
The guide aims to encourage a safe return to work following the lockdown imposed to tackle the Covid-19 pandemic, which, according to a press statement, is affecting nearly 2.7bn workers worldwide, or about 81% of the global workforce.
Research conducted by Adecco suggested that a small majority of UK businesses have started putting a plan of action in place, with only 45% already implementing specific steps, the statement said.
The guide highlights Covid-19 protocols across five sectors: automotive, construction, food, manufacturing & life science, and transport & logistics.
Among the recommendations are doors to remain open where possible, to limit the need to touch door frames, handles, push buttons, and so on.
Alex Fleming, president and country head, Adecco UK & Ireland, said: "This global alliance has been created to help lead the way in reshaping the working landscape for the better, and all businesses now need to take cohesive action to ensure both employers and employees can overcome this challenge and continue to grow, develop and thrive."
Speaking of the unusual, high-powered alliance, Michael Smith, MD, RSR EMEA & CEO, Randstad UK, said: "These are strange times and demand new approaches and the alliance… is proving to be an important one for British and Irish business, leading the charge to creating safe workplace environments for us all, as we look for new ways to flourish amidst this crisis. The onus now is on all of us to play our part in this generation's greatest-ever workplace challenge."
Mark Cahill, MD, ManpowerGroup UK & Ireland, added: "It was clear that we needed to collaborate with other market leaders on this allied approach…We will need to acclimatise gradually to a new working environment, but above all we must maintain unity which is why partnership is so fundamental."
• Let us know what you think by emailing us at recruiter.editorial@redactive.co.uk or tweet us to tell us your thoughts or share this story with a friend.