Recruiters find ways to help consultants battle through Blue Monday
Recruiters find ways to help consultants battle through Blue Monday
Graham Simons
20 January 2020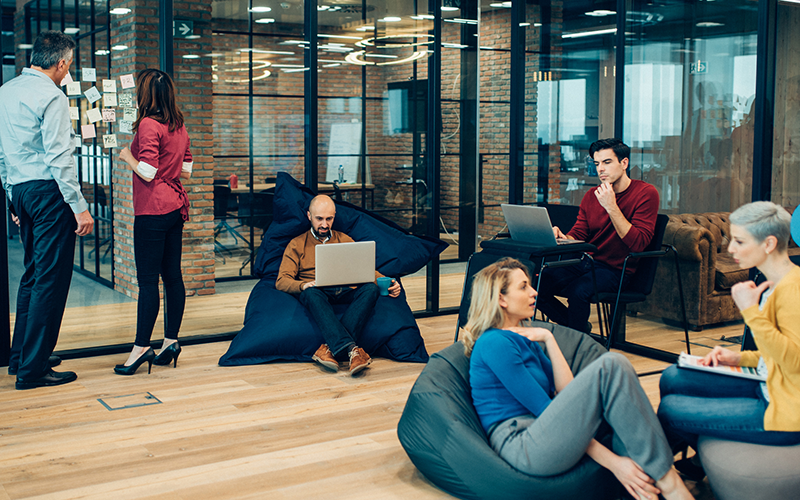 Recruiters are meeting Blue Monday head on this year through a number of different measures.
The introduction of a wellbeing hub, allowing consultants additional time at the gym and even an out-of-season Secret Santa are just some of the ways recruiters are trying to help their staff today.
Blue Monday is traditionally regarded as the most depressing day of the year due as it's smack bang in the middle of the seemingly never ending long nights of winter and the interminable wait for that first pay packet after Christmas. Recruiter spoke to a few recruitment agency leaders up and down the country for their take on how they are dealing with the day and boosting productivity across their workforce.
Don Bryden, managing director of KCJ Training and Employment Solutions, whose agency hit the headlines last week due to its awarding consultants who don't smoke four additional days holiday, told Recruiter his agency has held a Secret Santa where consultants have drawn names out of a hat to buy a present or do something nice for the colleague whose name they draw out.
The agency also boasts an onsite boxing gym, which gives consultants the option of working out their frustrations and stress.
Meanwhile David Taylor, MD of IT and technology recruiter First Point Group, told Recruiter his agency offers staff up to 90 minutes a day to visit the gym, an additional sabbatical holiday, and also offering them online stress management courses and access to mindful-based stress reduction and cognitive behavioural therapy courses.
A spokesperson for Lancashire-based Cummins Mellor told Recruiter it has recently launched a wellbeing initiative: "Our in-house wellbeing champions are made up of people from our recruitment teams and our sister company [Personnel Checks] who offer background screening checks, and they have joined forces to find a way to maintain a happy, healthy workplace environment," the spokesperson explains.
"Some of the initiatives the team have put in place include space hoppers for staff to sit on at their desk, as they have been proven to improve posture and alleviate back pain; yoga classes; desk cycling peddles to increase blood flow and stimulation; a variety of fruit teas and cereal bars for staff to take at their leisure; and a quiet corner that is totally dedicated to chilling out, taking a minute or two out of your day to do something completely unrelated to work such as reading or puzzles.
"The champions also run regular competitions and initiatives to get people moving, such as the 'step to work' challenge, which was a competition to get our staff to walk up the five flights of stairs to the office instead of catching the lift every day, improving cardio-vascular fitness and promoting a healthier lifestyle both physically and mentally."
Ricky Martin, former Apprentice winner and MD at Hyper Recruitment Solutions, told Recruiter he has introduced a "wellbeing hub" to provide 24-7 confidential support for all. 
"This has three core focuses on financial, mental and physical wellbeing, and provides outside and anomalous council to the business. We also have added a similar 'bereavement support', as this can get frequently missed. That said, such systems and processes can sometimes take the personal element away from the matter, so an open door policy to speak to anyone on a confidential without prejudice basis is encouraged."
But agency leaders cannot lead from the front unless they take care of their own mental health. Sophie Milliken, MD at Smart Resourcing Solutions, told Recruiter she does this by booking holidays and regular time off to do things that make her happy, such as bi-monthly spa trips being a staple part of her diary.
"Recruitment is a high-pressure environment and the risk of not taking care of our mental health is burnout. Keep an eye on your colleagues and check in with them to ensure they are looking after themselves," she added.
Kate McCarthy, MD at McCarthy Recruitment, told Recruiter as a recruitment leader her day-to-day focus for herself and her team is to notice, to be aware and to listen. 
"Our aim is to ensure that we all have the tools, the ability and the environment that each person needs to allow them to be happy at work and happy at home.
"What meets one person's needs doesn't meet another and that's why general tokens that suggest mental health is on the agenda without really buying in to what your team need on an individual basis for me just isn't what is needed. Individual practical and emotional support is for me what is most critical to achieving a balanced and happy workforce. 
"Even though we have an environment where the team have seen examples of support, people still feel like they are letting us down if they are struggling. This is a natural and normal reaction but it stops people asking for help, admitting they are not happy for whatever reason. By being aware and keeping it on the agenda in a positive way and accepting that even the person that you think is the most together and resilient in the business may have a time of struggle, you will ensure that you are authentically keeping mental health on the agenda."
McCarthy adds some examples of struggles her consultants have had to contend with include financial worries, bereavement, IVF, redundancies for partners, domestic violence, difficult break ups, divorce proceedings and premature babies. 
"As leaders we have a responsibility to make it as easy as possible to access what you need at a time when life is challenging. We have assisted people in court, provided funding, changed working hours, invited people into our homes to stay, paid for therapy. We have many examples of actions we have taken, but most of all we are always available to listen without judgement.
"My team know I am practical with advice, I emotionally support and I give the best hugs. Why? Because I recognise that life can be tough and admitting this doesn't make us weak. We provide a safe environment that supports and doesn't judge."
• Comment below on this story. You can also tweet us to tell us your thoughts or share this story with a friend. Our editorial email is [email protected]