Jobcentre coaches must tailor local funding to meet special work needs
Jobcentre coaches must tailor local funding to meet special work needs
Graham Simons
21 January 2020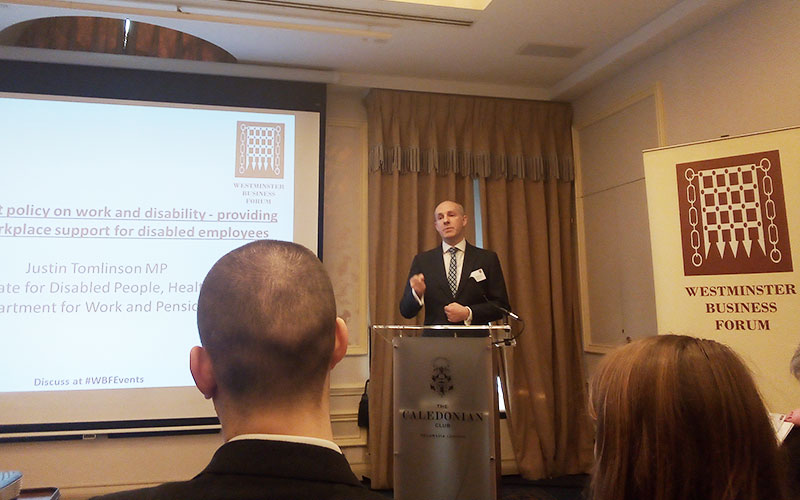 The UK government is exploring giving Jobcentre work coaches the funding to commission local projects to help get people back into work.
This is according to Justin Tomlinson, minister of state for disabled people, who was speaking this morning at the Westminster Business Forum Policy Conference on disability in the workplace at the Caledonian Club in London.
Tomlinson told delegates the government is currently transforming the country's Jobcentres through the use of work coaches, who provide personalised, tailored support aimed at treating people as individuals so they can unlock their full potential.
"We do need to look closely about moving away from a 'one-size-fits-all' approach where people are sat round a circle and taught how to do a CV, and how to do their interview," Tomlinson said.
"For some people that is sufficient, and actually what we've got to do is give them those real tangible life skills."
By way of example, Tomlinson cited a joint venture between Harewood College and hotel chain Premier Inn, aimed at helping people with learning disabilities. Tomlinson further revealed that the employment rate of this particular group is just 6%, compared with an employment rate of non-disabled people of around 80%.
"Over the few years that they're there, half their time is spent building up independent living skills and the other half is about getting real genuine work skills. It doesn't matter about their CV, their interviewing technique… and I cannot describe to you just how excited those young adults were with getting on with those tasks; already 20 of them have gone on to work directly within Premier Inn and others have gone on to do similar roles in similar organisations. Their success rate is over 50%.
"The parents of these children where society has said 'I'm afraid for your children there is no opportunity' to see that actually they've overcome that is an incredibly rewarding thing. And we must encourage this – whether that's through social enterprises, whether it's through more personalised tailored healthy work programmes or whether it's simply as empowering job coaches to know their own local market."
But Tomlinson added while there are great examples of projects and initiatives that have successfully got disabled people into work, a 'one size fits all' where these projects are simply replicated all over the country will not work.
"I can't come along as a minister and say just because this chocolate shop works in this one town, I can do this in every single town. It only works because of those owners who have had a tangible knowledge of what needed to be done.
"And therefore, we should entrust work coaches by perhaps switching some of the budget… so that they can actually commission local work so they can give every individual the best possible chance to fulfil their opportunity."
• Comment below on this story. You can also tweet us to tell us your thoughts or share this story with a friend. Our editorial email is [email protected]