Recruiters rally round to assist staff following Thomas Cook collapse
Recruiters rally round to assist staff following Thomas Cook collapse
Graham Simons
23 September 2019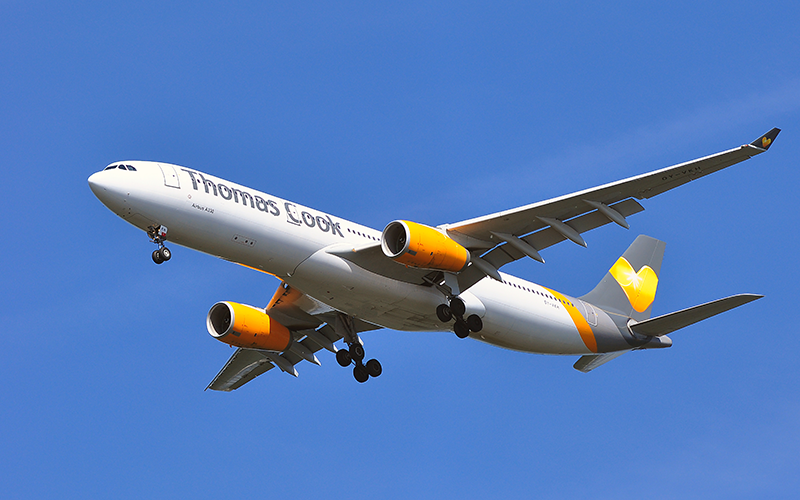 Thousands of UK workers affected by the collapse of Thomas Cook may have to relocate or retrain in order to land new jobs.
This is according to travel staffing specialists Recruiter has spoken with in the wake of this morning's announcement that the 178-year-old travel company has entered into compulsory liquidation, putting 9,000 jobs in the UK at risk.
Jayne Peirce, managing director at Jayne Peirce Recruitment, told Recruiter there are plenty of highly skilled, placeable workers at the firm's head office in Peterborough but they may have to seriously consider relocating.
"The difficulty for them will be sourcing a role within a commutable distance from where they currently live.
"And they are probably the ones that will have to make some life-changing decisions… They may have to consider relocation if they wish to remain in the travel industry because there are very few large-scale companies close by that could hire so many individuals. There are the ones that will have to do a little bit of soul searching in terms of where they see their career as it remains in the travel industry."
Peirce added her agency is already seeking to help workers affected by the collapse of Thomas Cook by reaching out to them on social media sites such as Facebook and LinkedIn.
And according to Peirce, workers from Thomas Cook's retail operations should be able to find work in another area of retail.
However, Ian Brooks, director at Gail Kenny Recruitment, told Recruiter it would be a challenge for these workers to find work in other retail travel businesses, so they may need to retrain.
"The travel industry is very innovative. I'm sure there will be retail travel businesses that will start up from ex-Thomas Cook staff but in general I think the retail staff will have to retrain. You look at areas like hospitality and the impact of Brexit and some Eastern European staff who are deciding to go back … leaving holes in hospitality roles. That potentially is an opportunity for staff."
And those employed in Thomas Cook Airlines should also be able to find alternative employment, Brooks added: "If we talk about the airline operator specifically, there is clearly capacity in the market – for example, Jet2 and EasyJet, who I think will come in take a lot of the capacity that Thomas Cook Airlines had and will pick up a lot of that business… Jet2 has successfully run a tour operator business on the side of the airline and EasyJet announced earlier this year that they were looking to develop their own holidays and have been recruiting already and that's going to be live in 2020."
Meanwhile Lakshmi Thurairatnam, recruitment director at Platinum Travel Recruitment, told Recruiter her team is also reaching out to affected workers.
"My team and I are on the case in locating the right jobs for as many Thomas Cook staff as possible – headhunting, using our resources and contacting our existing Thomas Cook candidates on our database for a range of roles."
Sarah Merry, director at Rockpool Recruitment, told Recruiter her agency would also be reaching out to employees to offer help and support.
"Referring specifically to the travel agents who will have been based in the shops across the UK, a lot of these people will have worked for the company for a very long time – some having spent their whole career there. Where we are able to help is not only by introducing them to potential future employers but more importantly, by supporting them with the whole process.
"There will be many employees who will have started with Thomas Cook as an apprentice and then grown with them over the years … so the thought of going out to interviews and putting their CV together can be incredibly daunting. We are able to help with assisting in CV writing and interview coaching, as well as career counselling, something that we will never charge for.
"If people are affected in locations where there are not so many other travel businesses, then we can explore homeworking as an option for some, as more travel companies move into this direction year on year."
MBM Travel Executives is another agency that plans to reach out to as many Thomas Cook employees as possible to offer advice and support.
Managing director Marie Moore told Recruiter: "We have already started the process early this morning through various social media channels and our network of travel professionals. We will also directly contact candidates matching our available opportunities over the course of the next few days.
"Due to continued digital innovation in the trade, candidates with tech or digital experience will be easier to place, as we have high demand for such talent. Through digital innovation we have seen many new segments, companies and newly created opportunities arise. Anyone who has transferable skills/experience from Thomas Cook will certainly be in demand.
"We want to remain sensitive to those affected. We are a resilient industry and always bounce back. Everyone in travel is extremely supportive; we are one travel family and many candidates will be contacted directly by various agencies and clients offering new opportunities."
Barbara Kolosinska, director at C&M Travel Recruitment and C&M Executive Recruitment, revealed her agency has set up a dedicated email helpline for all Thomas Cook staff and will also be hosting an open day at their offices in London on 1 October, where consultants will offer one-to-one career advice, as well as share details of exclusive travel roles. 
"If anyone would like to attend the event, they should contact hayley@candm.co.uk to secure their place.
"If there is any positive news for Thomas Cook employees, it is that the industry has been suffering from a shortage of quality candidates for some time now, so there are a large number of excellent opportunities out there at the moment with many great travel jobs available.
"However, due to the high number of people who have found themselves in this situation this morning, it is very important for anyone affected to be proactive about finding a new role, so the first thing they should do is update their CV and LinkedIn profile. Quality recruiters can also offer advice about how jobseekers can improve their CV and interview technique."
• Comment below on this story. You can also tweet us to tell us your thoughts or share this story with a friend. Our editorial email is recruiter.editorial@redactive.co.uk