Recruiters welcome vets and psychologists being added to occupation shortage list
Recruiters welcome vets and psychologists being added to occupation shortage list
30 May 2019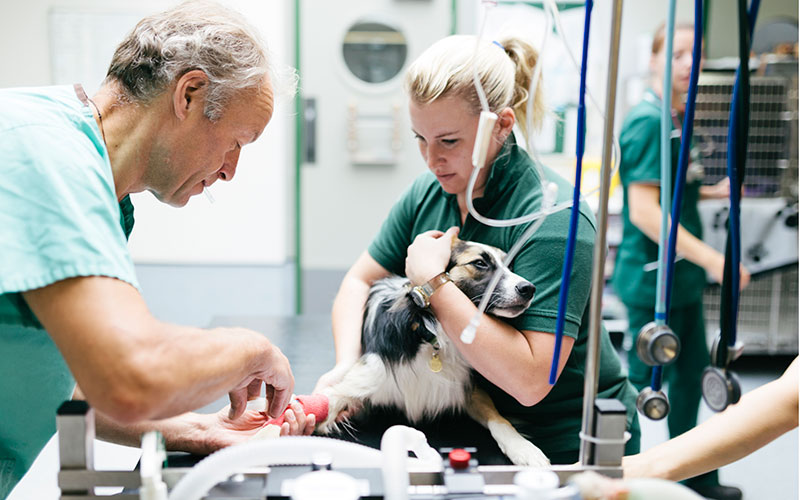 Recruiters have welcomed the Migration Advisory Committee's "sensible" recommendations to add vets, web designers, psychologists and architects to its shortage occupation list.
The move, announced yesterday, has been welcomed by recruiters operating in the affected sectors.
Olivia Spruce, CEO at healthcare staffing specialist Positive Healthcare, told Recruiter the recommendations were "common sense".
"By finally adding psychologists and occupational therapists to the shortage occupation list, it seems that common sense is finally prevailing. With such an endemic skills shortage, the UK needs to be as accommodating as possible in terms of recruiting talent from overseas. From my perspective, however, this only goes part way to solving this ever-increasing problem. The healthcare sector and government needs to work hard to develop domestic talent, as opposed to relying on overseas recruitment as the panacea to this ever-increasing crisis."
Michael Johnson-Ellis, managing director at another healthcare recruiter Healthier Recruitment, commented that while seeking talent from oversees could help to alleviate talent shortages in the very short term, staffing challenges facing the NHS require much more than a 'sticky plaster'. 
"We wholeheartedly agree with MAC's admission that difficulties in recruitment can often be attributed to a 'lack of workforce planning' – Trusts need desperate support in utilising their existing resources more effectively.  
"As this report highlights, the rise in vacancies and concern over a lack of staff has occurred under freedom of movement and during a period when many health occupations – including consultants, clinical radiology and emergency medicine - have featured on the SOL. With this in mind, simply suggesting that we pull more professionals from outside of the EU is unlikely to be effective.
 "As an organisation which is on the front line of recruitment into the NHS, we understand the challenges that many Trusts are facing to recruit the skills they need to give patients the service they deserve and maintain patient safety.
"However, at a time when NHS Digital has found that the share of workers who voluntarily resigned because of work life balance increased from 9% in 2012 to 16% last year, it is crucial that Trusts seek to become more efficient in utilising the talent we already have in the UK, rather than looking elsewhere."   
Meanwhile Clare Alderton, managing director at vet staffing specialist A1 Locums, told Recruiter the UK veterinary industry currently has shortages across the board.
She added she anticipates that reinstating vets to the list will open up particularly the locum market to all South African nationals, and Australians and New Zealanders over the age of 30 (who do not qualify for Tier 5 youth migrant visa), as they will now be able to locum for any practice in the UK without having to take a permanent position within a company who possesses a sponsorship licence.
"Historically, the southern hemisphere vets always plugged the gaps, particularly in the mixed vet positions as here in the UK, our vets specialise in a given field earlier on in their careers than they have historically done in SA, Australia and NZ.
"Due to the increased percentage of corporately acquired practices here in the UK, the shortage has somewhat abated this year as it appears to be that these companies have been closing some of their less profitable sites, and there has also been a number of closures widely reported by the Vets4Pets group. 
"There are also more veterinary degree courses than there ever has been before, with yet another new course at Harper Adams and Keele University jointly taking its first students in September 2020, and the University of Surrey's first veterinary intake will be graduating next year."
However, according to Alderton, the MAC's recommendation may have come a year too late. 
"The only unknown factor, which could prove to be pivotal, is Brexit, as if we leave with a 'no deal', which is looking more and more likely, then there will be a massive need for official veterinary surgeons (OVS) to carry out government work particularly concerning the movement of live animals and meat/carcasses between UK and the rest of Europe (including Ireland). At the moment the majority of OVS vets currently working in the UK are European, but this could change overnight on 31 October. The RCVS [Royal College of Veterinary Surgeons] is setting plans in motion to recognise more veterinary degrees from the Indian sub-continent which, in turn, will open up the number of vets eligible to work here in the UK."
While the MAC recommendations were hailed by Karendeep Kaur, senior immigration consultant at immigration law specialists Migrate UK, as "very sensible", concerns around filling talent gaps remain.
"Now the list will cover 9% of the jobs within the market as opposed to 1% as previously seen. In fact, these recommendations should reach further to include engineers and IT professionals to the shortage list, as we have seen an increase in companies in the engineering sector contacting us with growing concern about their future workforce."
Kaur explains while a number of IT and engineering sectors were added to the list in April 2019, these only apply to smaller companies with less than 250 employees, where the vacancy required someone with five years of relevant experience, in addition to having led a team. 
"Therefore, the impact remains as the larger organisations are still losing talent due to continued immigration restrictions, which MAC has so readily recognised. Plus, the quota for those not on the shortage occupation will mean these companies will be priced out of qualifying, pushing the minimum salary to unattainable heights."
Kaur adds a further concern for firms relates to the lack of any confirmation on the exemption surrounding the £30k minimum salary requirements for certain professionals.
"Let's not forget this all only applies until the current immigration rules remain intact with EU free movement. Thereafter, it all depends highly on the rules in place, as anticipated from 2021 and the introduction of the new skills-based immigration system at the time and whether the MAC's recommendations are upheld."
• Comment below on this story. You can also tweet us to tell us your thoughts or share this story with a friend. Our editorial email is [email protected]