Jamie Oliver staff won't be on job market for long, say recruiters
Jamie Oliver staff won't be on job market for long, say recruiters
Graham Simons
22 May 2019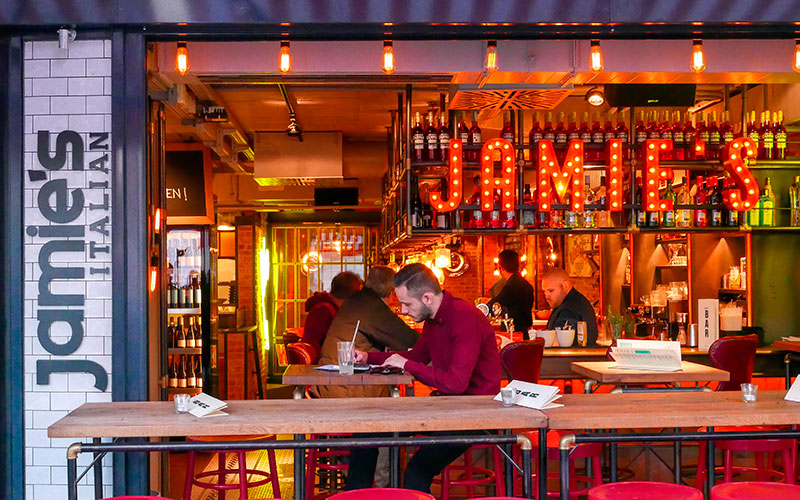 Recruiters are confident on the job prospects of staff affected by the collapse of celebrity chef Jamie Oliver's restaurant chain.
The BBC reports the chain, which includes the Jamie's Italian chain, Barbecoa and Fifteen, has appointed KPMG as administrators resulting in 1,000 job losses.
But recruiters say these workers are unlikely to be on the jobs market for long due to current talent shortages blighting the hospitality sector.
Katie Mellor, director at CJUK, told Recruiter: "We have hundreds of clients are who crying out for great people, especially chefs, and I would encourage former Jamie Oliver employees to reach out to their contacts, update their CVs and social media profiles, and apply for roles being advertised. We would be very happy to help anyone who is looking to secure new employment and we have a number of temporary chef roles in particular, which would be ideal for jobseekers at this time."
Abi Dunn, founder of Sixty Eight People, told Recruiter Oliver's chain has some incredible staff working for them: "We have made contact with managers from the cities we cover and are working with them to find roles.
"Sadly, when people are forced into finding a role quickly they may have to be more flexible in terms of salary, location and position.
"There are plenty of opportunities out there and great employers are looking for great people. Anyone is welcome to contact me directly to chat through their options."
Ed Vokes, managing director at Evolve Hospitality, echoes those sentiments – claiming he did not think the affected workers will have massive trouble finding roles.
"We are busy and would welcome anyone from Jamie's through the door, as would many businesses in the industry. I would welcome anyone to get in touch. I think the wider impact of another brand leaving the high street is concern and as an industry we really need analyse why this has happened and do all we can to stop a repeat."
Calvern James, restaurant jobs expert at careers site Caterer.com, explains there are number of reasons why high-street brands are currently struggling.
"There are multiple reasons for this struggle. Recent increases in business rates and rents; food and packaging costs; increases in staffing costs; and the ongoing labour shortage are all contributing factors as to why the costs of delivery are up and profits are down for many restaurant businesses.
"The restaurant sector has also experienced rapid growth over the last few years and for many this has led to over expansion or expansion plans that have not been realised. There are around 4,000 more restaurants in the UK than there were four years ago, and this growth has been driven by increased customer interest in food and dining. The hospitality industry is highly innovative, and constantly evolving, so remaining competitive can be challenging for large high-street brands like Jamie's who need to deliver a certain level of profit."
Although James adds consumer preferences have also been a contributory factor: "Customers have become used to the diverse choice of restaurants available to them, and in recent years we have seen an incredible shift in the make-up of the high street, with the rise of independent, one or two-site restaurants offering more select, evolving menus. 
"Customers are increasingly seeking the lifestyle-led, unique eating experiences often delivered by independent, pop-up and street food venues, and this can mean the larger high-street brands are overlooked.
"Although this is sad news for the Jamie's brands, this is not an indication of the condition of the hospitality industry as a whole, which is still in positive growth. Despite a decline in the number of pubs and bars closing, there are new opportunities for independent businesses, restaurants and bars to widen their product offering and reach new customers. In terms of business and career opportunities, the hospitality industry is stronger than ever."
Meanwhile, a spokesperson for hospitality trade body UKHospitality told Recruiter the chain's closures were obviously most unwelcome, not least for the staff members to whom it came as a bolt from the blue. 
"However, the demand for labour is high in an industry that is more generally in good shape and includes areas of growth, so those workers can take some comfort that their prospects are positive.
"It's well publicised that chef positions are hard to fill but you only need to walk down your local high street to see 'apply within' signs for front and back of house roles across the board. UKHospitality will be doing all it can to help people affected by the closures to find new employment within our sector."
• Comment below on this story. You can also tweet us to tell us your thoughts or share this story with a friend. Our editorial email is [email protected]