Recruitment firm gives resourcer her Shangri-llama reward to say thanks
Recruitment firm gives resourcer her Shangri-llama reward to say thanks
Graham Simons
29 March 2019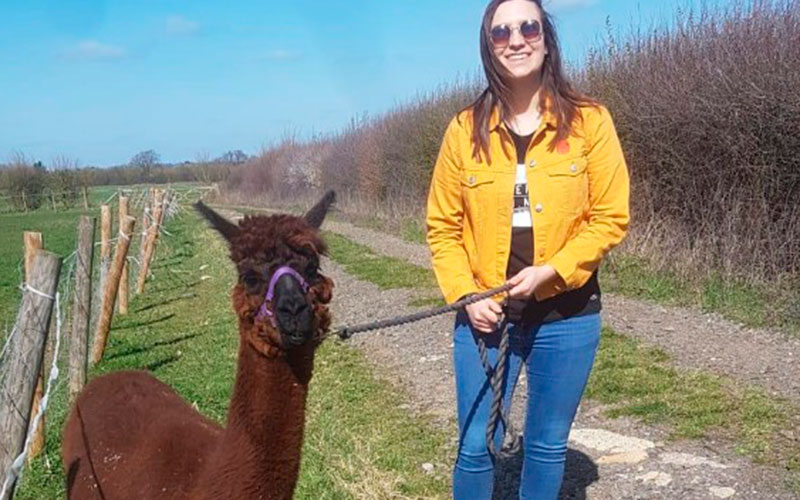 Resourcers are the backbone of any recruitment agency and can mean the difference between whether or not a client can secure the perfect candidate.
So when a St Neots-based recruiter looked into rewarding all of the hard work of one of its departing resourcers, the agency chose a special treat that meant she could encounter her favourite South American camelid.
Leigha Marvell, now a housing income officer at disability charity Papworth Trust, previously worked as a researcher at agency Zitko Consulting.
Her former boss Emily Coates, a senior consultant at Zitko, told Recruiter the agency has a history of rewarding staff with benefits such as Go-Ape, go-carting, pizza making and Crystal Maze experiences. But when dedicated resourcer and alpaca-obsessed Marvell revealed she was leaving to relocate for another job, Coates knew a different sort of reward was in order.
Consequently, before she could get 'alpaca-ed up' and leave the building, Marvell was sent on an alpaca experience day at Herrings Green Farm, Wilstead in Bedfordshire, which brought her into contact with Beebee the alpaca.
"She [Marvell] loves them," Coates told Recruiter. "She had alpaca pens and alpaca pictures on her desk. When she left, we got her a few other alpaca items, such as an alpaca blanket… She says they are her spirit animal. She's a big fan of them."
Elaborating on the reasons for rewarding a departing member of staff in this way, Coates told Recruiter Marvell was a dedicated resourcer to a lot of the clients she works with and brought in some excellent candidates and was a very valuable member of the organisation.
"It's important to thank people for their hard work, isn't it? She made a massive difference for this key account that I work with…
"We wanted to thank her for all the hard work that she's done rather than her leave without feeling appreciated. I think it's important that even if people decide to move on for whatever reason that they are still recognised and rewarded for all the hard work that they've done."
• Comment below on this story. You can also tweet us to tell us your thoughts or share this story with a friend. Our editorial email is recruiter.editorial@redactive.co.uk