Red Eagle consultants join logo-tattooed ranks
Red Eagle consultants join logo-tattooed ranks
1 September 2017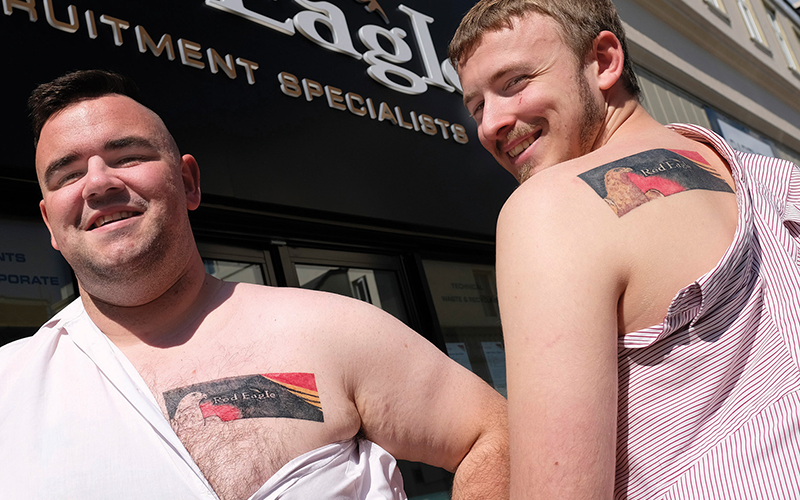 Consultants tattooing their company logo on their bodies seems to be a thing in recruitment.
In July, Recruiter brought you a story about Edinburgh-based agency Be-IT Resourcing operations manager Stuart Alexander, whose son Joe suffers from kidney disease, tattooing his agency's logo on his foot as part of a charity fundraising drive that raised £2,7000 for Kidney Kids Scotland, surpassing the £2,000 target.
And in May last year, Recruiter brought readers a story about how Lawrence Harvey Group had developed such staff commitment that one consultant tattooed 'LHTID' ('Lawrence Harvey til I die'), on her hip.
Continuing the trend are Andrew Martyn and Lewis Farnham of Kent-based recruiter Red Eagle, who have branded their bodies with their company logo after a "mad dare" following a few bevvies after work.
Commenting, Farnham said: "The day-to-day atmosphere in our construction division is brilliant. We have a great team spirit and regularly dream up crazy challenges in the office – I'll be reminded of this one everyday."
And managing director Wayne Hodgson doesn't seem to mind, adding:  "This is like something you see on one of those teenage holiday programmes, where having a few beers results in waking up with their new girlfriend's name tattooed on their body. Fortunately I have a great working relationship with these guys – let's hope it lasts."