A Goodwin for Antal vs Wilkinson of Gattaca in Great North Run battle
A Goodwin for Antal vs Wilkinson of Gattaca in Great North Run battle
11 September 2017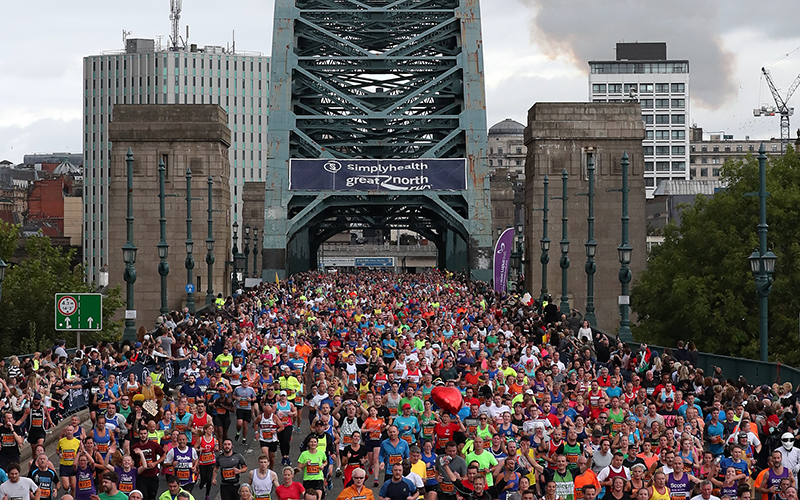 And the winner was… Antal CEO Tony Goodwin, with a time of 2 hours and 34 seconds. Goodwin finished ahead of Gattaca CEO Brian Wilkinson, who was making his debut at the race. Wilkinson posted a very creditable 2 hours and 27 minutes.
But it wasn't all doom and gloom for Wilkinson, whose brother Gary bettered Goodwin's time on the day. As of mid-morning today (Monday 11 September), Wilkinson was winning the battle of most money raised, with Goodwin's total standing at £2,829, compared with Wilkinson's £3,635.
Despite feeling "achy" this morning, Wilkinson told Recruiter his overwhelming feeling today is one of satisfaction. "I feel achy but happy that I did it. I ran all the way first time. I feel satisfied and looking forward to next year.
"It proved very demonstrably that Tony is a faster runner than I am. We'll have another go. Mile 11 is a killer. Knowing when the hills were [coming] didn't really help – I just knew when to expect more pain.
"I met my brother and a couple of other guys that were running it in a pub afterwards and had a nice Sunday lunch and a few beers. It was a great weekend. I totally recommend it."
Meanwhile, the victorious Goodwin reflected on being "pipped at the post" by Sir Mo Farah – by about 60 minutes. Goodwin told Recruiter this was due to the fact he did not have the best preparation for the race, having visited Kazakhstan on business last week.
"My time was 2 hours and 34 seconds, which is a bit disappointing because I was hoping to do it under two hours. I just don't think I did enough training to be perfectly honest. I think Kazakhstan and the fact I'd been on holiday five weeks previously to Ibiza hadn't helped in terms of proper preparation. 
"I don't remember it being quite as hilly as it seemed to be yesterday. When I first did it in 2011, there were miles where I was actually quite enjoying it. There wasn't really any moments yesterday where I was enjoying it.
"I had enough left in me. The last 100m I did up the pace and I still had a little bit left and I'm annoyed I could have got around under 2 hours if I'd upped the pace at 400m instead of the last 100m.
"I'm delighted that I won and that Brian finished and we raised a lot of money for two very good causes."
And you can still donate to those very good causes below.
Brian Wilkinson: http://uk.virginmoneygiving.com/BrianWilkinson1
Tony Goodwin: https://www.justgiving.com/fundraising/tony-goodwin2017 
Goodwin ran in aid of the British Heart Foundation, while Wilkinson ran for the Alzheimer's Society, a charity close to his heart following the loss of his father to this disease.
• Want to comment on this story? Email us at [email protected] or tweet us below to tell us your thoughts. We will run comments online in a round-up at the end of the week.