CONTRACTS AND DEALS: 18-22 SEPTEMBER 2017
CONTRACTS AND DEALS: 18-22 SEPTEMBER 2017
18 September 2017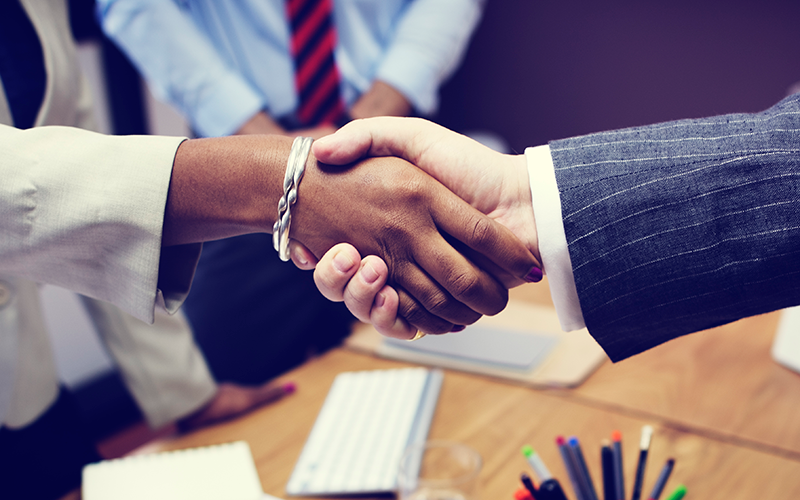 This week's contracts and deals include: 51job, Butler Rose, Embridge Consulting, FCSA, Grant Thornton, Hireserve, Mercer, Morson Projects, Sigmar Recruitment, Swarovski, Technojobs, The Curve Group, Workday
• China's 51job has entered into an agreement to become the majority shareholder of recruitment website provider Lagou Information. The China-based provider of integrated human resource services has acquired a 60% equity interest in Lagou for US$119m (£87.6m) in cash, with the transaction expected to be completed in the fourth quarter of 2017, subject to closing conditions.
Rick Yan, president and CEO of 51job, said in a statement: "The addition of the Lagou platform further expands and deepens 51job's HR services ecosystem for both employers and jobseekers alike."
• Specialist accountancy and finance recruiter Butler Rose (part of nGAGE Specialist Recruitment) has become corporate associate partner to the International Association of Bookkeepers, the supervisory body for professional bookkeepers in the UK.
The agreement sees Butler Rose provide careers advice and other services to IAB members. Services include a helpline, careers events, webinars and newsletters. Butler Rose will also promote the IAB to any of its candidates looking to enhance their skills through a professional bookkeeping or payroll qualification.
• The Freelancer and Contractor Services Association (FCSA), an independent trade association for professional employment services, has formed a partnership with investment solutions provider Octopus Investments.
The partnership will give FCSA's members and the freelancers and contractors they support access to investment opportunities tailored specifically for self-employed professionals and their companies.
• Professional services firm Grant Thornton has gone live in Ireland with human capital management software Workday's Human Capital Management (HCM), including Workday Recruiting. Grant Thornton Ireland employs more than 1,000 people in offices in Dublin, Belfast, Cork, Galway, Kildare, Limerick and Longford.
• Recruitment software provider Hireserve is partnering with Embridge Consulting, an independent consultancy specialising in ERP systems and projects.
The partnership will enable Embridge to improve the implementation phase of joint projects for its clients. It is hoped the firms' shared clients will benefit from a streamlined, end-to-end implementation experience, connecting the dots from pre-sales to Go Live.
As a result, Hireserve will benefit from the opportunity to reach a wider potential customer base, while Embridge will strengthen its offering to clients with a cloud recruitment solution.
• Global health, wealth and careers consultants Mercer has acquired Portuguese-based people-focused products and advisory services firm Jason Associates. The deal does not cover the firm's recruitment and search business, which will change its brand, but will trade as usual with its existing team.
• Technical recruiter Morson Group's specialist engineering Projects division has been granted Part 21 Subpart J Design Organisation Approval (DOA) from the European Aviation Standard Agency (EASA).
The agreement means Morson Projects is now authorised to deliver minor and major repairs and changes to aircraft of any size, including avionics, cabin, electrical, environmental control and structural. EASA is responsible for regulating civilian aviation safety across Europe to promote the highest standards of safety and environmental protection. The agency advises on EU legislation, implements and monitors safety rules and approves organisations to design, manufacture and maintain aircrafts. The move coincides with the division's recruitment of 14 highly experienced aviation engineers to boost its capabilities in aircraft modifications and upgrades. The move follows Marshall Aviation Services, part of the Marshall Aerospace and Defence Group, closing its Broughton site in Flintshire, North Wales, earlier this year.
• Recruiters at Ireland-based Sigmar Recruitment have completed a bespoke executive leadership programme, run by Trinity College Dublin in collaboration with the University of Notre Dame in Indiana, US.
The first half of the course, which was designed to enhance leadership capability and accelerate growth trajectory, was held at the Trinity campus in Dublin City centre, with the remainder at the Notre Dame campus in Kylemore Abbey in Galway.
• Swarovski's crystal business has implemented on-demand financial management and human capital management software vendor Workday's software.
As part of a three-year HR transformation programme, the project covers Workday Human Capital Management and Workday Recruiting. The aim is to ensure transparent, efficient and simplified people processes, empowering people managers and employees to make fact-based hiring decisions.
The implementation has been carried out over three waves. By the middle of next year, Workday will be available to 27,000 employees across the world in production, retail and office environments.
• IT jobs board Technojobs is partnering with blockchain career verification platform and technology start-up APII. The partnership sees the two companies integrate with each other's platforms and enables candidates to apply for roles using blockchain verified CVs.
• Recruitment and HR outsourcing company The Curve Group has been appointed as HR outsource provider to British women's footwear brand Butterfly Twists on a two-year rolling contract.