Coalition should have gone further to tackle labour market abuse, says Cable
Coalition should have gone further to tackle labour market abuse, says Cable
Colin Cottell
8 September 2017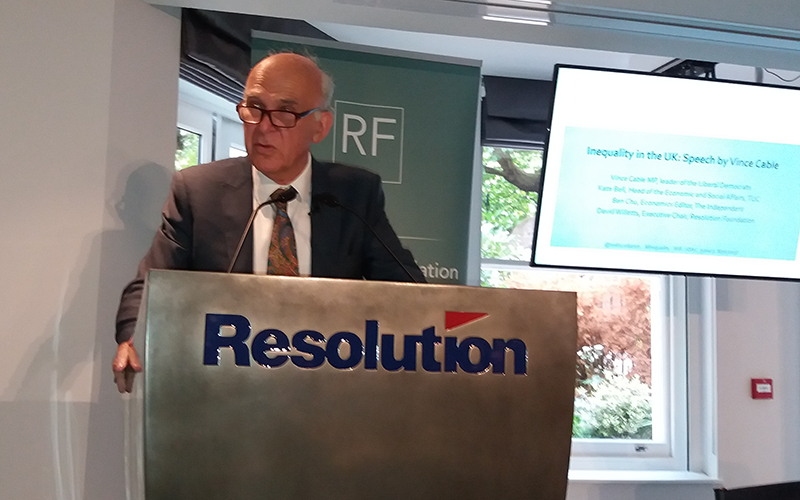 Leader of the Liberal Democrats Sir Vince Cable has admitted that the Conservative-Liberal Coalition government should have gone further in tackling labour market abuse.
During his period as secretary of state for Business, Innovation and Skills, Cable brought in a ban on exclusivity agreements that stopped workers on zero-hours contracts from working for other employers. However, in response to a question from Recruiter.co.uk, Cable, who was making a speech on inequality at The Resolution Foundation think-tank in London, said the Coalition government, which ran from 2010-15 should have done more. 
"Probably we should have gone further" in giving workers on zero-hours contracts "the right to ask for a long-term contract after a certain period of time", said Cable. Cable said as leader of the Liberal Democrats Party he would argue the case for this.
Responding to a question from Recruiter.co.uk about whether labour market flexibility contributed to inequality, Cable said: "It is certainly true, and we came to this conclusion in government that, although flexible labour markets are one of these mantras that liberal economists trot out as self-evidently desirable, you can have labour markets that are too flexible."
During his wide-ranging speech, Cable argued "there is something stirring around the whole issue of inequality", with growing recognition and evidence that inequality of income and wealth "was doing serious damage to the economy".
Rather than increasing taxes on income, "which above 50% it tends to be counter-productive", Cable said there should be more focus on taxing wealth and assets. He suggested that extra taxes on wealth could be put to one side and used to fund individual learning accounts. There should also be more resources put into adult education to allow older people to upskill and change their careers, said Cable.
• Want to comment on this story? Email us at recruiter.editorial@redactive.co.uk or tweet us below to tell us your thoughts. We will run comments online in a round-up at the end of the week.