Unite urges NHS to ban umbrella companies
Unite urges NHS to ban umbrella companies
30 August 2017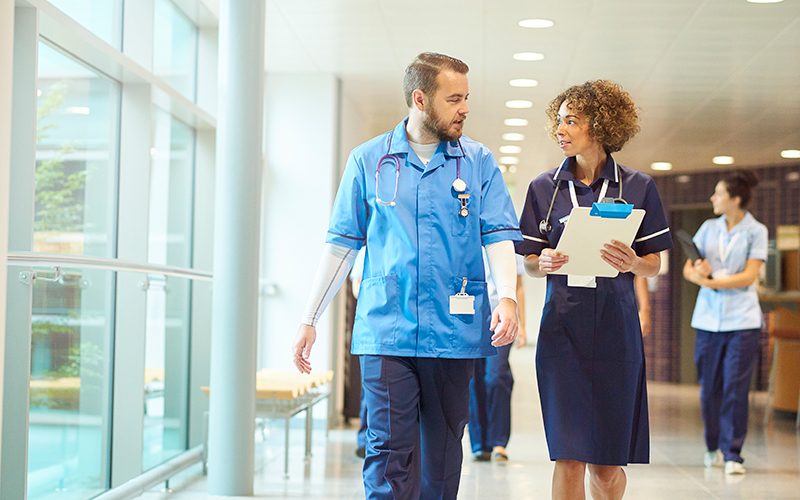 Trade union Unite has called on the NHS to outlaw umbrella companies operating throughout the service, labelling these organisations "parasites feasting off workers' wages".
In a statement on its website, released yesterday, the union claimed that new laws brought in in April, affecting all pay grades within the NHS and effectively outlawing agency workers operating in the public sector from being paid on a non-PAYE basis, have meant some agencies operating within the NHS have begun to force workers to be paid via umbrella company contracts.
The union claimed this means if a worker is employed via an umbrella company, they lose 46 pence in the pound of eligible earnings, through national insurance (NI) and income tax.
Consequently, after being contacted by several members working within the NHS, Unite revealed it has contacted the NHS and urged the organisation to stamp out the use of umbrella companies but that NHS Improvement, the body responsible for overseeing foundation and NHS trusts, has refused to do so.
In its statement, Unite national officer for health Colenzo Jarrett-Thorpe said: "Umbrella companies are simply parasites feasting off workers' wages. Although they are not technically illegal, they are certainly immoral.
"Unite will be now targeting individual NHS trusts that allow umbrella companies to be used; not only will we ensure they ban their use in future, but we will also demand they pay back the money our members have lost in being paid in this way."
But the union's damning indictment of the umbrella sector has not gone unchallenged.
Defending the sector, Julia Kermode, chief executive of The Freelancer & Contractor Services Association (FCSA), an independent trade association that represents umbrella companies, said: "Like Unite, FCSA is committed to protecting the workforce from exploitation, so I am disappointed to hear Unite's national officer for health tarring all umbrella companies with the same brush and calling for the NHS to ban the use of umbrella firms. I have been talking to NHS Improvement about the important role of compliant umbrella firms in the supply chain, and I am meeting up with its agency team in the next two weeks to discuss how we can work together in the best interest of contractors and freelancers.

"As a result of the IR35 reforms that took effect in the public sector in April, we are indeed seeing many newcomers entering the umbrella market with no track record, so due diligence is essential to minimise risk. We are particularly concerned about the increasing proliferation of offshore loans and disguised remuneration schemes that seek to reduce contractors' taxable pay via contrived means. These schemes put individuals at significant personal financial risk as HMRC will pursue them for the unpaid tax and NICs, plus penalties and interest," she said.
"The new Criminal Finance Act coming into force on 30 September will pose an additional risk for agencies to manage, as they could be accused of not preventing tax evasion if they put contractors in touch with such dubious schemes. It is important that agencies and contractors choose compliant umbrella firms to partner with, and I will also be raising this with NHS Improvement.

"FCSA-accredited members adhere to a strict code of compliance, and we are committed to ridding the industry of its 'cowboys' as well as promoting umbrella employment as a positive choice for the hirer and the worker."
Also commenting, Damian Broughton, executive chairman at accountancy firm Danbro, accused the union of using inflammatory comments to gain headlines while showing its ignorance on how personal service companies, umbrellas, agencies and general PAYE schemes operate.
He told Recruiter: "All of these ways of operating have to account for employer's NI, which, at some point, is taken off the gross rate that is agreed with a worker. Even if a worker is a full-time employee, the NHS trust still has the cost of employer's NI to be added to its agreed rate rate, to show the total cost to the trust.
"NHS Improvement says that it wants to encourage the use of PAYE mechanisms. Compliant umbrella companies operate the most transparent PAYE mechanism in an efficient and cost-effective manner. The transparency can sometimes cause confusion, as every penny is accounted for in information that is given to the worker.
"In addition to the transparency, many of the advantages of working for large organisations are given to workers who operate through umbrella companies, such as private medical insurance, life insurance, sickness cover and discount-buying schemes," he said.
"There are some umbrella companies who do not operate compliantly, and we applaud HMRC's efforts in stamping these practices out. We encourage Unite to focus its comments on non-compliant umbrellas rather than calling for a blanket ban on the whole sector, which provides an ideal solution to thousands of workers who understand, and prefer to work in, this manner."
In response to Unite's claims, a spokesperson from NHS Improvement said: "NHS Improvement does not have the power to ban 'umbrella organisations' from operating in the NHS. Such organisations must, however, comply with existing HMRC and other relevant legislation.
"We do not encourage the use of these organisations or other intermediaries, and instead urge NHS staff to use PAYE mechanisms, as well as working within substantive and bank roles.
"We also expect all NHS providers to comply in full with their legal obligations by ensuring that all locum, agency and bank staff are taxed appropriately following a proper analysis of their individual circumstances."