GLAA boss seeks to allay Brexit fears
GLAA boss seeks to allay Brexit fears
Colin Cottell
18 July 2017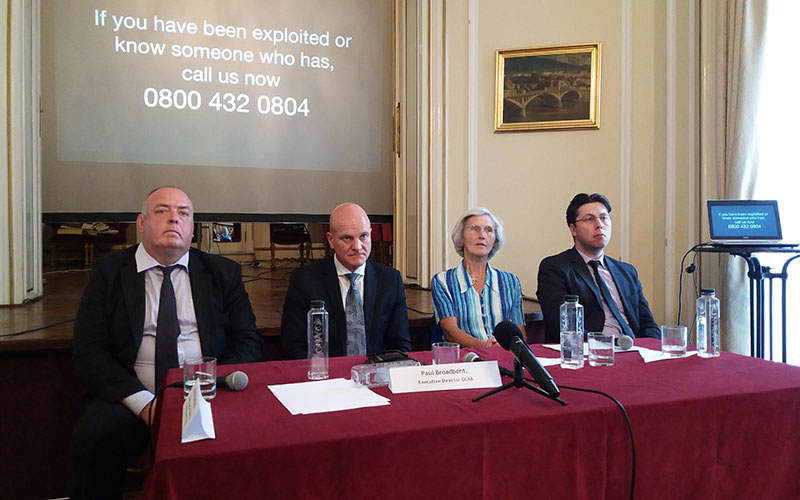 The executive director of the GLAA (Gangmasters and Labour Abuse Authority) has sought to allay fears that Brexit will hamper its ability to tackle people trafficking, labour exploitation and modern slavery.
L-r: GLAA senior investigating officer Tony Byrne, executive director Paul Broadbent, chair Margaret Beeles and Ioan Constantin
Concerns have been raised in Parliament and elsewhere that even if a deal is reached for the UK to continue to co-operate with agencies such as Europol, the level of that co-operation will be lower than today, and this will hamper efforts to tackle the problem of human trafficking and modern slavery in the UK, much of which emanates from Eastern Europe. 
Speaking at the Romanian Embassy in London, Paul Broadbent, executive director of the GLAA, told NGOs, charities and voluntary groups from the UK's Romanian community: "Operationally we will continue to sustain, develop and enhance the relationships we have regardless of nationality and regardless of which country they come from because any worker has the right to work fairly and decently.
"As head of the GLAA, I want to ensure that continues moving forward, regardless of any political or other dynamics. Our job is to work in partnership to protect vulnerable and exploited workers, and that is the simple thing we get up in the morning to do."
Kevin Hyland, the UK's first independent anti-slavery commissioner, said that as part of his work he had recently visited Uganda and Australia. "The crime of modern slavery doesn't have any boundaries. It's in the UK as well," he said with British nationals being the third highest category of workers exploited last year.
Ioan Constantin, who is on secondment at the GLAA from the Romanian Labour Inspection agency, told the meeting that the flexibility of UK employment legislation meant Romanians were particularly vulnerable to exploitation and abuse. He said concepts such as zero-hours contracts and the widespread use of self-employment "were a complete mystery to Romanian workers who came here, because they have no cultural understanding of these concepts".
He said that, according to official Romanian government statistics, in 2016 Romanian recruitment agencies had brought 2,000 workers into GLAA-regulated sectors, but that this was "no more than a fraction of the true figure". 
At the beginning of May, the GLAA's remit was extended to cover all sectors of the UK labour market. Previously, this had been confined to horticulture, agriculture and shellfish. At the same time the GLAA's powers were beefed up so they are akin to those held by the police. 
• Want to comment on this story? Email us at recruiter.editorial@redactive.co.uk or tweet us below to tell us your thoughts. We will run comments online in a round-up at the end of the week.