CONTRACTS & DEALS: 12-16 JUNE 2017
CONTRACTS & DEALS: 12-16 JUNE 2017
12 June 2017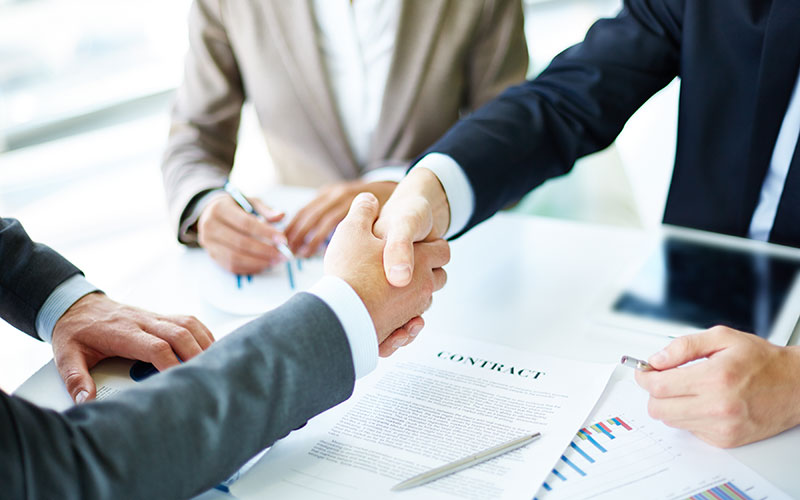 This week's contracts and deals including: Bond International Software, Cross Country Healthcare, DHR International, Erecruit, Petroplan, Fusion Experience, Hudson James Human Capital, Recruitive Software, Redline Group, RSG, SJC123, Taylor Hopkinson Associates, The Access Group
• US healthcare staffing specialist Cross Country Healthcare has signed an agreement to acquire the assets and business of Ohio-headquartered Advantage RN for $88m (£69.1m).
Advantage is one of the largest independent travel nurse staffing companies in the US. It places many of its nurses through managed service providers (MSPs) and vendor management systems, and maintains strong direct relationships with hospitals.
Advantage founder and CEO Matt Price will remain with the business following the acquisition.
Cross Country is financing the acquisition through a combination of cash and borrowing under its senior credit facility and expects to close the deal in Q3 2017.
• Global executive search firm DHR International has completed the placement of Tom Flack as chief procurement officer at global automobile manufacturer Tata Motors.
The search, completed by Frank Smeekes, DHR's managing partner, Europe, sees Flack join from Ford Motor Company, where he was most recently global purchasing director for raw materials & stampings.
• Enterprise staffing software specialist Erecruit is to merge with recruitment software provider Bond International Software.
The firms said the merger would increase their operational scale, extending their geographical reach across the US, Europe and Asia, doubling the size of their employee base, and expand their product portfolio.
Current CEO of Erecruit David Perotti takes the role of the CEO of the newly merged organisation.
Global private equity firm Symphony Technology Group (STG) becomes the majority owner of the combined entity, while North Bridge Growth Equity retains a minority stake.
• Global oil & gas recruitment specialist Petroplan has been awarded a contract to provide consultancy and managed services in the UK, South Africa and Mozambique for international integrated chemicals and energy company Sasol.
The contract continues a long-standing working relationship Petroplan already has with Sasol through the provision of both contract and permanent oil & gas professionals in the UK and South Africa.
• Data solutions company Fusion Experience has secured a £500k loan from RateSetter Business Finance.
Fusion, a specialist in technology for the recruitment industry, says the money has helped it win several new contracts and complete its transformation into a product-led business.
• Executive search business Hudson James Human Capital has acquired fellow Leeds firm Vitae Selection. Hudson James said the deal, for an undisclosed sum, would double its headcount to 22. 
Established in 2008, Vitae Selection specialises in consumer, packaging, ingredients and energy sector appointments across the UK and international markets.
Vitae managing director Andrew Osbaldeston will become co-owner of Hudson James Human Capital alongside the acquiring firm's founder Dan Spurr.
Spurr said this represented just the start of Hudson James' acquisition activity: "The completion of this acquisition represents the first of Hudson James' planned transactions on our path to becoming one of the leading search firms within our core markets."
He added: "This was a key strategic move for us, providing both the size and scale to be a major partner across executive consumer recruitment both nationally and internationally."
• Recruitment software provider Recruitive Software has integrated with cloud-based recruitment software and security jobs careers portal SJC123.
• Technology and engineering staffing specialists Redline Group has agreed to be the main sponsor of the Outspan Rebels Visually Impaired Ski Race Team.
The Outspan Rebels is a collective of visually impaired skiers from across the UK – brought together to introduce visually impaired skiing onto the able-bodied indoor ski race circuit, making the sport more inclusive for visually impaired skiers.
• Renewable and clean energy staffing specialist Taylor Hopkinson Associates has secured funding from SEA Equity, an organisation that focuses on backing small and medium-sized companies across the UK and Europe.
Taylor Hopkinson will use the funds to strengthen its market position and grow its operations geographically to access new markets and talent.
Taylor Hopkinson is SEA Equity's fourth investment, and the first from its recently raised £50m fund. As part of the deal, SEA Equity has introduced new directors to the business, who will join the company's board. Stewart Cantley joins Taylor Hopkinson as chairman, alongside Mike Bell who becomes chief financial officer.
The pair will work alongside the existing management team, which includes business founder and CEO Tom Hopkinson, to support company's growth plans.
Advising on the transaction was Ryecroft Glenton Corporate Finance partner Carl Swansbury, alongside Alex Simpson, Simon Hopwood and Charlie Burton, with legal advice from the team at international law firm Pinsent Masons, led by Kevin Devanny.
SEA Equity was advised by a corporate finance team from RSM led by Rebecca Guerin, with legal advice from TLT, led by Jon Gill and a commercial due diligence team led by Robin Illingworth of Drystone Strategy.
• HR software provider The Access Group is partnering with employee engagement and wellbeing specialist WeThrive to develop new solutions for SMEs, based upon their respective HR management and employee wellbeing tools.
WeThrive is an online tool that examines organisations' employee experience to improve staff wellbeing, retention and absenteeism, while The Access Group is provides integrated business management HR software.
• Independent recruiter RSG has named The Prince's Trust at its chosen charity partner to help get younger people into work.
The Prince's Trust aims to support 60,000 new young people across the UK, helping them gain skills and confidence needed to land a job.
RSG has previously supported The Prince's Trust South West by holding training and open days for 18-to-25-year-olds at its headquarters in Bristol. RSG said these sessions created such positive feedback both within the business and among those who took part that the whole organisation is now geared up to support more young people in Bristol and across all 10 of its UK offices.