Hammond hits the self-employed but champions tech skills
Hammond hits the self-employed but champions tech skills
8 March 2017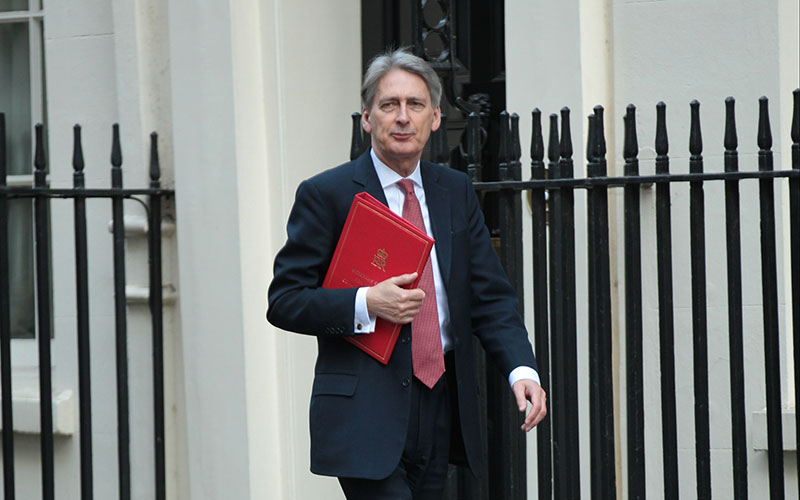 Building STEM skills, helping combat business rate increases and raising NI for the self-employed were among the highlights in this afternoon's Spring Budget statement.
Addressing Parliament this afternoon, Chancellor Philip Hammond announced a number of measures to help increase productivity of the UK workforce.
These measures include:
New T-levels for 16-19-year-old technical students to be introduced from autumn 2019. Students will be able to choose from 15 different routes such as construction, digital or agriculture. The number of hours of training for these students will increase by over 50%. As part of the course, all students will take part in an industry work placement.
£300m investment in new academic research placements. Of this, £90m will provide 1,000 new PhD places, including in science, technology, engineering and maths (STEM), with the remaining £210m going towards creating new fellowships, including programmes to attract top global talent to conduct research in areas such as bioscience and biotechnology, quantum technologies, and satellite and space technology.
Commenting on the chancellor's announcement, Association of Employment and Learning Providers (AELP) CEO Mark Dawe welcomed his recognition of the importance of skills for young people, the measures to boost technical education and his statement that the government's 3m apprenticeships target remains a key plank of its skills policy.
"However, as part of the government's social mobility and productivity agendas, ongoing financial support is crucial for SMEs who wish to offer apprenticeship opportunities. 
"Smaller businesses who are outside the Apprenticeship Levy's scope account for over half of these opportunities, many of which are in areas of the country where there are few or no levy-paying employers. So it is absolutely vital that the government comes forward with a guaranteed minimum £1bn a year budget to keep SMEs on board the programme and to ensure young people get the opportunities they need."
Doug Monro, co-founder of job search engine Adzuna, added: "The simplification of qualifications available will hopefully give those in education a clearer route to work and T-Levels will help technical students across a range of subjects. In National Apprenticeship Week, Philip Hammond again reaffirmed the government's commitment to such schemes and also acknowledged the continued progress of disruptive technologies with a £270m pledge."
Returnships
The chancellor announced government is to invest £5m to increase the number of returnships, helping people back into work after a career break.
On this point Lee Biggins, founder and managing director of job board CV Library, expressed hopes the chancellor's announcement would go some way to helping people back into work after a career break.
"This also requires commitment from businesses of all sizes to be more accommodating to working parents. We're already seeing some of the larger organisations introduce these initiatives and they provide great opportunities for those returning to work to upskill, or choose an entirely new career path altogether."
Business rates
As expected, there was also help for businesses affected by April's business rates revaluation in the form of £435m support. London-based recruiters warned of the adverse effects on their businesses of these increases earlier this week.
The chancellor's move means that a small business losing small business rates relief won't have to pay more than £600 in business rates this year.
Funding for local authorities will allow them to provide £300m of discretionary relief to provide help to businesses most affected by the revaluation.
Self-employed and company incorporations
From 2018, Class 4 National Insurance Contributions (NICs) will rise from its current rate of 9% to 10% in April 2018 and to 11% in April 2019, equivalent to a 60p rise for every self-employed worker.
Meanwhile, to stop people from setting up a company to benefit from favourable tax treatment, the tax-free dividend allowance will be cut from £5k to £2k from April 2018 .
The Chancellor wants to grow a fairer economy but there is nothing fair about today's announcements
But on this point, Julia Kermode, CEO of the Freelancer & Contractor Services Association (FCSA), an independent trade association whose members provide professional support services to freelancers and contractors, accused the chancellor of punishing freelancers.
"The Chancellor wants to grow a fairer economy but there is nothing fair about today's announcements. Once again, microbusinesses and the self-employed are coming under attack for not paying enough tax, with Mr Hammond believing that employees are being penalised by an unfair system. This is wholly unjustifiable and today's measures are targeting the wrong people. 
"It would have been sensible for the Chancellor to await the full outcome of Matthew Taylor's review that is due out in the summer before he announced today's kneejerk moves that will see policy changes that will have serious negative implications."
Social care
As expected, there was also additional grant funding for social care of £2bn in England over the next three years, with £1bn available in 2017-18 enabling local authorities to act now to commission new care packages.
This widely-anticipated move was welcomed earlier today by a social care recruiter.
OBR forecasts
Updating the House on the Office for Budget Responsibility (OBR) forecasts, published today, Hammond said the number of people in work in the UK is set to grow in every year up to 2021 along with real wages when a further two-thirds of a million people will be in work.
Rounding up his speech, Hammond said: "Today's OBR report confirms the continued resilience of the British economy.
"And at this Budget we continue with our plan. Building on the foundation of our economic strength. Reaching out to seize the opportunities that lie ahead. Backing our public services. Supporting Britain's families. Investing in the skills of our young people. And making Britain the best place in the world to do business."
In response, Labour leader Jeremy Corbyn accused the chancellor of failing to address the "crisis of job insecurity" for workers across the UK. "Millions of people wake up every day not knowing whether they will work today, tomorrow or next week." 
Not knowing how much they will earn, this made it very difficult to plan their lives, he said. The 900,000 workers on zero-hours contracts were just "the tip of the iceberg", said Corbyn, with 4.5m people in "insecure work" across the economy.
Corbyn went on to attack the government's tax policies describing them as "a £70bn give-away for the few". Changes to the tax treatment of the self-employed announced by the chancellor did not address this but "put the burden on self-employed workers themselves", he said. 
The opposition leader told MPs the budget was one of "utter complacency" about the "state of the economy, the crisis facing the public sector and the reality of daily life for millions of people across the country".