Autotrader's Awesomobile
Autotrader's Awesomobile
1 February 2017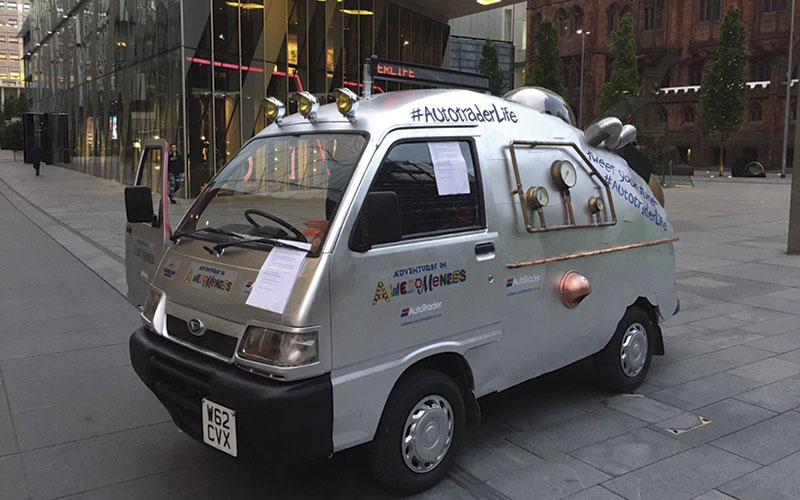 Hanging out with Java candidates.
Recruiters and staff from automotive classified advertising website Autotrader have taken to the streets of Manchester in a specially adapted vehicle in search of much sought after Java developers.
The colourful customised vehicle, complete with company branding, LED lights and music speakers, toured the city before stopping at places where Java developers are most likely to hang out, such as the Northern Quarter and Spinningfields, new regional business quarters and home to emerging tech companies.
Members of Autotrader's recruitment team were joined by a number of Autotrader's existing Java developers, who chatted to people about their jobs and what it is like to work at Autotrader, and handed out free bananas, orange juice and coffee. The vehicle's itinerary was posted on social media, and people were encouraged to Tweet their music requests to the vehicle. 
Jane Fitzmaurice, Autotrader's resourcing partner for product and technology, told Recruiter the aim of the Awesomobile was to engage with people and to challenge the way people saw Autotrader. "We really want to showcase our culture and give people an idea of who we are as an organisation, and to give them an insight that we are not what they think we are.
"Quite a lot of people still see us as a magazine and don't realise that we are 100% digital," she said. "The idea was this would really catch the eye and really make us stand out. The immediate reaction on social media was 'wow, what is this?' We definitely surprised people and challenged some misconceptions as to who we are as an organisation."
Heather DeLand, head of creative at TMP, the agency that helped develop the Awesomobile concept in partnership with Autotrader, told Recruiter that rather than a traditional approach of a billboard campaign and banners on a job board, the Awesomobile was "a more interesting way to engage the audience".
"In a market like this you can't afford to wait until people are job hunting. It's about engaging with people first and building the relationship even before they think about moving. It's about having conversations rather than advertising. Why would someone respond to a job ad if you haven't engaged them in a conversation?"
Fitzmaurice said that as result of seeing the Awesomobile, although just one person had applied for a job, activity levels and interest on Autotrader's social media channels had increased. However, she acknowledged that it might "some time down the line" before the initiative fed through into further job applications.
"There is a bit of wastage," added DeLand. "Not everyone is going to be that Java developer but in a way, it doesn't matter as long as it gets tweeted about and shared."
DeLand said the Awesomobile also encouraged Autotrader's existing Java developers to play a role. "We didn't say 'Come along to this recruitment fair', we said 'Right, come along and ride in this automobile around Manchester and hand out coffee to people and talk to people'."
"It is all fine and good getting recruiters to go out saying 'We have got jobs', but it's a million times better if you can get someone who does the job out and about, and they can talk in their own language and answer questions such as 'what is the job, what am I going to be doing, do you like it, is it any good?'."