Sponsored: 10 questions every recruitment leader needs to ask their marketing department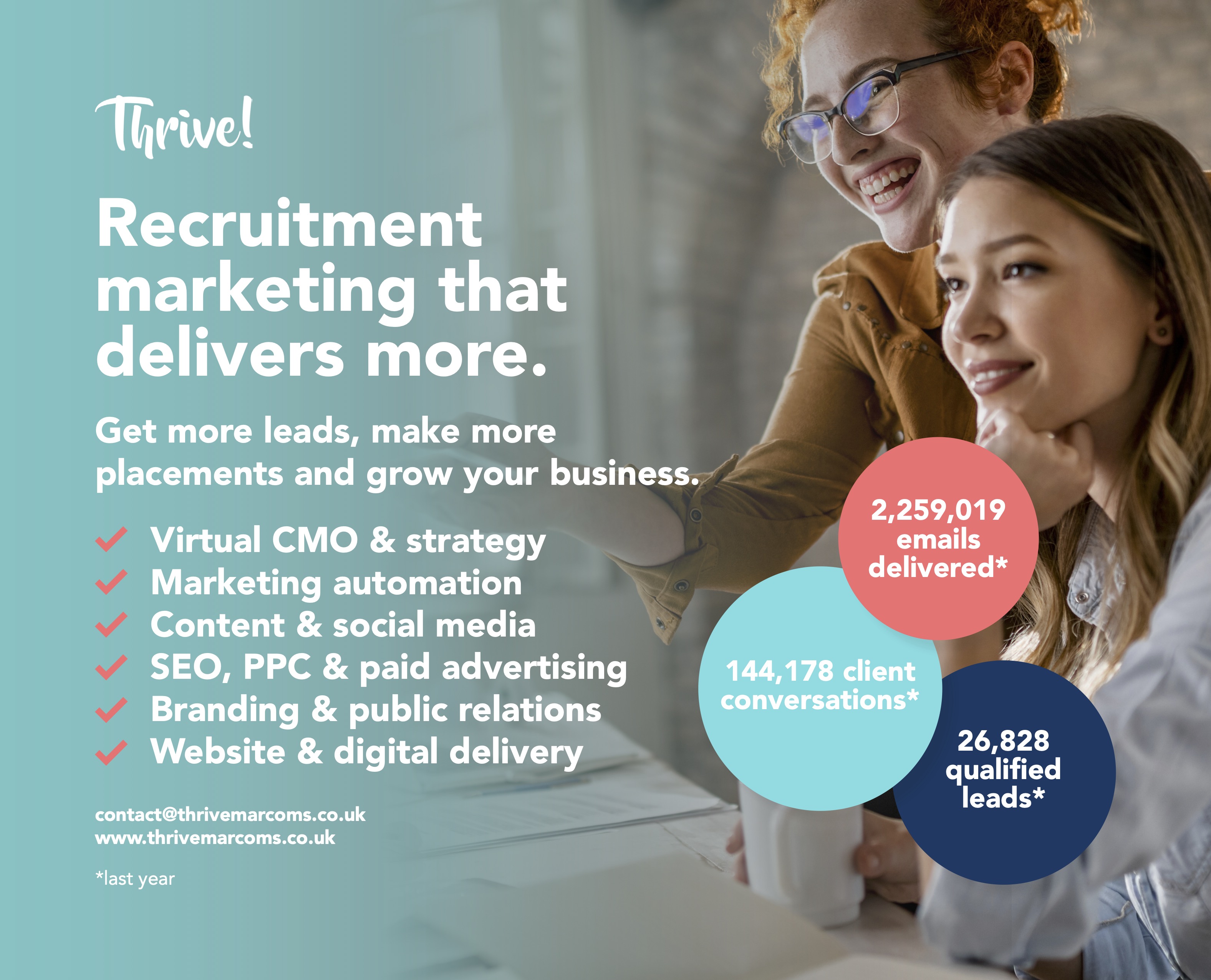 Insights from Thrive Recruitment Marketing Founder and Chief Marketing Officer, Kristie Perrotte
Recruiters are no strangers to fluctuating markets. When the pandemic struck, agencies that had focused exclusively on candidate acquisition after years of a talent shortage found themselves scrambling to create a client-facing strategy to drive job orders. Successful recruiters were able to pivot strategy, focus resource and energy at driving client activity and emerge from the pandemic poised for growth.
Fast forward and the talent shortage is stronger than ever. Recruiters are still busy despite high inflation, the cost-of-living crisis and concerns over a looming recession. Korn Ferry forecasts a 'job-full recession', suggesting that companies are still pursuing initiatives that were previously on hold, and finding it hard to find the candidates they need to do so. Recruiters will need to balance finding this elusive talent with actively seeking out the 'right' job orders and employers to successfully grow their businesses.
While most recruitment leaders recognise the need for a marketing function, there is often a misalignment – and possibly a misunderstanding – between marketing strategy and their business and growth goals. When strategic delivery, technical know-how and data-driven initiatives work together, marketing should be delivering tangible ROI that contributes as an equal partner to business development and organisational growth.
As a recruitment leader, this is your opportunity to further understand the power of marketing and its potential to grow your business. We've put together a list of questions to engage, motivate and measure your marketing team and their contributions to your wider business goals.

Top 10 questions every recruitment leader should ask their marketer:
Is our marketing plan aligned with our business goals?
Too often marketers are not informed about the wider operational and growth targets. This prevents them from delivering a programme that's aligned with business objectives.
How many qualified leads did marketing yield last year?
Marketing should drive meaningful return – specifically clients submitting a vacancy or requesting a meeting or candidates submitting a CV. If you're not tracking leads, then it's impossible to determine if marketing is having a tangible impact.

What are our three best performing channels? Why?
Marketers have access to enormous amounts of data, and when measured and analysed effectively, can clearly demonstrate which channels are delivering the greatest return. Focus marketing efforts on those initiatives that yield ROI.

What is our candidate or client cost per acquisition/placement per channel?
Whether job boards, social media, PPC or other, knowing which channels yield the best quality candidates and clients allows you to focus your resources and budget to deliver the most effective and efficient results.

How are you measuring performance?
There are metrics and metrics, but don't get sucked into the vanity trap of social likes and shares. A strategic and KPI-driven marketing programme should have a dashboard (we like Google Data Studio) that measures conversions as well as customer touch points and engagements across each stage of the buyer's journey as well as across each channel.

How are you using data in your decision-making?
Once you've tracked the data, a marketer's analysis and understanding of what matters and what levers to pull to make meaningful change is essential. Tracking without action is futile, so when setting annual strategy or reviewing quarterly reports, use the data to prod your marketer about how s/he will enhance performance.

How are we dividing our efforts between candidates, clients and internal consultants? And why?
This is a question that your marketer should be asking you and/or your business development leadership on a quarterly basis at minimum! Recruitment has both a 'buyer' and a 'seller' and will always require a balance of supply and demand. Understanding what levers to pull – and when – will help you focus efforts where the greatest potential return exists.

How is social media contributing to ROI? How do we know it's working?
Most recruiters post content on social media, however, aside from anecdotal feedback of its contributions towards a consultant's personal brand, it can be one of the hardest channels to measure for true ROI. While social channels provide top-of-funnel touch points, it is often a branding exercise that's difficult to track through to point of conversion. Instead, think about the purpose(s) of social media and what you're hoping to achieve (hint: it's more than likes and shares!).

What can you do to support consultants?
A successful business development function requires both marketing and sales working together to deliver financial return – they cannot operate in isolation. Marketers should deliver initiatives that support the consultants to acquire more leads and business, not simply 'jazz up' PowerPoint decks or job posts.

What can the consultants do to support you?
An integrated team requires support from both sides. Consultants should be reporting back on insights gleaned from their candidates and clients, what marketing initiatives worked well, which areas they need additional support in, etc. This will enable the marketer to be more effective in devising and delivering solutions.
Your insight and direction as a leader are critical to your marketing team's success. By better understanding the function and what you want it to achieve, you'll be providing your marketing team the guiding north star towards which they'll strive.
From there, championing marketing's efforts, communicating with the consultant teams to engender trust and developing continual feedback loops will enhance your culture and create a stronger, more high-performing business development machine and the foundation for your future growth and opportunity.
Find out a further 50 Things You Should Ask Your Marketing Department here. For strategic marketing support that delivers more leads, more placements and more growth, get in touch with Thrive today!
https://www.thrivemarcoms.co.uk/
LI: @Thrive Marketing Communications