Sponsored: RIP to the traditional CV
1 Minute CV
11 October 2021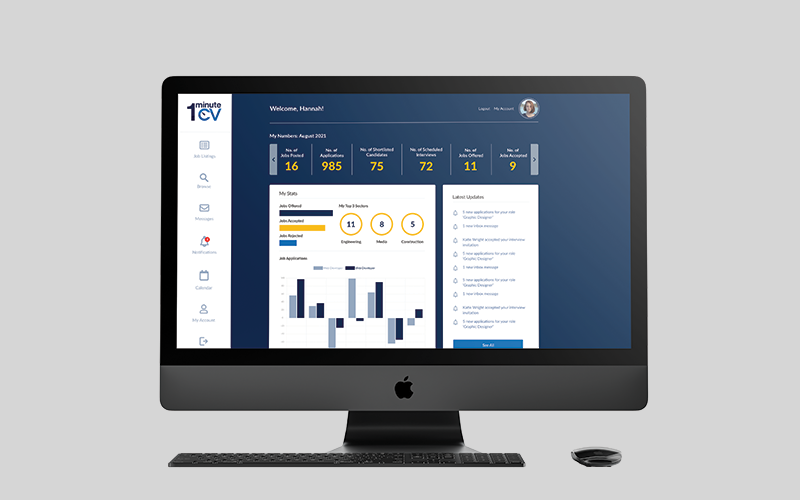 Video is a game changer in the world of work. So why waste time with written CVs when a 60-second film says so much more
You've heard the saying a picture is worth 1,000 words? Well, a one-minute video is worth 1.8 million words according to Forrester Research. And in the world of recruitment those 60 seconds now add up to staggering savings in terms of time and costs, thanks to an innovative new app that's set to revolutionise the way recruiters work forever.
1 Minute CV harnesses the power of video to provide recruiters with a platform to create job postings that are sent to candidate app users based on their preferences and skill set. Applicants can create video CVs answering the questions posed, which recruiters can view, rate and save to a shortlist.
If you've ever been wowed by an amazing written CV, then left underwhelmed when meeting the applicant in person, a 1 Minute CV will give you a far more holistic view of the person behind the pdf. Reducing the average 40 days' searching for the perfect candidate to just 10, and cutting the average £4,000 cost by up to 700%.1
89% of employers would watch a video CV (Source: Vault Inc)
Built to disrupt
The 1 Minute CV app's inventor Kevin Barry has spent his working life thinking and looking at business challenges in a different way. Helping to successfully transform the fortunes of operations from the North Sea to Colombia via Japan then Kuwait.
When he was at a turning point in his own career and found the experience of having a professionally written CV uninspiring – and expensive – his mantra "there must be a better way of doing this" came into play.
Supported by some of the best technical and creative minds in the business, Kevin set himself the task of developing an app "deliberately built to disrupt" age-old and outdated recruitment practices.
Leveraging the popularity of short-form video was an obvious route. And as a committed "people person", top of his mind throughout the app's development was that 1 Minute CV should put people first and allow each candidate's personality to shine through.
"It's built to put the applicant to the forefront," he emphasises. Free and simple for them to use, and enabling employers to see the person as well as their achievements.
Recruiters are compelled to reply (albeit with the minimum of effort) when videos are submitted, giving applicants the recognition that Kevin believes is essential to inject greater respect into the recruitment process.
1 Minute CV recently launched in Apple's App store and Google play store. And the next step in its evolution will be a 1 Minute CV Doctor consultation to ensure candidates are putting their best face forward.
Join the revolution
Watching video is the top choice for consuming information in 2021.2 With consumers predicted to spend $6.78bn via social apps and 548bn hours live streaming this year.3 In the recruitment world, all current tech trends indicate that video CVs are the inevitable next step in the job application process, with 1 Minute CV leading the way.
So why rely on paper CVs? Join 1 Minute CV today and be part of the recruitment revolution. Find out more at www.1mincv.com
---
7 reasons to use 1 Minute CV
Find top applicants 4x faster
Make informed decisions
Avoid unconscious bias
Rate and shortlist with ease
View instant video references
Arrange interviews in the app's calendar
Share your shortlist with clients
---
Sources:
1 Statista; 2 Hubspot; 3 App Annie
Image credit | 1 Minute CV