Sponsored: The Recruitment Group - a new recruitment agency launched in April
The Recruitment Group
16 July 2021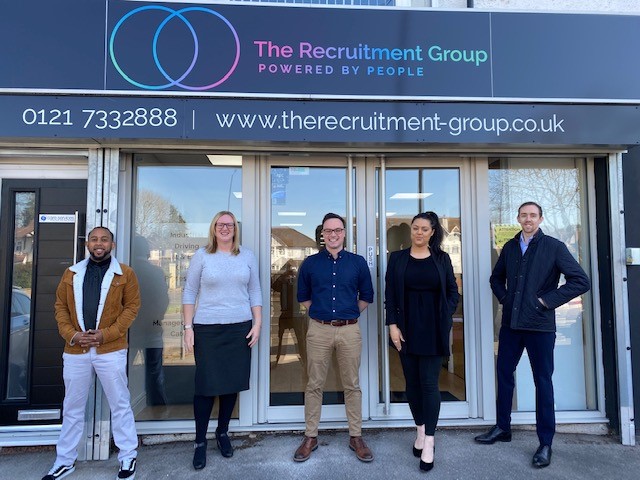 A new breed of recruitment agency has launched today with a mission to 'put people first again' and bring back the human element that the directors feel has been missing from the recruitment industry.
The Recruitment Group is a merger of six excellent independent recruitment agencies, each steeped in history. The uniting of these strong individual brands into the new group brings together over 90 years of recruitment industry experience in the leadership team alone. Added to this is the experience of over 90 staff across nine locations who are well placed to forge ahead in a post-pandemic era.
Previously known as Champion Recruitment (Oxford, Banbury, Abingdon & Witney), Gill Cooke Personnel (Loughborough), Motion People (Leicester), Rugby Recruitment (Rugby), Professional Staffing Services (Leicester) and Next Recruitment (Birmingham), the group has also recently launched a brand new FMCG Services division, which is rapidly expanding from its base in Peterborough. The Recruitment Group specialises in Temporary and Permanent recruitment in the sectors of Manufacturing, Engineering, Logistics, Distribution, Warehousing, Office and Professional, servicing clients within supply chain, local councils, food and contact centres.
The Recruitment Group was brought together by a team of recruitment professionals (founders of Recruitment Investments Ltd) who have had highly successful careers in the industry and felt that a joined-up approach to acquiring agencies with excellent reputations but minimal economies of scale, gives the best of both worlds: size and excellent service levels. Its new central head office is based in Loughborough, Leicestershire.
Headed up by two Managing Directors, Paul Hipkiss and Mark Taylor (FMCG Services), who have over 40 years' combined experience between them at senior management and director level, the group is in strong hands, with tried and tested leaders.
MD Paul Hipkiss said: "We've spent the last few months getting the new £50m business into shape so that we can drive growth going forward and we have aspirations to grow it to a £200m turnover operation. We've invested heavily in our existing people as well as attracting and retaining some of the best talent in the industry to our group, creating an exceptionally strong platform to build upon. We are delighted to be launching as The Recruitment Group and cannot wait to bring our vision and values to life over the coming months and years."
Times have been tough for people and businesses over the past year due to the pandemic and each of the component companies has continued to invest so that the newly merged business, The Recruitment Group, can empower its candidates, clients and employees and provide the best opportunities for the future.
Mark Taylor MD (FMCG Services) added: "It's so important that a business believes in what it's doing, from Paul and I steering the ship, to the teams working with candidates and clients. We're really looking forward to delivering our empowered vision of what recruitment solutions should look like. We're a people business and we passionately believe that candidates, clients and our teams deserve something better from the industry. We want to be tested; we want to be creative; we want to listen, and we want to respond. Bring on The Recruitment Group!"
All nine offices around the UK re-opened in April with new branding and livery and look forward to their future as part of The Recruitment Group.