Special Report - Technology 2021: Remote recruiting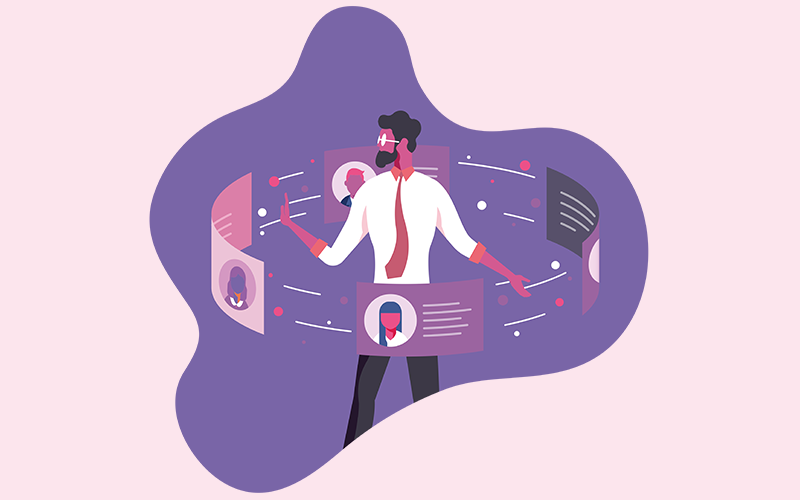 Hiring in a lockdown has meant recruiters mus be open to new ways of taking on candidates they may not have met in person. Sue Weekes investigates
Editor's comment
2020 found technology asserting its 'right to be' in the midst of the pandemic. For recruiters, much of the technology demand in this people-centric business had to do with communications – from facilitating long-distance client meetings to onboarding new employees and enabling the practice of working from home.
For this pandemic, even the public had to grapple with shared technology needs; along with 'pandemic', 'Covid-19', 'coronavirus', 'social distancing', other expressions that much more came to the forefront of our collective consciousness included 'Zoom', 'Teams' and 'virtual'.
Our technology writer Sue Weekes explores the trends and the tech that dominated our virtual world over the last year in this Special Report. She also gleans the perspectives of industry professionals about just how technology made a difference to them in these oh-so strange times.
DeeDee Doke Editor Recruiter/recruiter.co.uk
---
The issues faced by recruiters over the past 12 months have been many and varied. But perhaps the starkest warning to come out of the pandemic so far is summed up by Nicolas Speeckaert, founder and managing partner of recruitment software company Skeeled, when asked to identify the main challenges going forward: "Getting hiring managers to make offers to candidates they haven't met and getting candidates to accept them."
Such a concept would have been unthinkable for most roles even just 12 months ago but recruiters are adapting well to their 'new normal', and recruitment technology providers have moved fast to support them.
Tighter integration of video interviewing into recruitment platforms, the acceleration of the use of artificial intelligence (AI) in areas such as screening and the use of futuristic technologies such as virtual reality (VR) to simulate real-world environments are just some of the technological developments that have come to the recruiter's rescue.
New processes
Bobby Tang, co-founder of video-interview platform Screenable, similarly highlights that implementing new processes to find the right candidates without face-to-face-meetings is going to be the biggest change and challenge for recruiters. He sees the company's role as enabling this as well as helping recruiters to maintain high standards. "Reputation is key in this industry, and recruiters have always prided themselves on putting forward vetted candidates who they had met and were confident they were not only right for the job, but also a good reflection of the recruiter's standards," he says. "This can still be achieved and in a more effective manner, with platforms such as Screenable."
Screenable seeks to replace lengthy introduction calls and preliminary meetings with short, pre-recorded screening interviews that claim to offer an insight into candidates that previously only a more time-consuming interview or face-to-face meeting would offer.
The platform has already been used globally for the primary screening of candidates for HR roles in investment banks, front-end and back-end engineering talent, as well as sales and marketing functions. It is also being used to hire larger teams of tradesmen such as forklift drivers and saw operators, and a London-based company reportedly filled its entire team of engineers and designers within two weeks.
We engaged with the senior HR team to help them standardise the recruitment process" - Lee McQueen, Founder and CEO of Phoenix51
"Screenable supports the increase in application versus role issue for recruiters and more efficiently identifies the relevant candidates for the role early on in the process," says Brockett. "Ultimately, we are able to offer a faster and more effective remote route to recruit by giving the applicant a voice that is delivered to the recruiter in three simple steps."
Skeeled launched its platform last year to support the more remote approach to hiring. It offers a web-based platform with built-in video-interviewing, sourcing widget, collaborative tools and also predictive AI for assessment. It centralises all of these applications and allows each recruiter to review and rate candidate profiles, leaving notes and comments that other team members can see and respond to.
The platform is used by the CHU UCL university hospital, the largest private employer in the Indian province of Nanur. Over a nine-month period during the pandemic, it enabled the hospital to publish more than 300 jobs for which it received around 5,000 applications. The AI-based pre-screening and matching tool has rejected more than 1,500 applicants (around 34%) for not meeting the minimum requirements set by recruiters.
"Before Skeeled, we wasted a lot of time posting an offer, screening resumes, responding to candidates," said Laura Limberopoulos, head of recruitment and selection/employer branding at the university hospital. "We can be more selective and objective thanks to the personality assessment, the video interviews, the selective questions and the AI algorithms."
The platform aims to narrow down the best profiles in the talent pipeline to engage top talent faster, and direct managers can also take part in the recruitment process, allowing for collaborative hiring decisions. "Skeeled allows companies to upgrade their talent acquisition and develop a more thoughtful, engaging, empathic and transparent process, which will remain valuable even after the pandemic crisis," says Speeckaert.
Transforming processes
Indeed, the latest generation of recruitment platforms aren't just about addressing the needs of the pandemic but also helping organisations to digitally transform their recruitment processes to realise increased efficiencies and cost-savings. BBC reality show The Apprentice winner Lee McQueen's latest project aims to support remote hiring but also to help organisations digitise their entire recruitment process. The Phoenix51 platform offers video integration for competency-based interviewing and pre-screening with a team of in-house business psychologists having designed assessment pathways that test applicants against relevant job-specific tasks in a remote setting.
Phoenix51 helped one of Britain's largest newspaper groups, Reach, whose brands include the Daily Mirror, Daily Express, Manchester Evening News and OK!, break down its silo approach to recruitment. Before using the platform, Reach's regional offices operated independently of each other.
"We engaged with the senior HR team to help them standardise the recruitment process and rolled out initially just to the recruitment team, to help with the hiring of individuals into the business," explains McQueen. "We subsequently rolled out to the HR team to help select candidates for the company-wide management training programme. Reach learnt that with a digital platform, managers and internal stakeholders could efficiently hire and appraise their people against key company-wide values and behaviours."
Technology providers are also helping to simulate important traditional methods of finding emerging talent, such as careers fairs. XOR is enabling employers to migrate such events to a virtual environment with video and chat. XOR co-founder and CEO Aida Fazylova explains that the company seeks to make hiring more remote-friendly through text message engagement, virtual career fairs and video interviewing.
A non-profit client focused on diversity hiring was unable to host traditional, in-person career fairs so used XOR's platform to organise a virtual fair with 32 enterprise employers and over 10,000 participants, while a recruitment process outsourcing company that hires on behalf of brands like Kroger and Meijer launched three ongoing virtual career fairs where it scheduled hundreds of qualified jobseekers for in-person interviews.
Going forward, Fazylova believes more remote recruiting means that recruiters are going to have to be more creative in nurturing and re-engaging with past talent. "Delivering the right message, at the right time, on the right device is going to be imperative, so I expect tech will come into play to build those workflows," she says. "For example: How can I automate a text message to all my silver medal candidates from last month that invites them to a monthly virtual career fair? How can I let my candidates screen and schedule themselves to increase conversions and reduce time-to-hire?
"We're working with recruiters to solve these problems and give them a competitive advantage in bringing on talent quickly and efficiently."
Indeed, there will be further challenges ahead, and Speeckaert says these are likely to include how to onboard a new hire from home effectively and conveying the company culture to candidates without any in-person meetings. Above all though, he said the main challenge recruiters face is ensuring the recruitment process remains "a team sport" as it is so dependent on collaboration.
"To ensure recruiting teams collaborate successfully while working remotely, it's crucial to provide them access to cloud-based productivity tools such as quick messaging tools like Slack, video-conferencing software, remote support software, project management software, email software or collaboration software," he said.
Also key will be maintaining a close relationship with software providers who, as McQueen suggests, can help to confront current challenges and bring efficiencies but also preserve recruitment's all-important human side.
"Working remotely, hiring remotely and making business-critical decisions remotely are all key factors, but with this comes new learning and a shift to our mindset which has opened up to using technology that drives efficiencies in terms of resource, quality and costs," he said. "The shift in technology supporting our decisions is taking place, but humans still need to have the control of the final decisions."
Image credit | iStock