The Big Story: Creating a future from furlough
Roisin Woolnough
30 September 2020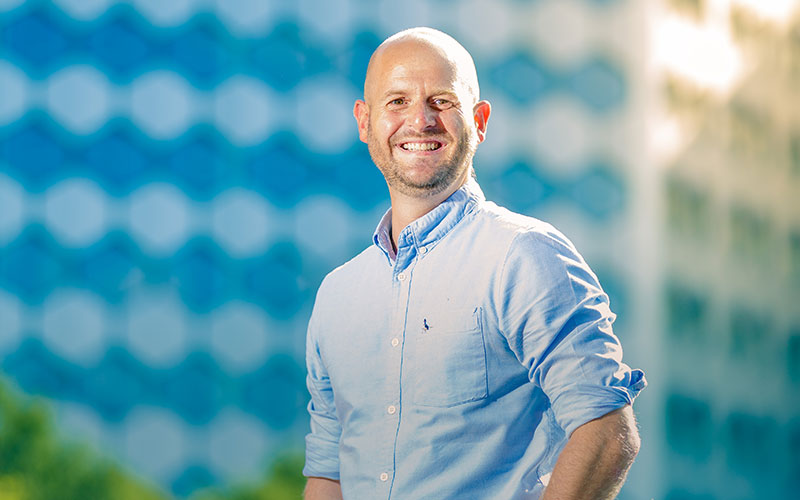 Recruitment expert Gary Wills created an inspirational online community to offer practical advice and support for those facing furlough or uncertain times.
In mid-April Gary Wills discovered he was joining a large and rapidly growing club: the furloughed. By the end of April, nearly 4m people had been furloughed in the UK and a month later that number surpassed 8m.
Wills, who has worked in recruitment for 20 years, was not happy. But rather than sitting around twiddling his thumbs or worrying about might happen next, he decided to do something positive with his time. And so he set up FurLearn, an online community for people who have been furloughed or been made redundant and are job searching.
"The purpose of FurLearn is to reach and support as many people as possible," says Wills. "Being furloughed is a very insecure situation – you don't know if you will be called back or made redundant, so people are really suffering right now. I've been in recruitment for so long, I've lots of connections and a good knowledge of how I can help people land jobs." The idea for FurLearn came to Wills when he was on the treadmill in his garage, completing the last leg of a charity run. The next day he rang a friend who works in marketing, Jade Johannsen, to run the idea past her. She thought it was brilliant and wanted to come on board.
Soon after, they co-founded FurLearn, which now has 1,650 members, including about 350 furloughed agency and in-house recruiters.
"The concept was simple, but I knew that if done the right way we could reach a lot of people who potentially really needed something positive and inspiring to help them through seriously uncertain and dark times," says Johannsen. "From the very first Zoom sessions, I knew we were on to something special. It was encouraging to hear all the feedback from listeners about how useful and uplifting they found it."
A real community – only online
Initially, Wills and Johannsen based the LinkedIn group on six core pillars but have since trimmed the list to four: personal branding, mental health, health & fitness, and fun.
FurLearn offers a mix of things. It's a support network, with Wills, Johannsen and several other volunteers giving free advice and support. It hosts regular online events, largely in the form of webinars given by motivational and specialist speakers. These have included career and interview coaches, a sleep guru, a marathon runner who has clocked more than 1,000 marathons (both before becoming paralysed and after regaining movement), money-saving experts, a BBC MasterChef finalist, a polar explorer, and a former fighter pilot who has also been a prisoner of war.
The most recent webinars featured the world champion boxer Billy Schwer talking about how to 'Create your own future the World Champion way'. Wills and Bobby Banerjee, a learning and development specialist who is part of the FurLearn team, also recently ran a CV development and LinkedIn masterclass.
The webinars regularly draw in 100-150 people, with all speakers giving their time and expertise free as an act of goodwill.
We are trying to get people motivated and to feel that they have achieved something."
Wills says FurLearn helps people in many ways. It gives them practical advice and support at a time when they really need it. It motivates and inspires them, giving them a focus to look beyond their current situation.
And perhaps most importantly, it boosts members' emotional, mental and physical wellbeing, partly through the content and support, but also because members are part of a community going through the same or similar experiences.
Every day, Wills posts up a video to the group, with other team members posting comments as well. "It's a community," says Wills. "It has given people other people to talk to. They gather fresh ideas and realise they're not in it on their own. That makes a huge difference to people during the worry and stress of job searching."
Given the ongoing uncertainty in terms of Covid-19, the jobs market and the economic outlook, Wills believes it is so important that furloughed people and jobseekers focus on positives and take proactive steps to enhance their employment options.
He is worried about what will happen when furlough comes to an end, particularly as there are already significant numbers of candidates applying for limited numbers of jobs.
"Although more people are landing jobs now, my concern is there will be a lot of people at the end of October who will be released from furlough. Some companies won't be able to bring all that talent back to business."
Speaking from experience
When Wills was furloughed back in April, he spent 24 hours feeling angry and sorry for himself, before a friend pointed out how many others were in the same position. That conversation prompted him to look at his situation differently and to refocus on maintaining his wellbeing. "You have to remember that this is a pandemic decision. And people have to remember that if they lose their job, it's not they who have been made redundant, it's the role."
Wills encourages people to write down as many positives about themselves as possible. He does this because he knows all about the importance of positive thinking, after suffering mental health problems at the beginning of the year. "Last year a number of things went wrong for me – we had a major family situation with my dad, my nan passed away, and a friend had terminal cancer. I got to January and hit all my targets, but then in February I had a breakdown and took four weeks off work."
He returned to work refreshed, but soon after, lockdown happened, and he was furloughed. "I didn't want to go back to that mentality. I wanted to stay positive, and I wanted to make sure I made a positive contribution with my time off, helping people going through a challenging time."
Also, at the same time, a close relative was admitted to hospital critically ill with Covid-19, so Wills knew he had to take action to stay positive. His wife agreed, encouraging him to turn the garage into a gym. A friend then challenged him to run for 30 minutes a day. Accepting both challenges, he then set himself his own – to run the distance from NHS Nightingale Hospital Birmingham to NHS Nightingale Hospital London on his treadmill. And he did it. He ran 108 miles in his garage over 10 days, raising £6,750 for the NHS.
It was on the last leg of that run that two milestones occurred: his manager rang to say Wills' furlough had been extended to the end of July and that the idea for FurLearn was born.
Staying active
For Wills, keeping active, both physically and mentally, during lockdown and furlough has been a top priority. Early on, he set himself a regime of leaving the house every morning and doing 8,000-10,000 steps, either walking or running. "I looked at it almost like a commute, even though I wasn't working. It meant I had some achievement early on in the day – it's immensely important to look after yourself."
Although he is furloughed until the end of October, Wills has handed in his notice to his employers. "The time is right to move on. Leaving an employer in the grips of a pandemic and a recession is probably not the best time, but it feels right for me."
It certainly will not be the last the recruitment industry has heard of Wills. He has already set up a new company, his own recruitment business called Talent Today. Not that he is going to let FurLearn go – he wants to grow it into something bigger, reaching a wider audience. He is partnering up with Google Digital Garage and he will speak at Birmingham Tech Week in October.
Planning for an autumn FurLearn Covid-19 Challenge is also under way. For this, the FurLearn team and community will be either walking, cycling or running 19 miles, with a target of raising £19k for charity.
For up-to-date information, visit furlearn.com
But the real target is more than a monetary figure, Wills points out: "We are trying to get people motivated and to feel that they have achieved something." 
---
Positivity certainly can be infectious
Feedback from FurLearn member Yvette Kempson, business analyst from Nottingham "FurLearn has been the shot of positivity I needed in the morning and throughout my day. They have had a phenomenal array of guest speakers and supporters, offering free help and advice for updating your CV, attending interviews, maintaining a good positive head space during what has been a really uncertain and stressful time, not only for me, but friends and family around me. The positivity of the group is simply infectious."