Lib Dems manifesto protects UK workers in the EU and improves diversity
Lib Dems manifesto protects UK workers in the EU and improves diversity
18 May 2017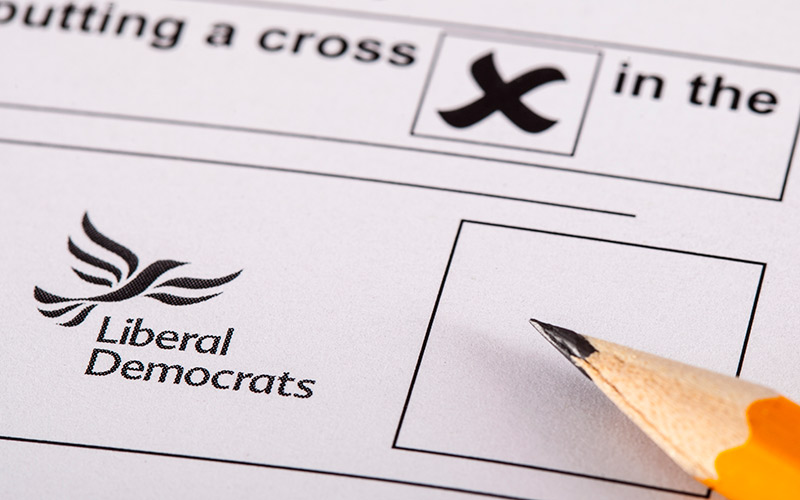 Protecting UK citizens' right to work in the European Union and commitments to improve diversity in recruitment are some of the stand out pledges affecting recruitment in the Liberal Democrat's Election Manifesto.
The manifesto, published yesterday, commits the Lib Dems to:
Brexit
That any deal negotiated for the UK outside the EU must protect the right to work, travel, study and retire across the EU. 
Guaranteeing the rights of EU nationals in the UK, as well as urging government to secure the same rights for UK citizens living in EU countries and the overhaul and simplification of the registration process and the requirements for EU nationals to obtain permanent residence and UK citizenship 
Protecting support for domestic industries such as farming, tourism and the creative industries, as well as regional support for deprived areas, with the City of London retaining full rights in EU financial markets. 
Maintaining membership of the single market and customs union
Improving diversity
Extend the use of name-blind recruitment processes in the public sector and encourage their use in the private sector. 
Require diversity in public appointments. We will introduce a presumption that every shortlist should include at least one BAME candidate. 
Migration
Focus on good practice in tackling modern slavery, including training for police and prosecutors in identifying and supporting victims, and implement the Ewins report recommendations on domestic workers. 
Hold an annual debate in parliament on skill and labour market shortfalls and surpluses to identify the migration necessary to meet the UK's needs. 
Continue to allow high-skilled immigration to support key sectors of our economy, and ensure work, tourist and family visas are processed quickly and efficiently. 
Ensure the UK is an attractive destination for overseas students by reinstating post-study work visas for graduates in STEM (science, technology, engineering and maths) subjects who find suitable employment within six months of graduating, while giving the devolved administrations the right to sponsor additional post-study work visas. 
The NHS
Guaranteeing the rights of all NHS and social care service staff who are EU nationals to stay in the UK. 
Producing a national workforce strategy to guard against shortages of GPs, hospital doctors, nurses and other professionals. 
Education
Supporting proper long-term planning of initial teacher training places, prioritising close partnerships with higher education and specialist routes such as Teach First to recruit the highest-quality teachers in shortage areas such as science, technology, engineering, the arts and maths.
Apprentices
Aim to double the number of businesses hiring apprentices, including by extending apprenticeships to new sectors of our economy such as creative and digital industries Work with the Apprenticeship Advisory Group to increase the number of apprentices from BAME (Black, Asian and Minority Ethnic) backgrounds, ensure gender balance across industry sectors and encourage under-represented groups to apply. 
A major expansion of high-quality apprenticeships, including advanced apprenticeships, backed up with new sector-led national colleges and introduce a national skills strategy for key sectors, including low-carbon technologies, to help match skills and people. 
Workers' rights
Modernise employment rights to make them fit for the age of the 'gig' economy, looking to build on the forthcoming Taylor report. 
Stamp out abuse of zero-hours contracts, creating a formal right to request a fixed contract and consult on introducing a right to make regular patterns of work contractual after a period of time. 
Helping people back into work
Separate employment support from benefits administration – making Jobcentres places of training and support into work. 
Encourage people into work by reversing the cuts to Work Allowances in Universal Credit, enabling people to work for longer before their benefits are cut. 
Raise awareness of, and seek to expand, Access to Work, which supports people with disabilities in work. 
Accelerate the roll-out of Individual Placement and Support, with the aim of getting people with mental ill-health back into work. 
Scrap the discredited Work Capability Assessment and replace it with a new system, run by local authorities according to national rules, including a 'real world' test based on the local labour market. 
Armed forces
Strengthen the armed services and address critical skills shortages by recruiting STEM graduates to be armed forces engineers, providing 'golden handshakes' of up to £10k. 
Review the current Career Transition Partnership with a view to extending its remit to provide free further or higher education for anyone who has served in the armed forces for 12 years or more.
It should also be noted, however, that the Lib Dems have committed to not entering into a coalition with either of the two major political parties in the event of a hung Parliament following the 8 June vote.
• Want to comment on this story? Email us at recruiter.editorial@redactive.co.uk or tweet us below to tell us your thoughts. We will run comments online in a round-up at the end of the week.