The Intelligence: Employers feeling confident on 2020 prospects
Josh Prentice
15 January 2020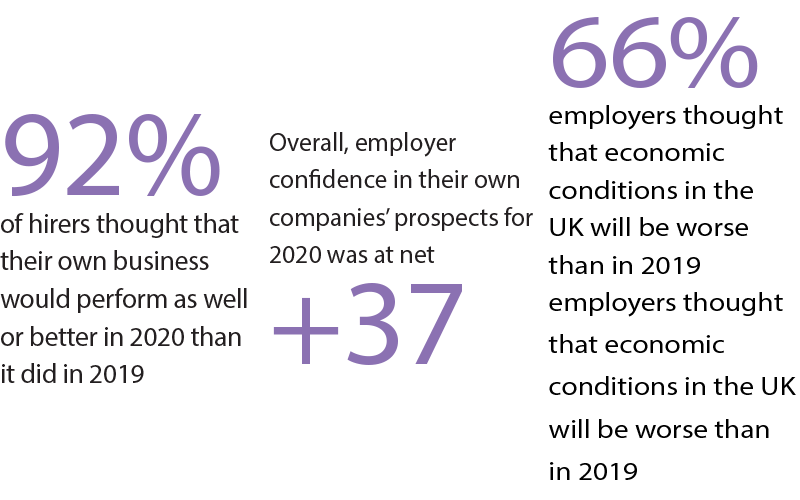 Has business confidence started to recover? Josh Prentice investigates
Employers were looking into the new year with optimism despite a tough ride last year and a gloomy economic outlook for 2020.
Over the course of 2019 the REC's monthly 'JobsOutlook' report saw employer confidence fall to new lows. Confidence in the economy dropped to a net figure of -34 in August-October 2019, while employers' hiring confidence fell to net -8 in September-November.
In November 2019, the REC also surveyed employers about how they felt the economy and their businesses would fare in 2020. Unsurprisingly, confidence in the economy's prospects was very low: 66% employers thought that economic conditions in the UK will be worse than in 2019, while only 4% of employers thought they would be better. With a resulting net confidence level of -62, that's down four percentage points from November 2018.
Yet despite all this, 92% hirers thought that their own business would perform as well or better in 2020 than it did in 2019
Overall, employer confidence in their own companies' prospects for 2020 was at net +37 – down only 2 points from the same time a year earlier. So although the business community is very worried about the wider economic outlook, they have faith that their own firms will be able to find a way through the uncertainty. In many cases, they believe that they can thrive.
This should be welcome news for recruiters as they have a crucial role to play in the success of their clients.
Once business confidence starts to recover and hiring activity increases, agencies must be ready to show the added value they can bring to their clients. According to 'JobsOutlook', employers have consistently reported that quality of service and an agency's expertise, in terms of the regions and sectors they cover, are the most important factors when it comes to choosing a recruitment agency to partner with. Recruiters should look to improve these parts of their offering to ensure that they are adding maximum value to their clients and helping them to succeed.