Sponsored: WAVE 2017: The Influencer Marketing Summit launches in UK
3 October 2017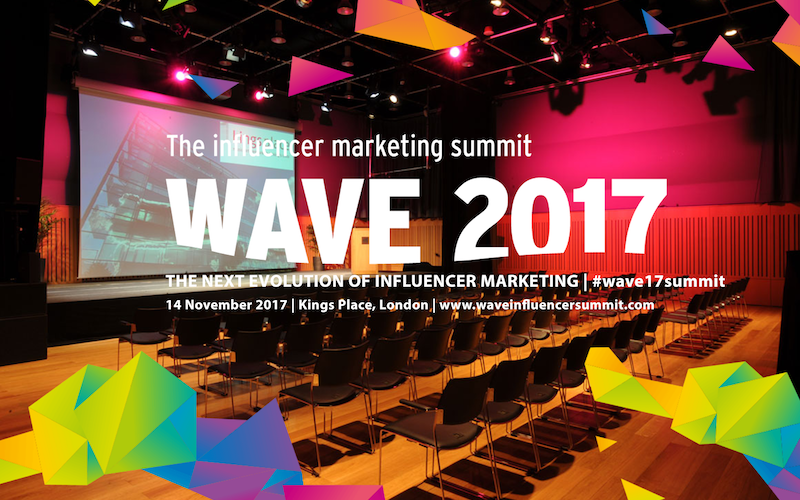 Join L'Oréal, General Electric, Warner Brothers, Orange, Twitter, Suzuki, New Look, The FA, Costa Coffee and many other top brands and agencies at the biggest influencer marketing summit for employee and customer advocates in Europe: waveinfluencersummit.com. Best selling author Brian Solis will be the keynote speaker.
The rise of employee and customer influence is radically changing the way influencer marketing can have an impact on business. WAVE 2017 promises to be a game-changing event in the UK, designed for brands involved in a new era of influence focused on customers and employees.
The inaugural one-day summit will bring together 200 expert digital practitioners and decision makers for the latest thinking on social influence, advocacy and engagement. Learn how the most successful brands are using employee engagement and employer branding, UGC and advocate marketing to drive brand awareness and sales.
Andrew Seel, CEO, Qube Media, said: "This is an innovative, tech-driven area in digital marketing but it's based around word-of-mouth marketing, which is the oldest kind of marketing in the world. People listen to and trust other people, much more than advertising. Guests at the Summit will explore, learn and discover how to unleash the power of your best customers and employees."
"We'll have some of the biggest UK brands and international industry thought leaders in the room looking at ways to transform marketing for the modern buyer, radically improve the customer experience and drive sales. We're really excited as it's going to be a great day."
Experts from across the industry on the day include:
Tim Hughes, Co-founder, Digital Leadership Associates
Chloe Jones, Brand Advocacy Manager, Lenovo
Giles Palmer, Founder and CEO, Brandwatch
Phil Mitchelson, Marketing Director, Copa90, Big Balls Media
Paul Lewis, Global digital marketing & social selling lead, Pitney Bowes
Rebecca O'Sullivan, Head of Social and Influencer Content, The7Stars
Eva Appelbaum, Co-Founder, Arc Group and Future Strategy Club
Pete Jenkins, Founder Gamification+ Ltd, Chair of GamFed
Sophie Morris, Director, Millharbour Marketing Consultancy
Adrian Swinscoe, Consultant, Best selling author, Customer Experience
Antony Mayfield, CEO and co-founder, Brilliant Noise
Tickets are now on sale. waveinfluencersummit.com
About Qube Media and Qubist
Qube Media Ltd are a leading UK advocate marketing agency with clients in Europe and worldwide. Its advocate marketing software generates strong ROI and is based on its experience running a social media agency since 2003.
The Qubist advocate marketing platform and methodology was devised by the advocacy marketing experts at Qube Media Ltd. Qubist enable brands to reach millions of people every month simply by finding and activating their untapped online brand influencers and advocates.
Qubist was recently named in Real Business's The Future 50 list for 2017 as one of the most disruptive young companies in operation today.
For more information about Qubist visit: http://www.qubi.st/.
Alternatively, keep up to date via Twitter @qubemedia or call Nigel Cooper on: 01273 689672.